The Open's Move to SKY: Why the R&A Made the Right Decision
By: Nick Bonfield | Mon 09 Feb 2015 |
Comments
---
Post by Golf Journalist Nick Bonfield
---
Like every other golf fan, I have a strong opinion on the Open Championship's move from BBC to Sky Sports from 2017. It's a contentious issue, especially set amongst the backdrop of declining participation, but I'm completely behind the move. There's a lot of salient points to consider, but my view is that pros of the move to Sky are more than enough to offset the negatives of The Open remaining on terrestrial television. It's a tough subject to remain objective about, but here are 10 reasons why I disagree with the traditionalist viewpoint.
Quality of coverage
I understand why license payers are aggrieved. After all, the BBC is supposed to provide programming that appeals to a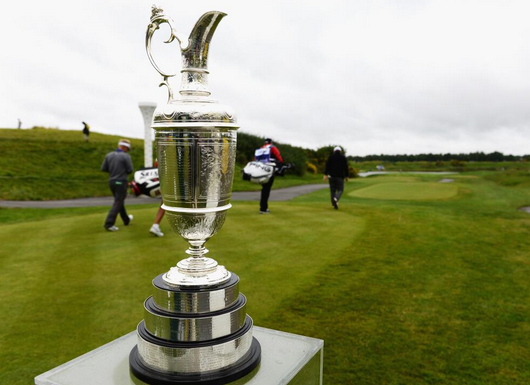 broad cross-section of the population. Sport is a huge part of our culture, and even though golf is a small part of that, it still warrants more than two days' live men's programming a year. But that's a BBC strategic issue. While the Beeb's golf coverage has dwindled and worsened, Sky has continued to innovate. Their all-round golf package is superb and the advent of Now TV means the Open is accessible to all non-subscribers for a minimal fee.
Adverts have also been capped to a minimum of four minutes an hour – about half the time Peter Alliss spends twittering on about a member's dog's birthday at some nondescript club somewhere in the UK. I get that some people associate him with BBC golf coverage, and many see him as part of the allure. The counter? Others would rather hear informed analysis, and listening to him muttering on is hardly attractive to first-time golf viewers – exactly the demographic pro-BBC campaigners argue are inspired to take up golf after watching The Open on terrestrial television.
Can't quantify impact
The truth is that many of the objections have come from the older generation; those who have grown up watching The Open on the BBC. I can't help but feel many are using the 'decline in participation' angle purely because they are annoyed about being put out. While it's true many have undoubtedly been inspired to take up golf after watching the Open on terrestrial, it's a number that can't be quantified. Who's to say more people won't take up the sport after participating in new R&A schemes funded by Sky money?
Viewing figures
Of course, viewing figures will inevitably take a hit, at least initially. Look at The Masters, for example. Roughly five times as many people watch live coverage on the BBC over the weekend as compared to Sky. But the truth is we can't compare the Masters to The Open. BBC has live weekend coverage at Augusta – something it won't have at The Open from 2017. As there's no alternative, I think we'll see pretty high viewing figures when Sky takes over. And, its innovative coverage could well attract more viewers in the long run, not to mention its marketing reach and resources.
More money
Part of The R&A's remit is to grow the game of golf. With Sky paying more money, golf's governing body will have more funds to invest in tournaments, localised initiatives and overseas schemes.
But of course, people won't get into the game that way. No. The only way to inspire people to pick up a golf club is by making The Open available on terrestrial. Excuse my sarcasm. Some of the arguments about the relative significance of grass-routes schemes versus the broadcasting of one tournament a year are somewhat short sighted. The R&A is a non-profit organisation, but so many people are comparing the game's governing body to a multinational corporation, just waiting to syphon off money for personal gain.
What's more, a product is worth what people will pay. Sky wouldn't have offered so much if they didn't deem the Open Championship to be worthy of such investment. It's not the R&A's fault the BBC can't compete because they spent £200m on football highlights.
BBC disregard for golf
Why should the BBC be able to rest on its laurels? Why should we stifle innovation to accommodate stagnant traditionalism? Over the last few years, the BBC has shown a flagrant disregard for live golf. The Matchplay? Gone. BMW Championship? Gone. The Masters? Half gone. Golf hasn't been a priority for a long time, so why should its coverage of the Open Championship be protected as a matter of course? Quite frankly, the BBC doesn't deserve it.
Consumption of media
A lot of the people protesting the move come from the older generation; people who grew up watching The Open on the BBC in black and white. Many people have completely failed to grasp that media consumption has changed enormously over the last decade. With the BBC showing highlights and broadcasting live on radio, Sky taking live coverage, live streaming on theopen.com, video and information pushed out on the two biggest sport websites in the UK and everything covered real-time on social media, The Open will reach more people than ever before from 2017.
Participation programmes
Both the Sky and BBC have their own sport engagement initiatives, and both have pledged to support golf in this area. The sheer scale and gravitas of these two organisations will undoubtedly help to deliver more exposure and participation in grass-roots schemes.
Chance to boost income
Much has been made about golf-club decline in the UK, as well as the common perception that many such places are stuffy and outdated. Sky offers discounts for clubs and many subscribe anyway, so surely this is the ideal opportunity for clubs to attract members and guests – particularly those without Sky at home – to come and watch the action and boost non-golf revenues? They should be looking at marketing opportunities and putting on special drinks and food offers to encourage people along.
Decline during terrestrial
We must also remember that golf's decline has coincided with The Masters, the Scottish Open, the BMW PGA Championship and The Open Championship being broadcast on the BBC. As Peter Dawson pointed out in his open letter to the British golfing public – something all the naysayers should read – "Exposure is important, but is just one of many ingredients required to generate growth in participation."
Sky supports lower-tier events
In my view, Sky does far more to support golf than the BBC does. It broadcasts every PGA and European Tour event – quite a commitment – but that's not the extent of it. Sky also shows events like the Trilby Tour, the EuroPro Tour and high-profile amateur tournaments, giving lower-tier players increased exposure and the events themselves more sponsorship leverage.
Instead of judging the move now, let's wait and assess the impact in a few years' time. Then, we'll have tangible figures to go off and The R&A's increased investment in golf can be properly analysed.

---

The oldest & most prestigious major, a trip to The Open is a must for every golf fan. From tickets and transfers to hospitality & golf, Golfbreaks.com can build the perfect package to help you experience The Open in style.
---
---
What do you think? leave your comments below (Comments)
---
---
PLAY MORE PLAY BETTER - LATEST TUITION TIPS
---
Leave your comments below
comments powered by

Disqus