By: Adam Smith | Wed 04 Feb 2015 |
Comments
---
Time to embrace the change....
Like the rest of golf purists out there I'm gutted that The Open Championship is leaving the BBC in 2017 to head over to Sky Sports.
The home of golf is going to the self-proclaimed home of golf coverage in a deal worth around £75million over five years.
Ever since I can remember and ever since 1955 has The Open been greeted to the BBC jingle known to every golfer but the truth is the Beeb's golf coverage has been dwindling down for many years so is this really as big a surprise that it's being made out?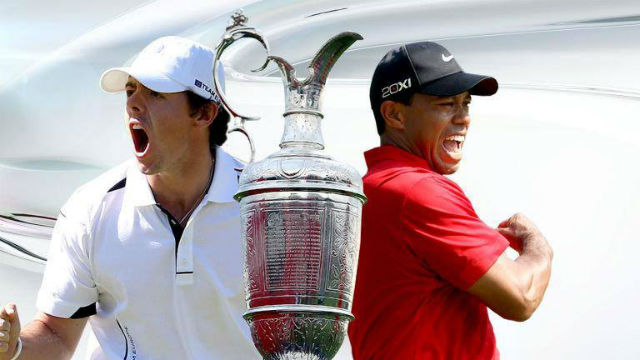 It's not been long since the BBC lost its full Masters coverage to Sky another tradition that was broken in the eyes of the 'true' golfing fan. But why is this not being heralded as a big and positive step?
Those saying the apparent decline in numbers playing the game will continue are deluded in my opinion. What's the last thing the BBC have done for grass roots golf? This argument is being built on the foundations of the next generation not being able to sit and watch golf for four days in July, and that's going to stop children playing the game is it?
I was down at the new Performance Centre at the World of Golf in New Malden recently and I was surprised but ultimately delighted to hear they run free sessions every Saturday morning for kids wanting to learn/play the game. As part of the new deal with Sky, The R&A are looking to entertain and engage new and existing golf fans at grassroots level via the Sky Academy – a programme dedicated to helping the development of sports at all levels.
I read an article recently that suggested our next open champion waiting in the wings will be a long way off because Sky are 'tearing the heart out of the sport' by taking live free-to-air coverage away.
Total rubbish.
Have children of this generation stopped playing football because there's no live BBC football anymore? Have they stopped playing cricket whose live free-to-air coverage 'sold out' years ago. No of course they haven't. Children will play whatever sport that they enjoy and golf is no different.
Golf needs to break away from this old fashioned way of thinking and embrace the new generation. A conversation I overheard recently highlighted this as one older gentleman said to another:
"These golf shoes the young kids are wearing today look like trainers, they shouldn't even be allowed on the course."
Give me a break. If golf shoes are going to look and feel like trainers and players such as Justin Rose and Rickie Fowler are wearing them then who is in the wrong here?
I'm not saying golf's old fashioned values should die, far from it. I love the etiquette of the game but if there's an argument over golf shoes , flat peaked caps and 'loud' trousers then the game needs to embrace it to make it fun for that next generation. It's certainly not going to struggle because the BBC haven't got coverage of The Open anymore.
Recent research from Golfshake have revealed there's potential to grow the game through the use of modern technology – I'll give the traditionalists a minute to get their breath back – but yes I said modern technology allowed on the courses and God forbid in the clubhouse.
Going back to last year I was in a very well-known clubhouse and I was asked politely by who I imagine was a member to put my phone away. I of course obliged not wanting to cause a fuss, and for the record I was actually tweeting how great the course was and how friendly all the staff were that I encountered…..that's by the by, but what harm was I doing this gentleman? It was on silent, I was sitting on my own, reminiscing on a really great round I'd just had and apparently I was offending him…..interesting.
I don't want to seem to down beat about this and I am disappointed that in a few years' time The Open isn't going to be shown where I believe it should be. Lee Westwood has come out and said it's an 'absolute disgrace' of which his comments where backed by Graeme McDowell.
The 'voice' of BBC golf Peter Alliss was understandably concerned and upset and he's quoted in saying 'the R&A have dipped their hands into the money pot and that's it.'
But I'm not going to dwell, it's time to embrace the fact the game is moving onwards and upwards and yes that is due to money and power - tell me of a sport or industry that isn't? Golf is no different.
But let's be honest, those who have Sky love their coverage and they will continue to do a great job in what they do. Week in week out they bring us unprecedented coverage, all be it with questionable 'pundits' but I could listen to Ewan Murray and Butch Harmon all day. The latter has said that Sky do the best job out of any broadcaster including those in the States at showing golf coverage. Of course he would say that due to his hefty contract with Sky but still you can't argue with what he said.
Who doesn't like to see the ProTracer, the interactive Sky Cart and all the other new technologies Sky have introduced to their coverage.
I love this game and I back anything that is going to help its future. The ramifications of this deal have been highly exaggerated and the kids of today won't be affected too much. Long may the free sessions on Saturday mornings continue along with the summer tournaments as that's where I began to learn the game and I wouldn't change it for anything.
Golf is a great game full of some valid old values that we should never lose, the history of the game is important but include a twist of the new generation and we can have a game that everyone from all age groups can enjoy.
Embrace it, love it and continue to play the game we all love.
Happy golfing.
---
What do you think? leave your comments below (Comments)
---
---
PLAY MORE PLAY BETTER - LATEST TUITION TIPS
---
Leave your comments below
comments powered by

Disqus