Watson says sorry - for what?
By: Golf Shake | Thu 09 Oct 2014 |
Comments
---
Post by Golf Writer, Derek Clements
---
Tom Watson has taken the extraordinary step of issuing an open letter in which he apologised to the US Ryder Cup team for comments he allegedly made in advance of the final-day singles at Gleneagles.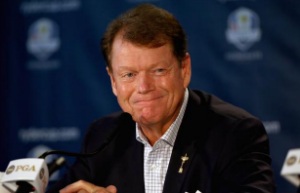 It has been reported that Watson tore into his team at the end of the second day, making it clear that he wasn't happy with their attitude or their form. Surely, a captain has every right to share his views with players in his charge. The shame of it all is that it was leaked to the media, and you can be certain of one thing - that did not come from Tom Watson, who is both a gentleman and a very proud American.

At about the same time as Watson's letter was being made public, the European Tour was naming Paul McGinley, the European captain, as its golfer of the month for September in recognition of the efforts he put into getting his team ready. It is a sad contrast.

The PGA of America has also ordered a report in the shortcomings of its team at Gleneagles. It can order all the reports that it wants, but until such time as it can find a way of building team unity, and discovering a captain (or captains) capable of achieving and maintaining that unity, it is whistling in the wind.

As has been said many times, there is no 'i' in team - Europe understands that; it is debatable that the Americans get it.

This is what Watson said:
"In response to all of the recent discussion about our Ryder Cup loss, I would like to make a few comments.
"First, I take complete and full responsibility for my communication, and I regret that my words may have made the players feel that I didn't appreciate their commitment and dedication to winning the Ryder Cup. My intentions throughout my term as captain were both to inspire and to be honest.
"Secondly, the guys gave everything. They played their hearts out. I was proud to get to know each and every one of them. I know they are all going to win tournaments, be on future Ryder Cup teams and have wonderful careers.
"Our team certainly showed guts when it took it to the other team early in Sunday's singles matches. We were indeed tied with them as the scoreboard turned wonderfully 'red'. Our players started fast, as I had asked them to in my comments the night before. I asked them to really concentrate on holes 2-5, as the Europeans had won too many early battles on these particular holes. But in the end, the facts are that the other team played better. My hat's off and congratulations to them.
"As for Phil's [Mickelson] comments, I completely understand his reaction in the moment. Earlier this week I had an open and candid conversation with him and it ended with a better understanding of each other's perspectives. Phil's heart and intentions for our Ttam's success have always been in the right place. Phil is a great player, has great passion and I admire what he's done for golf.
"The bottom line is this. I was their captain. In hindsight, whatever mistakes that were made were mine. And I take complete and full responsibility for them. I want to say again to the players, their families, the PGA and our country how proud and honoured I was to captain this talented group of golfers, and how privileged I was to spend the past two years working this labour of my love for the Ryder Cup."
Mickelson criticised Watson's captaincy in public, which was clearly overstepping the mark, and accused him of failing to involve his players in any of his decision making. It is disgraceful that a man of Watson's stature in the game should feel moved to hang himself out to dry in this manner.
Personally, I feel that giving the US team a kick up the behind is probably exactly what they required. By all accounts, Watson had tried just about everything else.
---
Derek Clements is a sports journalist with a particular passion for golf with over 12 years of experience covering golf and other sports including Chief Sub-Editor on the sports desk of The Sunday Times. To contact Derek email direct via [email protected]
---

The Ryder Cup is unlike any other tournament in golf and the atmosphere is something that every golf fan should experience. The experts at Golfbreaks.com can help with all aspects of your Ryder Cup experience, from accommodation and ticket packages to hospitality and travel and playing some of the fantastic nearby courses.
---
---
What do you think? leave your comments below (Comments)
---
Tags: Tom Watson
---
PLAY MORE PLAY BETTER - LATEST TUITION TIPS
---
Leave your comments below
comments powered by

Disqus