Life on the Tour Van - PGA Seniors Championship
---
Neil Cooke is Professional Clubmaker and the Tour Technician on the European Seniors Tour and Golfshake is lucky enough to have Neil writing a blog on Golfshake to give the inside view on a professional golf tour.
Neil's got over 30 year experience in club fitting, club making and was the Technical Director at Golfsmith Europe. He's considered an expert in his field and regularly writes technical articles for various golf publications and runs Golf Technical Services supporting the European Seniors Tour
---
Well, that's me off and running with The European Seniors Tour again, and not a moment too soon. The first week of June saw the tour swing into action at The PGA Seniors at Stoke by Nayland. It's not a venue I was that familiar with but from what I saw of the course and the comments from the players seemed to be a popular choice. My first priority at any event is where I'm going to be sited with the truck, I like to be on the practice ground or adjacent to the putting green. At The PGA it was ideal as the two are next to each other, so players can go straight out and test the clubs I've altered and get immediate feedback. The week before the event, a player I was working with expressed concerns that the practice ground wasn't long enough, but it turned out to be about 280 yards long and I didn't see anyone flying the fence at the back. So maybe tour players have the same delusions of length the rest of us do!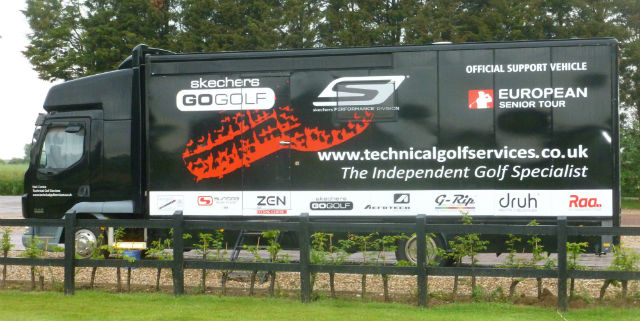 I turned up early on the Monday knowing that the first event of the year means all he players are desperate to get work done. After arriving at 8.30 by 9.30 I'd change a full set of iron shafts for Kevin Spurgeon after he'd found traces of rust on his old ones. Simon Brown arrived with a bunch of drivers and fairways to be reshafted, lengthened, reweighted.To be honest I should have written it all down. After regripping another 5 or 6 sets of irons and a dozen putters, by time I got round to starting the work about 2 hours later I was totally blank. I'd even managed to lose one of the shafts Simon had brought in himself! Now let me explain, tour players whether European Tour or European Senior Tour, are no different to the average golfer when it comes to clubs and equipment. Every driver, putter, shaft and grip on the truck is picked, inspected and waggled, it's just someone had picked up Simon's shaft and put it back in my stock. It took about an hour to find but it turned up in the end so panic over. Another first for me was Paul Currie complaining the rib in his grips were too prominent. Paul is one of the many players that have changed to leather grips, he had a wrap style that we swapped for cabretta leather grips with a stitched seam that acts as a subtle "reminder".
I may have mentioned this before, but there is one massive drawback about sleeping in the cab at events. It's not that it's not comfortable, far from it, with two big bunks, a DVD player and a beer fridge! It's the green keepers that are real menace. At Stoke by Nayland the guys were up and cutting the practice facilities at 4.30 every morning, as the clubhouse doesn't open until 6 for a shower, it meant a fair bit of walking the course again. One evening in the local pub I bumped into the head green keeper and casually mentioned the early morning call, to which he replied, his guys had to get up at 4 to be there to wake me up at 4.30!
The 3 days before the tournament started was spent mainly regripping with a few shafts being changed and a lot of loft and lie adjustments. Chris Williams from South Africa is a fanatic when it comes to loft and lie and is forever tinkering, so much so that I leave him to it. He spends so much time on the truck I'm thinking of inviting him to my works Xmas party! There are two schools of thought on loft progression, the original and still used by the manufacturers, that there is 3 degrees between the long and mid irons and then 4 degrees between the short irons, why I don't know. More increasingly I'm being asked to adjust sets so that there is 4 degrees between each iron throughout the bag, which seems more logical to me.
On the eve of the tournament, the feeling was that the scoring wasn't going to be too low due to both the competitive rustiness of a lot of the players, and the course conditions which looked like being pretty small and firm greens with very punishing rough. The premium looked like being accuracy rather than length this week. So it was a surprise when the scoring turned out to be so good with Steen Tinning leading at -4.
After fitting around 700 grips in the run up to the tournament, things always quieten down once the action starts for real, with most visitors to the truck wanting just a bit of tweaking here and there. It's normally the putter that has misbehaved so many are shortened, lengthened, flattened, reweighted or regripped. Players who had fatter grips often come back on for thinner grips and vice versa!
Friday morning was notable for two things, Andrew Oldcorn's driver and a nightmare scenario with Pedro Linhart. Firstly, Andrew (who opened with +2) turns up asking for his driver to be lengthened ¼" which doesn't seem a lot but is significant for a tour player. I glued in an extension, regrip and he's away happy. Later in the day he's back to have it shortened (having shot -4) we take an 1/8" off so now it's 1/8" longer than originally! Andrew goes on to finish 4th on -9 so what do I know? The Linhart is far more serious, there are some things that can make me wake up in a cold sweat and this is one of them. On Thursday Pedro arrived asking for an additional driver shaft to fit his driver, as it uses an adaptor there are no problems, I put one together and it all works to the extent it goes straight in the bag. On Friday Pedro appears saying the head is loose, and on inspection it turns out the thread has gone on the adaptor. I asked Pedro when he was on the tee, to which he said 5 minutes! Now, the epoxy I use on the truck is very fast and very strong, but 5 minutes may have been pushing it. "It's OK", Pedro said, "I'll hit 3 wood on the first so won't need a driver until the second". I told him to walk slowly between shots. Five hours is a long time to sit on a mobile workshop waiting for the sound of an ambulance, but thanks to 3M it all ended happily.
Saturday I sat around until the leaders went out then packed up to leave, all the work is done pre tournament and maybe the first 2 rounds. I arrived home to find that Santiago Luna stormed through the pack with a 64 to win by 2 shots. So it's back to base to restock the truck in time for The Seniors Open at Royal Porthcawl in July
---
To find out more about Neil Cooke and Golf Technical Services or for further information on club fitting or how the Tour truck could visit your event or Corporate day visit www.technicalgolfservices.co.uk
---
---

Be part of the action with a selection of unique golf tournament experiences, from playing in a pro-am with the stars to watching the action at golf's most illustrious events. Whether it's the Masters or The Open, The Ryder Cup or WM Phoenix Open, build your own bespoke package with the experts at Golfbreaks.com.
---
What do you think? leave your comments below (Comments)
---
---
PLAY MORE PLAY BETTER - LATEST TUITION TIPS
---
Leave your comments below
comments powered by

Disqus