10 Reasons to Track Your Golf Game Online
By: Golf Shake | Mon 09 Dec 2013 |
Comments
---

With over 1 million rounds of golf to analyse from social and competitive golf the Golfshake data provides a great insight into trends to help towards playing better golf and reducing your golf handicap. Don't take just our word for it though check out these 10 reasons to track your golf game.
1. It will seriously improve your game!
Over the years we have collected data from over 1 million rounds and on average using our golf score tracker has been proven to reduce a players golf handicap by 3 shots! It is a simple as that, tracking your golf stats online on a regular basis and being proactive with the results will help you become a better golfer.
The 18+ handicappers drop on average 1.3 from their handicap every 7 rounds, the mid teen handicappers drop more regularly but only 0.8 every 5 rounds and those exclusive single figure golfers find it much tougher to maintain with an average drop of 0.5 every 11 rounds.
2. Identifying your weakness's will help you improve the right areas of your game
One of the main benefits of the golf score tracker is that it gives you the ability to identify exactly what strengths and weaknesses appear in your game. You may think you know what your strengths and weaknesses are, but data collated on regular basis will tell you the exactly what you need to work on and how just how hard.
Whilst it's important to get off the tee and hit the fairway, 21+ handicappers average a respectable 60% of Fairways in Regulation compared to a very close 70% for 15-20 handicappers. The more important statistics to help the higher handicapper is Greens in Regulation where those stats change drastically to 28% and 56% for the 21+ and 15-20 ranges respectively.
3. Setting goals will make you focus
Once you have begun to track your game via the golf score tracker you will be able to set yourself goals to improve. Everybody responds to a target and setting yourself statistical goals such as higher green in regulation stats or lower putts per round stats will give you a focus to help improve your game.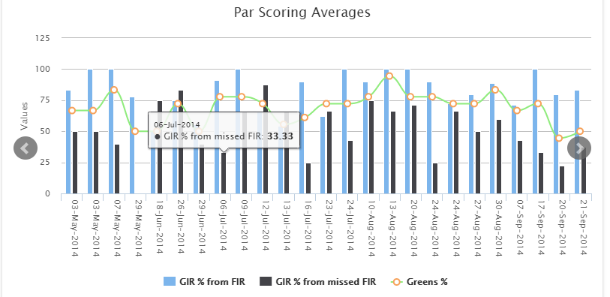 4. The professionals do it AND they pay attention
Every professional golfer on the PGA and European tours have their statistics tracked on a round by round basis. They understand that being aware of their weaknesses will help them focus their practice and make bigger improvements to their golf. They also understand that those improvements can be made faster as a result.
The good news is that you can track those exact same statistics via our golf score tracker! If the pros are tracking their online golf stats via PGA Tour and European Tour and making improvements as a result, why aren't you?
5. Eliminate the dreaded three putt
Our data shows that the dreaded three putt is the biggest barrier to improvement for mid-high handicappers. In fact our data suggests that high handicappers three putt 20% of the time! If you are in that handicap bracket tracking your scores online will show you if you have a three putt weakness in your game, and if you do, you can work on improving your putting and as a result your handicap may reduce significantly!
Ruling out the 3 putts will serve all golfers well in reducing the shots per round and more importantly the handicap but to truly reduce your handicap and get down to the elusive single figures then averaging 31 putts or less is the benchmark for single figure golfer and 29 for those below 5. On the Pro tours the worse putters only just creep above 30 putts with the best at around 27 putts per round.
6. Make progress – fast
As we have suggested using our golf score tracker will help you quickly and accurately identify your weaknesses. This is turn will help you work on the right areas of your game and be more productive with your practice. This will certainly help your to make improvements faster!
7. It only takes a minute!
Online golf stat tracking does not have to be difficult. You can make notes after you complete each hole and we have some great on-course tracking cards to help you collect all the data you need. It then only takes a couple of minutes to enter that data via our golf score tracker software. What's more you will then have access to 10's of reports and we will send you a monthly update on your progress.
8. Compare with your mates, enjoy the banter
Golf is a competitive game, whether you are playing against your mates or just the course. Using the golf score tracker will give you some serious ammunition for those pre shot bouts of banter. Maybe you and your friends can compare stats with Tiger Woods or just with each other, either way it sure to produce some talking points.
9. Your golf course management will improve as a result!
Being aware of your strengths and weaknesses via online score tracking will undoubtedly help you to better manage your game on the course. For instance you may know that you miss a higher percentage of greens than you should from your tracked data. With those stats in mind you may be proactive and aim for the larger parts of a green rather than shooting at the pin.
Another example would be your golf score tracker data suggesting that driving accuracy is not your strong point and iron play from the tee may be a more prudent play. The bottom line is that tracked data will help you understand when and where to attack a course and as result lower your scores.
10. It's fun!
Being more involved in your golf game is fun! Analysing your game post round and understanding what you did right is a fun exercise and building a plan to improve, whether it is on your own or with a coach is something that everyone enjoys.
In the end, we all play golf because we love it, being able to understand how to improve your golf through online score tracking will help you improve and hopefully enhance your enjoyment of the game.
---
Related Articles
Know Your Game - Track to Improve
Golfshake Helps Get Your Game on Track
Golfshake Awards Give Your Game Focus
How score tracking can seriously improve your game
Get your game on track and focused
---
What do you think? leave your comments below (Comments)
---
Tags: golfshake game improvement
---
PLAY MORE PLAY BETTER - LATEST TUITION TIPS
---
Leave your comments below
comments powered by

Disqus