2014- A career defining year for McIlroy and Woods?
---
Tiger Woods and Rory McIlroy have enjoyed contrasting fortunes this year, but their respective seasons have been underpinned by a common theme: disappointment. The Ulsterman's well-documented woes need no further deliberation, and his failure to come close to replicating last year's success has surprised virtually everyone with a vested interest in golf. The statement, though, might sound slightly more inapplicable to Woods. The world number one won five big PGA Tour events and claimed the PGA Tour Player of the Year accolade for the 11th time, something he described as "incredible feeling and very humbling."
But does what does this signify? Progress; certainly. Realisation of his main goal at the start of the season? No. Let's not forget that Woods' season followed on from a 2012 campaign that saw him win the AT&T, the Memorial and the Arnold Palmer Invitational – three of the circuit's most prestigious titles. Woods would have viewed 2012 as the stepping stone to greater success, to a 15th major title after a 50-month hiatus, and understandably so. But, make no mistake, his goal at the start of this year was returning to the major winners' circle. He may claim winning the Player of the Year accolade for the 11th time signified 'a fantastic year all-round', but that's a facade. Under the surface, he'll be desperately disappointed about his continuing drought and feeling immense pressure to return to the days when triumphing in golf's biggest events was second nature.
2014 - Most significant year of Tiger's career?
For that reason, 2014 is the biggest and most significant year of his career. It's not just the pressure he puts on himself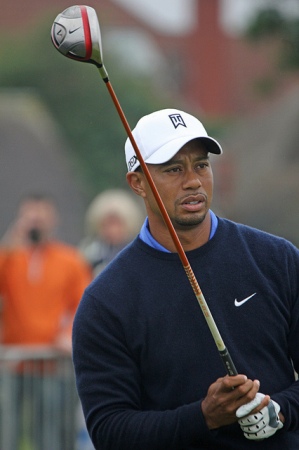 that could feasibly impede his progress, though. Many people choose to focus on personal factors - such as his inability to drive the ball as well as he can and his inconsistent form on the greens - and rightly so, but the strength of the global golfing contingent is often overlooked. The fact of the matter is that golf's strength and depth is far greater than it was in Woods' heyday, and the amount of players that could legitimately be deemed as world class is so high. But it isn't just the players, it's the mindset. In Woods' prime, in 2007 and 2008, for example, he boasted a fear-instilling demeanour and his presence on the leaderboard sent shivers down the spines of every other player in contention. That, I'm afraid, simply isn't the case anymore, and the increasing ability and belief of golfers around the world is intrinsically linked to Woods. These players no longer fear the world number one, because of their own self-belief and Woods' diminishing ability to inculcate fear. The result? A more talented set of players with increased confidence and more pressure on the shoulders of the 14-time major champion.
For me, a lot of it comes down to putting, and the ability to produce moments of magic in tournament- and career-defining situations. There was a time when Woods wouldn't miss from 10 feet when in contention; a time when his ability to pull off the seemingly impossible was exasperatingly inevitable for his peers. Yes, he won five times in 2013, but few could argue the fear factor Woods now exudes is comparable to what it was during his halcyon years. That's not to say Woods can't get his aura back, however.
If he manages to win a major thus season, I think he'll go on to beat Jack Nicklaus' record. If not, I think he'll struggle. Obviously it's impossible to predict the future in a sport with so many variables, but Woods is a man who plays his best golf on courses that he's familiar with. That's why 2014 carries such significance. Woods has won at three of next year's major venues – Augusta National, Royal Liverpool and Valhalla – and notched two top 10s at Pinehurst 2, host of the 2014 US Open. If the 38-year-old is going to reignite his challenge for Nicklaus' record, next year will be pivotal. At this stage, I just can't decide how I think it will play out.
McIlroy: flourish or faulter in 2014?
The 2014 season will also be extremely significant for Rory McIlroy. But, whilst I can't make my mind up as to the future of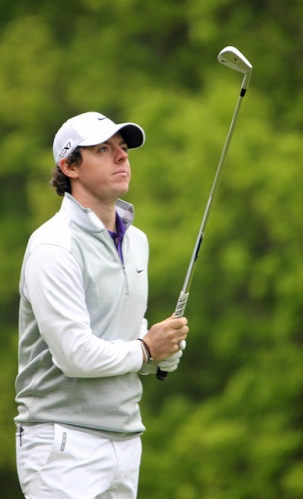 Woods, I have a feeling the Ulsterman will flourish. To me, his struggles were always going to be temporary, and some of the decisions he's made in recent times have demonstrated maturity and dedication.
His struggles this season have been a combination of factors: a
high-profile equipment switch
, a celebrity girlfriend, management issues, increasing media commitments and expectation levels set after a sensational year in 2012. But, as they say, form is temporary and class is permanent. All top sportsmen go through similar lulls, but it's how they react to those periods that linger in the memory and form their legacy. I think it'll be beneficial in the long run that McIlroy has endured this tumultuous period, because it's given him grounding, perspective and realisation that no matter how talented you are, success doesn't come easy.
In recent times, signs have been encouraging. In the past, accusations have been levelled at McIlroy with regards his commitment and desire to be as good as he possibly can, but two recent developments have given me cause for optimism. Creating a family-centric management structure will help him feel more comfortable and give him and improved support network, which should translate to better results. What's more, ending a high-profile global relationship with Carolina Wozniaki shows he's 100% committed to realising his full potential.
I know the 2013 season is still running in Europe, and the new campaign is underway in America, but 2014 will be extremely telling for both McIlroy and Woods. The former has lots to prove after an inauspicious season and, if he's going to be one of golf's all-time greats, he simply can't afford another lacklustre year. Woods, meanwhile, is facing one of the biggest challenges of his career. Yes, he's arguably the best player to have ever played the game, but that will offer little consolation if he doesn't manage to break Nicklaus' record. It really is difficult to predict what will happen next season, but one thing's for sure: it's going to be absolutely fascinating watching how things play out for Woods and McIlroy.
---

The Ryder Cup is unlike any other tournament in golf and the atmosphere is something that every golf fan should experience. The experts at Golfbreaks.com can help with all aspects of your Ryder Cup experience, from accommodation and ticket packages to hospitality and travel and playing some of the fantastic nearby courses.
---
---
What do you think? leave your comments below (Comments)
---
---
PLAY MORE PLAY BETTER - LATEST TUITION TIPS
---
Leave your comments below
comments powered by

Disqus