Explanar re-launch innovative training aid worldwide
---
Explanar Ltd, producer and sole retailer of Explanar golf swing training aids, has re-launched the Explanar golf swing training system across the globe. The new owners of Explanar Ltd have unveiled a brand new website to coincide with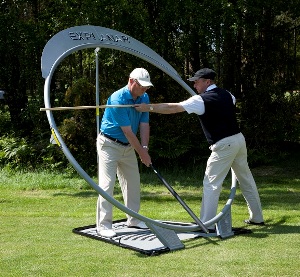 the sale of the golf training aids.
Invented by PGA Master Professional Luther Blacklock, Explanar is a golf training aid designed to give users a powerful and repeatable swing. Explanar differs from other training aids on the market in that it builds the correct fundamentals of the golf swing, with a learning process built on swing feeling rather than purely swing theory. This enables golfers to hit the ball longer, straighter, and more consistently, with improvements obvious even when practicing for just 5 minutes each day.
The device is used by leading teaching professionals and tour players, and has been endorsed by some of the world's top golf coaches, who all agree the Explanar golf training aids are the best way to improve your golf game.
Nigel Blenkarne, Master PGA Pro and Director of Golf at Bigbury Golf Club in Devon says:
"Explanar is the best teaching, training and practice aid I've seen in 40 years of professional golf. It is impossible to do it justice with words – it has to be experienced. I believe Explanar has the potential to change the way golf is learned and taught."
Explanar helps golfers to improve their shots by guiding their swing through their optimum biomechanical swing plane, achieved using an inclined hoop structure and a weighted PowerRoller™. This builds swing muscle memory, strengthens muscles used in golf, and leads to a more powerful, consistent swing.
PGA Professional Craig Donaldson, of The Golf Dome in Hartlepool says Explanar teaches more effectively than other training aids:
"The great thing about the Explanar is that after just a few swings on it, a person totally transforms their strike of a golf ball. For me, the user improves far quicker and sustains the improvement longer compared to other golf training aids."
New stock has been manufactured for the re-launch, and for the first time in two years the swing training system will officially be available for sale.
Explanar.com will initially sell two products worldwide: Explanar Home Systems and Junior systems. The site also offers customers the chance to book golf lessons with PGA Pros at golf clubs in the UK and USA (with more countries and Pros being added in the future), using Explanar as a teaching tool.
Explanar Ltd are confident that their golf training aids deliver exceptional results, and are offering a free golf lesson with every purchase of an Explanar
---
---
PLAY MORE PLAY BETTER - LATEST TUITION TIPS
---