Will Sergio Garcia ever grow up?
By: Golf Shake | Mon 13 May 2013 |
Comments
---
Following the weekends Players Championship Derek Clements takes a look at Garcia one of the most naturally gifted players ever and asks will he ever grow up?
---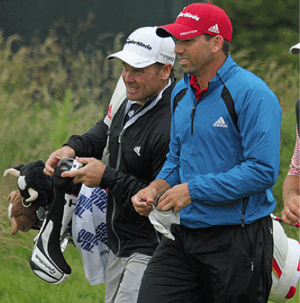 On the evidence of his behaviour at the Players Championship at the weekend, it looks highly unlikely.
When things go wrong in the world of the Spanish man-child, it is always somebody's else's fault. He has even been known to blame - and attack - inanimate objects.
Garcia is one of the most naturally gifted players ever put on this earth. But what God gave with one hand - an ability to strike a golf ball quite magnificently - he took away with the other - Garcia can't putt when it matters and is a petulant, ill-mannered, bad-tempered individual.
Despite his faults, golf spectators around the world pull for him. And, in truth, it is increasingly difficult to understand why.
During his third round at Sawgrass he was in the middle of the fairway at the second hole, preparing to hit his second shot to the par five. He hit a wild shot that veered right and finished in the trees, and then turned to his left and glared in the direction of his playing partner, Tiger Woods.
The world no 1 had struck his tee shot into the trees and elected to take a five-wood to steer the ball through a gap he had spotted. When the crowd realised he was going for a death or glory shot there was a buzz, and there were cheers. Garcia claimed he was in the middle of his swing when Tiger pulled the club. What's more, he hinted that the American had done it deliberately.
"I wouldn't say that he didn't see that I was ready, but you do have a feel when the other guy is going to hit and right as I was in the top of the backswing, he must have pulled a five wood or a three wood and everybody started screaming. So that didn't help very much," said Garcia.
Made aware of what Garcia had said, Woods suggested that the player get his facts straight. "The marshals, they told me he already hit, so I pulled a club and was getting ready to play my shot," Woods said. "And then I hear his comments afterwards, and it is not real surprising that he's complaining about something."
The players had to come off the course for almost two hours during the third round because of a threat of lightning. After play had been completed for the day, Garcia said: "He's not my favourite guy to play with. He's not the nicest guy on Tour. So it will be good for both us not to play together again [in the final round]. We don't like each other. It doesn't take a rocket engineer to figure that out. He is who he is. I am who I am. It's best we're not playing together again."
Asked if they talked it over when play resumed, Woods replied: "We didn't do a lot of talking."
It is interesting to note that Saturday was the sixth time Woods and Garcia have played together in the final group on the weekend. Woods went on to win the previous five tournaments, and then completed the full set on Sunday.
During the 2002 US Open at Bethpage Black, which Woods won wire-to-wire, Garcia complained that play should have been stopped in the second round because of the rain. "If Tiger Woods would have been out there, it would have been called," Garcia said that day. Patent nonsense, of course.
Garcia is a serial moaner, and has been throughout his professional career. Remember how excited we all were when he looked Woods in the eye and didn't give him an inch during the 1999 US PGA championship? We thought we were witnessing the start of a terrific rivalry that would last for years. Garcia was, after all, only 19 years old.
But a few weeks later we had the first signs of public petulance. Trailing South Africa's Retief Goosen in the World Match-Play Championship at Wentworth, and, having struck several wayward shots into the trees, Garcia turned away in disgust as his drive at the 15th headed towards more trouble.
The Spaniard took off his shoe and threw it into the gallery. When it was returned to him, Garcia wasn't keen to put it back on. Instead, he kicked it, and capped it all by angrily tossing his club at his caddy. We put it down to the petulance of youth. How wrong we were.
During the 2007 CA championship, the entire golfing world did a double take as Garcia plucked his ball from the hole at the 13th and then proceeded to spit in the cup, knowing full well that fellow competitors behind him would have to put their hand in to retrieve their golf balls. Did he really just do that? He sure did, and it was horrible.
You may remember a furious outburst during his playoff with Padraig Harrington during The Open at Carnoustie later the same year - Garcia's perfect iron-shot struck the base of the pin and dared to run off the green. "Why does it always happen to me?" he moaned, kicking out at the ground.
He also walked off the course during a pro-am when one of his amateur partners upset him, and he has smashed tee-markers on the European Tour to show his displeasure at errant drives.
During the 2008 US PGA championship, Garcia played a poor sand shot and then, without warning, started beating the living daylights out of the lip of the bunker with his club. Over and over until he had almost broken his club. He then decided to take a break from the game. Bunkers the world over rejoiced at the news. Greenkeepers were pretty pleased too.
Unfortunately, the break didn't seem to do him much good, and he continues to transgress.
He continues to curse, he continues to slam clubs angrily to the ground and he continues to blame everybody but himself when things go wrong.
Garcia would do well to remember that golf has made him a very rich man. If he continues to behave like a child, perhaps it is time that we treated him like one and took his golf clubs away from him until he learns to treat with some measure of respect the game, his fellow competitors, the courses and the spectators who come to watch him play.
---
Guest article from Derek Clements.
Derek is a sports journalist with a particular passion for golf with over 12 years of experience covering golf and other sports including Chief Sub-Editor on the sports desk of The Sunday Times. To contact Derek email direct via [email protected]
Photo credit www.tourprogolfclubs.com
---

Be part of the action with a selection of unique golf tournament experiences, from playing in a pro-am with the stars to watching the action at golf's most illustrious events. Whether it's the Masters or The Open, The Ryder Cup or WM Phoenix Open, build your own bespoke package with the experts at Golfbreaks.com.
---
What do you think? leave your comments below (Comments)
---
---
PLAY MORE PLAY BETTER - LATEST TUITION TIPS
---
Leave your comments below
comments powered by

Disqus