---
Titleist 913 Fairway Wood
The 913 fairways utilise a new SureFit Tour weight location on the sole of each club to help create distinct performance targets, all-around performance or lower spin with a penetrating flight. Golfers can select their models – 913F or 913F.d Low Spin- based on forgiveness or ball flight.
Titleist say the 913 fairway metals are built for more distance and control with the most precise fit available to golfers. Developed from extensive player testing and advanced engineering, the 913F and 913F.d Low Spin fairway metals,are Titleist claim, their highest performing, most comprehensive designs and feature optimised launch with reduced spin for longer distance and precision fitting provided by Titleist's patented SureFit Tour adjustable hosel technology.
Nike Covert Fairway Wood
With eye catching aesthetics and state-of-the-art technology, Nike Golf has taken innovation to a new level with the world's first High Speed Cavity Back fairway woods and hybrids that conform to USGA and R&A Rules.
Cobra Amp Cell Fairway Wood
New for 2013 are the AMP CELL Fairways, featuring COBRA's proprietary MyFly technology, the AMP CELL Fairways are available in a 3-4 model and a 5-7 model that can be adjusted into 8 different lofts. This gives golfers a never-before-seen ability to effectively dial in distance gaps and manage trajectories for their individual long game needs, as wells as ground and weather conditions. The AMP CELL Fairways are available in the same fresh colors as the AMP CELL Driver; Silver, Directoire Blue, Barbados Red and Vibrant Orange, so golfers can create a matched set or a personalized, mixed look.
The AMP CELL Fairways take adjustability a step further with SmartPad technology. Unlike other clubs that require a golfer to adjust the sole plate after adjusting loft for a square face, COBRA's proprietary SmartPad technology keeps a square face at address regardless of loft setting and still allows for workability to slightly open or close the face as desired.
To find out more about the Cobra Amp Fairway Wood - Click Here
Ping G25 Fairway Wood
An extreme variable-thickness face creates an efficient energy transfer, producing faster ball speeds for greater distance. The face is the thinnest of any PING fairway wood. The low-profile, forgiving design features mass low in the 17-4 stainless steel clubhead, positioning the CG low and back for higher launch and increased forgiveness, especially on shots hit low on the face, the most common "miss-hit". It features a large head design with a traditional shape that aligns easily with the target. A charcoal non-glare finish helps with alignment, eliminates reflections, and inspires confidence.
Fairway woods available: 3 (15º), 4 (16.5º), 5 (18º), and 7-woods (21º) Proprietary graphite shaft: TFC 189F (Soft R, R, S, Tour-Stiff, and Tour X-Stiff flexes)
Callaway X Hot Fairway Wood
Callaway has launched new line of fairway woods that Tour Pros, the blogosphere and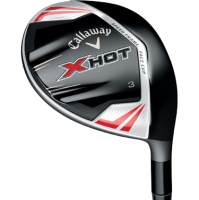 industry insiders have been buzzing about in recent weeks, the X Hot Fairway Woods. Aiming to deliver the hottest, most versatile and most complete fairway woods in golf, Callaway R&D engineered a Forged Speed Frame Face Cup made of high strength Carpenter 455 stainless steel that is, remarkably, up to 40 percent thinner than last year's fairway wood face -- with a 90 percent larger sweet spot -- jamming the CT level right up against the limit allowed by the USGA. As a result, the Forged Speed Frame Face Cup produces significantly hotter responses all over the face, and does so with superior launch conditions.
The markedly low CG in the fairway wood head, accomplished with a novel proprietary design called the Internal Standing Wave, delivers more ball speed and lower, more consistent backspin, resulting in longer, more consistent distances from everywhere on the course: the tee, fairway or rough. This new, wave-shaped weighting design engineered inside the club head projects up from the sole toward the face, creating a lower and shallower CG and higher
MOI.
Adams Super S Fairway Wood

Brand new for 2013 is the Adams Super S Fairway wood. Adams have continued research on the benefits of Velocity Slot Technologyand have been able to provide even more benefits for golfers - The Cut-Thru slot in the sole of the SUPER S fairway provides the horsepower for the golfer to hit it extremely long distances.
The stainless steel constructions with a new crown slot is thinner, deeper and longer from heel to toe, which allows golfers to easily get the ball in the air without negatively impacting performance. And the Cut-Thru sole slot making the SUPER S Fairway Wood extremely hot with a CT (Characteristic Time) of 230.
Wilson D100 Fairway Wood
Wilson Staff D-100 fairway woods are among the lightest and easiest-to-swing on the market. The Right Light club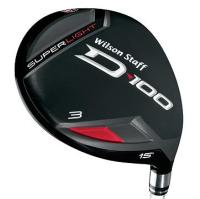 technology delivers optimally-designed club mass properties for greater head speeds with the same swing effort:
PVD Finish: Low profile design with sleek black finish sits square and delivers ultimate confidence at address.
Optimized Head Mass Properties: Relocated CG 11% more toward the heel makes it easier to square the club face at impact; 8% back improves launch angle and spin rate, and through chemically-etching the crown, moving it 10% lower improves feel and launch angle.
Progressive Head Design: Tailored head and face sizes throughout the lofts deliver maximum forgiveness on all turf conditions.
TaylorMade Rocketballz Stage 2 Fairway Wood
By combining all the technology from the original RocketBallz Fairway Wood and improving the Speed Pocket design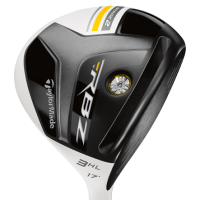 which flexes faster helps to promote faster ball speed and more distance. Taylormade claim the better players can gain up to 10 yards more distance than the original RocketBallz Wood.
TaylorMade have redesigned the crown graphic of the RBZ to help players square the ball accurately at address using a triangular focused design. Normal face crowns act as an illusion showing the driver being square when infact the face is open, leading to an unwanted fade or slice shot.
Lower and more forward centre of gravity position will reduce spin, increase launch and give faster ball speeds. A shallower face and a lower head profile provide easier launch.A redesigned crown saves weight and improves centre of gravity location and a non-glare White crown and Black clubface all make alignment easier, while a light shaft promotes faster swings.
To find out more about the TaylorMade rocketballz stage 2 Fairway Wood Stage - Click Here
---
Related Articles
---
---
PLAY MORE PLAY BETTER - LATEST TUITION TIPS
---