swingSURE offer new specialist Golf Insurance
---
swingSURE™ is a collection of innovative insurance products aimed at Golf Clubs and their members throughout the UK and Ireland.
Whether Golf Clubs are worried about inclement weather rendering playing conditions poor or unplayable, or ensuring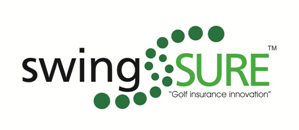 that club premises and facilities are insured, swingSURE™ provides peace of mind and the ability to allow clubs to protect their income. Members can benefit from, loss of club subscription liability insurance if they are unable to play golf due to injury or ill health and the golf club can benefit from our hole in one facility, that offers a brand new revenue stream to any forward thinking golf business.
Born out of a joint venture between golf marketing and distribution specialist, YUMAX Ltd, and Lockton, the world's largest privately owned insurance broker, swingSURE™ is a golf insurance specialist that brings all components of golf cover under one umbrella.
"Working with the team at YUMAX we were able to draw on their industry knowledge to develop a range of bespoke products for golf clubs, that provide solutions to the problems that all clubs are facing" said, Martin Bailey, FCII , Chartered Insurance Practitioner, Partner, Lockton Companies LLP.
Roger Wolfe, co-founder of swingSURE ™, says: "It is essential for golf that we find creative ways to keep the business going in times where rainfall records are being broken, membership numbers are dwindling and traditional revenue streams are being challenged" . "The swingSURE™ team truly understands these challenges and can work with you and your business to secure a brighter future"
If you are a Golf Club owner, secretary, manager or club professional and you answer YES to any of the questions below, be sure to call swingSURE™ to find out how our innovative insurance products can help your business today on 0845 299 3330 or visit our website at
www.swingsure.co.uk
---
---
PLAY MORE PLAY BETTER - LATEST TUITION TIPS
---