Kikkor launches new product ranges for 2013
---
The European spring/summer 13 range from innovative golf shoe manufacturer Kikkor launches in March with no fewer than five new product lines.
The brand has spearheaded the crossover-style golf shoe movement in North America since it was launched in 2010, proving so popular that Golfweek magazine wrote that the company sold so many they "…can't keep their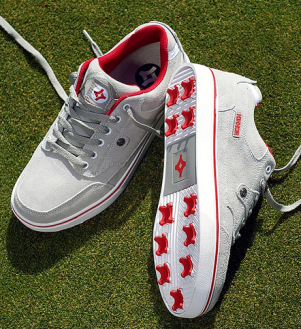 shoes on the shelves".
It also created quite a stir in Europe and this is the first occasion that the continent has seen the introduction of new styles of shoe, which start at just £79.
The new lines include the unique Men's Slyder Premium (£79), a deck-shoe style but with a leather upper and embedded spikes; the brogue-look Men's Player (£89), with a full-grain, waterproof leather upper and embedded spikes; and the suede-style Men's Tips (£99), which comes with a two-year waterproof warranty.
And the ladies don't miss out either as the trainer-style Women's Tour Estrella (£89), with Kikkor's own VEKTRboard™ traction system, is sure to prove popular in its four colour ways.
A spokesman for Kikkor UK said: "The market for the 'crossover'-style shoe is very buoyant, but few brands can compete with Kikkor's range, quality or aesthetics. This style of shoe isn't merely an adjunct to an existing footwear range; it's not lip service, this is what Kikkor does, these shoes and only these shoes. Therefore the thought that goes into both design and manufacture is second to none … and it shows.
"I've yet to discover a more comfortable golf shoe than Kikkor - they're what our feet would demand if they could speak out … And when you consider how stylish they are it's easy to see why they are so popular."
Kikkor shoes were the brainchild of Canadian golf professional James Lepp, who, in addition to designing stunning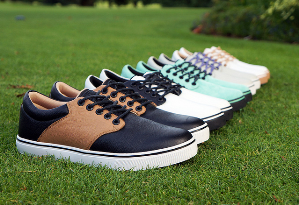 footwear, also finished runner-up in the Golf Channel's reality TV show, Big Break Greenbrier, which finished airing in the US in December 2012.
His desire was to produce golf shoes which combined unique styling, outstanding comfort and superior performance. The Kikkor range takes its influence from the classic North American athletic and skate shoes and the popular 'sneaker' and are built with comfort and style in mind first and foremost, without ignoring important technical attributes such as grip, stability, waterproofing and durability.
The Kikkor range includes shoes with the exclusive VEKTRboard sole, which produces outstanding traction through the strategic curving of each individual cleat. The company describes the effect as like "having bear claws on your feet".
Retailing at under £100, not only are they the most fashionable shoe on the market, they're also not going to break the bank. From the unique deck-shoe-style Slyder Premium through to the Women's Tour Estrella, the shoes are unmistakably trendy and desirable, as well as practical and effective.
The 2013 Kikkor range will be in pro shops in the UK and Europe from March and is available to pre-order online at www.kikkor.co.uk from February 25.
---
---
PLAY MORE PLAY BETTER - LATEST TUITION TIPS
---