Odyssey Golf launch new range of White Hot Pro Putters
---
Odyssey Golf have announced the launch of its new White Hot Pro line of putter. The hugely popular White Hot insert claimed thirty victories across the worldwide tours in 2012, and Odyssey have now introduced a new and improved version of the insert that they say brings more consistent sound, feel and performance across the putter face. Critical to the insert's enhanced consistency is a new laser milling cutting process that allows Odyssey to achieve extremely tight tolerances and to better match insert shapes to the various White Hot Pro head shapes. White Hot Pro putters are already in play on the PGA, European and Champions Tours.
"The White Hot insert was pivotal in catapulting Odyssey to #1 in wins, top tens and usage across the world's professional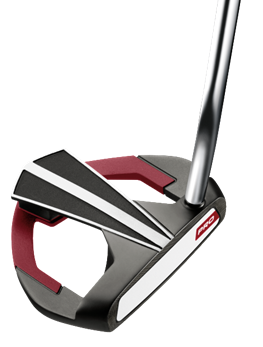 tours," said Austie Rollinson, Principal Designer, Odyssey Golf. "At Odyssey, we are always striving to give the elite and amateur golfer more ways to sink putts more often, so we took our most popular insert on Tour and engineered it for better overall performance and consistency. The result is the White Hot Pro line of Odyssey putters."
A full line of White Hot Pro putter styles will be available in Tour proven and Tour inspired head shapes, including the #1, #7, #5, #2 Centre Shaft, #9, 2-Ball, D.A.R.T. and the Rossie. The team at Odyssey has also developed new head shapes for 2013, including a high MOI mallet with a modified High Definition alignment system – called V-Line -- and a smaller version of the popular D.A.R.T. Putter, called D.A.R.T. Mini. These D.A.R.T models, along with Odyssey's best-selling 2-Ball model, feature an adjustable weighting system that allows golfers to change the headweight of the standard-length putter from 350 grams to 360 or 370 grams. The weights and a wrench are featured in the White Hot Pro headcover for these models.
White Hot Pro putters feature a Gun Metal PVD finish that creates an industrial, non-glare look that is preferred by many golfers. The White Hot Pro line of putters from Odyssey will be available for the following RRPs:
GBP £109 (WHP)£ 149 (WHP Progressive) £159 (WHP Mid / Long) Available in Shops from March 1st 2013
For more information about the White Hot Pro line of putters, please visit www.odysseygolf.com/whitehotpro. For info on Odyssey Golf please visit www.odysseygolf.com
---
---
PLAY MORE PLAY BETTER - LATEST TUITION TIPS
---