Bridgestone Golf grows UK ball-fitting team
---
Bridgestone Press Release
Daniel Osborne, formerly with John Letters' Demo Day team, has been appointed to join Bridgestone Golf's top technician Joe Di Stefano in delivering the brand's ball-fitting programme, before then taking charge of the South of England and Midlands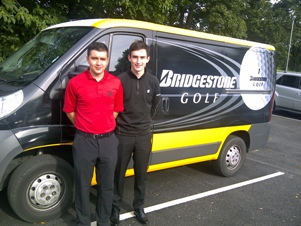 region from mid-October.
"This appointment is another sign of our intention to continue growing the ball-fitting programme and emulate the success of the programme in the US," said Steve Kettlewell, Managing Director of Bridgestone Golf UK. "Daniel has a real passion for the golf industry and his knowledge really is exceptional – we're delighted that he's on board."
The appointment coincides with the brand introducing two new Bridgestone Golf display trucks to help cope with the increasing number of fitting days at golf clubs.
"I'm really looking forward to working with and growing such a fantastic brand," said Daniel, a 4-handicap golfer from Maidstone in Kent. "The Bridgestone ball-fitting programme is a very interesting concept and one that really does help ordinary golfers make significant improvements to their game."
Bridgestone has conducted more than 180,000 ball fittings across North America, Australia and the UK and Ireland – helping golfers add up to 10 yards to a drive by changing to the correct ball for their swing speed. If you would like to stage a Bridgestone Golf Ball Fitting Challenge, call 01630 657689 or visit http://www.bridgestonegolf.com/.
---
---
PLAY MORE PLAY BETTER - LATEST TUITION TIPS
---