Augusta National admits two female members
---
Condoleezza Rice the former US Secretary of State and the financier Darla Moore were yesterday invited to become members of the previously all-male Augusta National. The invitations are thought to be several decades too late by campaigners, but sees Augusta National make a step towards equality in it's membership that many had been hoping for.
The club had been placed under increased pressure for the past decade following a highly public protest at the 2002 Masters by Martha Burke of the National Council of Womens Organisations. Following the invitations yesterday Burke was in triumphant mood and commented:
"Oh my God. We won," Burk said. "It's about 10 years too late for the boys to come into the 20th century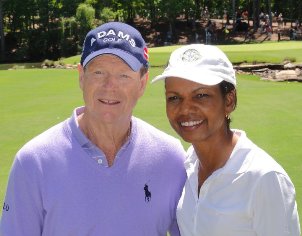 , never mind the 21st century. But it's a milestone for women in business."

It comes as no surprise that this announcement was made away from the spotlight of the press and not in the lead up to the Masters tournament. Former Augusta National Chairman Hooty Johnson admitted that female members were a possibility " but not at the point of a bayonet" It seems that although the club has made this move it has done it at a time that will not appear to be concession to the campaigners.
Although the club does not normally comment on the addition of new members current Chairman Billy Payne felt the historical significance of these appointments merited a statement:
"These accomplished women share our passion for the game of golf and both are well known and respected by our membership," Payne said in a statement. "It will be a proud moment when we present Condoleezza and Darla their green jackets when the club opens this fall. This is a significant and positive time in our club's history and, on behalf of our membership, I wanted to take this opportunity to welcome them and all of our new members into the Augusta National family."

The 2013 Masters Tournament will take place from the 10th - 14th April.
(Source: AP)
---
---
PLAY MORE PLAY BETTER - LATEST TUITION TIPS
---