Ping announce new Anser product line up
---
Ping Golf have launched several new products with an emphasis on optimisation, customisation and adjustment. The new range includes a new Ping Anser driver, fairway wood, hybrid, irons and Tour Groove wedges. All the new products will be available later Summer or early Autumn 2012
Ping Anser Driver
The Anser driver is PING's first adjustable driver – offering golfers the ability to fine-tune their trajectory through a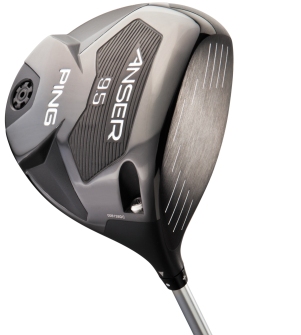 combination of loft adjustment and shaft selection. The process is called Trajectory Tuning.
With its low-spin head, the Anser driver represents a fully optimised design solution that generates ideal trajectories for maximising distance and accuracy. Adjustable loft tuning lets the golfer add or subtract one-half degree of loft beyond the standard setting with the simple turn of a PING wrench.
The adjustable hosel is lightweight and small in diameter, which improves aerodynamics for generating club-head speed and distance. Four standard shaft options offer distinct profiles for custom-fitting the golfer: PING's TFC 800D (Soft R, R, S & X flexes), the Aldila Phenom (R, S flexes), Fujikura Blur Red (R, S & X flexes) and the Mitsubishi Diamana 'ahina (S, X flexes). Each shaft varies in weight, stiffness and the trajectory they deliver.
The driver's rear sole weight positions the CG back and slightly lower to generate a mid-high launch that adds to distance and forgiveness.
The Anser's neutral head rotation promotes square impact, and its low-spin design minimises sidespin for improved accuracy. The 460cc head is made of Ti 8-1-1, a light, low-density alloy, and has a dark, non-glare matt finish.
Available in lofts of 8.5º, 9.5º, 10.5º, 12º with plus or minus ½ degree of loft adjustment.
Ping Anser Fairway Woods
The Anser is PING's first adjustable fairway wood. It allows golfers to fine tune the loft of their fairway wood plus or minus ½ degree. The process is called Trajectory Tuning.
To maximise distance and accuracy, the stainless steel Anser fairway wood has more surface area low on the clubface to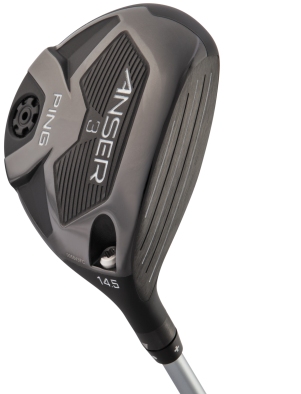 make sure the ball contacts the club properly on the face. A rear sole weight optimises the CG to promote a slightly lower, more penetrating ball flight with low spin, which adds distance and elevates the MOI across the face.
Trajectory Tuning allows the golfer to add or subtract one-half degree of loft beyond the standard setting with the simple turn of a PING wrench. The back of the sole is tapered to provide extra relief and ensure clean contact, even from tight lies, uneven lies, and light rough.
The Ansers have a traditional shape and a straight lead edge to inspire confidence and make aiming easy. A dark non-glare, matt finish reduces distractions.
Available in: 3-wood (14.5º), 4-wood (16.5º) and 5-wood (18.5º). Standard shaft: TFC 800F (Soft R, R, S, X).
Ping Anser Hybrids
Progressive CG locations in the Anser hybrids promote high launch and improved accuracy so players of all abilities can gain added distance and control.
Through internal and external weighting, CG positions vary from club to club to produce the desired trajectory for extra distance and improved accuracy. In the lower lofted hybrids, the CG is slightly lower and further back for higher launch and optimal spin. The higher lofted hybrids have a more forward CG position to optimise launch conditions.
The traditionally shaped head is larger to increase MOI and inspire confidence. The lowest portion of the clubface is wider, most importantly in the heel and toe, for improved alignment and to ensure clean contact for more forgiveness and optimal spin.
A dark, non-glare, matt finish eliminates distractions.
Available lofts: 17, 20, 23, and 27. Standard shaft: TFC 800H (Soft R, R, S, X).
Ping Anser Forged Irons
The Anser Forged iron's progressive set design makes it easy to launch the ball higher with the long irons and lower with the short irons for precise, consistent shot making.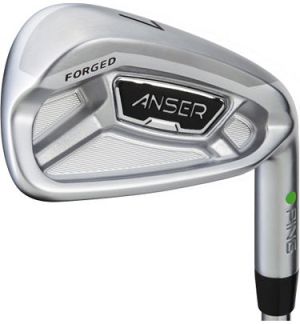 An 8620 steel body combines with a dense tungsten weight and hollow sole to optimise the CG and elevate MOI. Larger long irons promote forgiveness and higher launch; heads progress to smaller short irons for more control.
Predictable ball flights are achieved through progressive stabilising bar technology. In the long irons, the bars angle out wider and are thinner, lowering the CG to launch the ball high. The bars get increasingly vertical and thicker through the shorter irons to bring the ball in lower and more penetrating with high spin.
The Anser iron also features machined face and grooves.
Available in 3-PW in the Project X shafts (5.0, 5.5, 6.0, 6.5) or TFC 800i (Soft R, R, and S).
Ping Tour Groove Wedge
The Gorge Groove technology and multiple sole options in the Tour wedge offer new levels of control and consistency for confident wedge play. The grooves are milled at PING's facility in Phoenix, Arizona to hold extremely tight tolerances that ensure a groove size and shape that provides golfers maximum spin.
The stainless steel wedges are available in three sole widths: thin sole (TS), for tight lies, firm conditions and shallower swings; wide sole (WS), for soft conditions, from bunkers, and steeper angle of attack and the standard sole (SS), for most turf conditions. All three sole options offer the versatility to open or close the clubface to play most any shot.
Traditional head shape features a custom tuning port in the cavity, which increases MOI and contributes to a solid feel across the clubface.
Available in
Standard Sole (SS) - 47º , 50º, 52º, 54º, 56º, 58º and 60º
Wide Sole (WS) - 54º, 56º, 58º and 60º
Thin Sole (TS) - 58º and 60º
Standard shaft CFS (Soft R, R, S and X) or TFC169i (L, Soft R, R and S).
---
---
PLAY MORE PLAY BETTER - LATEST TUITION TIPS
---