Groove Fix Stylish Golf Accessories
---
GrooveFix are taking Golfing accessories to a different level with their unique design and quality finish making them a must for any golfer.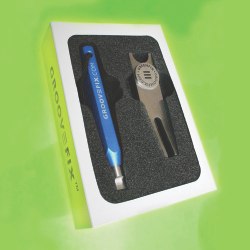 GrooveFix is a UK based manufacturing and retailing company designing and producing unique, stylish and high quality golf accessories including groove sharpeners, pitch repairers, golf ball line markers and other products that any golfer would value.
Now sold in Harrods, GrooveFix are the official supplier of the British Par 3 Championships and have supplied Wembley Stadium, amongst others, plus supply direct to all golfers offering a fantastic service, easy payment system and super fast FREE delivery. You can also personalise products with logos and your own quotes and phrases (minimum order of 25).
Products include:
Groove Sharpener
The Excellently designed 'Pencil' like groove cleaner and sharpener is a great addition to any golfers kit.
Easy to use, the unique groove sharpener is precision ground and engineered to exacting tolerences to ensure that it does not compromise the R&A and USGA rules regarding width and depth.
After use I did get a lot more control on my wedges in particular biting and spinning on the greens in particular.
A Line Ball Marker
This product is very smart and well thought out with the A Line ball marker longer than normal in size.
The white line down the middle acts as an excellent putting alignment aid. As someone who also has a line of my ball, I found this feature to be very useful.
Big Ball Marker
The big ball marker comes in a variety of different colours and designs. as big ball markers seem to be all the rage at the moment I'm sure these will be a massive hit for some.
Pitch Repairer
Complete with a normal sized ball marker, this pitch mark repairer is slightly curved at the end which allows you to get right under the pitch mark. The other end is cut in a 'U' shape.
Plus, we have all taken our wedge and putter to the other side of the green and not wanting to let your grip get wet/dirty, simply stick the Pitch Repairer into the ground and the shaft of the club will rest into it.
I promise you would use this a lot more than you think.
LineFix
This funky little tool is one I really like.
If, like myself, you're a 'Drawer' of lines on your golf ball then this will enable you to draw a perfect line around the whole ball, rather than just a section of the ball, using the slick designed Line Fix 360.
GrooveFix come highly recommended. The offers on their website allow you to purchase more than one item to save on the overall cost.
Go for the Mega Bundle and you will also get a flash little velvet bag to keep all your accessories in.

For more info visit www.groovefix.com
---
What do you think? leave your comments below (Comments)
---
---
PLAY MORE PLAY BETTER - LATEST TUITION TIPS
---
Leave your comments below
comments powered by

Disqus