New vision for Golf in 2020
---
"A major Asian presence in the world's Top 10, low cost urban golf courses, new self-coaching digital "smart clubs", short format golf, carbon positive courses and family friendly facilities will revolutionize the game of golf by the start of the next decade"
The report was commissioned by HSBC who worked together with The Futures Company to produce their findings to coincide with this years Open at Royal Lytham & St Annes.
Asian participation in Golf set to explode
Players and experts were united in their believe that Asian players will make up a third of the World's top ten by 2020 with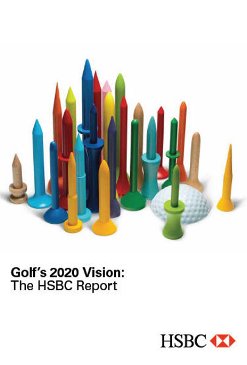 the game exploding in the Far East. In China the number of golf courses has tripled in less than a decade and new low cost urban courses in inner cities will continue this trend. Between 2010 and 2020, Asia is set to double its share of global middle class consumption to 42%. By 2015, 98 million Chinese households are expected to be middle-class, compared with 52 million in 2010. India's middle class is estimated to grow from 32 million households in 2010 to 53.3 million households by 2015.
Shorter formats to become the norm
In addition to the growth of the game in Asia will be a shift to shorter, friendlier golf clubs situated in Urban areas.
Increasing time pressures, and shortage of space in cities, mean that six and nine hole formats will emerge to complement the 18-hole tradition and golf will become a "quicker" game. Already courses are being designed with options to play six holes rather than eighteen, and France's winning Ryder Cup 2018 bid, with its commitment to build hundreds of short urban courses, indicate the significance of this. Improved simulator technology will also increase opportunities for short virtual games in the heart of the city.
Ryder Cup winning captain Colin Montgomerie said: "Concepts such as a short form of the sport could become more common place. Some people don't feel they have the time to play a full 18 holes and golf may need to seriously develop its own version of Twenty20 cricket in order to keep pace"
Technology will continue to have a major impact
Advances in digital technology will change the face of coaching with "smart clubs" which memorize your grip and swing allowing golfers to analyse their performance and learn from their mistakes. The traditional card and pencil will be replaced by automatic scoring and lost balls will be a thing of the past thanks to sensory chips. The app will become a "virtual caddy" as smartphone and tablet software helps golfers make the right choices.
Gamers will become golfers and social gaming environments and family friendly golf video games will encourage people to move into the sport, not the other way around.
---
---
PLAY MORE PLAY BETTER - LATEST TUITION TIPS
---