The Legendary Golfers Who Defined Generations
---
EVERY so often somebody comes along who, in their own way, defines a generation.
In golf there have always been dominant players who win lots of tournaments but it takes more than that to write yourself into the very fabric of the game. That takes something special.
There are some obvious contenders but there are others you may not consider. Here is my list of the golfers who have helped to give us the game we know today.
Old Tom Morris
Morris designed Prestwick Golf Club and redesigned the Old Course at St Andrews. He won The Open four times (1862, 1862, 1864 and 1857) and, at the age of 46, remains the oldest winner. He was arguably golf's first superstar. And then his son came along...
Young Tom Morris
Morris is regarded as golf's first prodigy. By the time he was 21 he had won The Open four times in succession. Tragically, he died at the age of 24. Who knows what he might have achieved?
Harry Vardon
Between 1896 and 1914, Vardon won The Open a record six times. He also won the US Open in 1900 and racked up a total of 49 professional wins. Remember that this was in an era where tournaments were few and far between. But his lasting legacy is the Vardon grip, a way of holding the golf club that almost every top professional and amateur golfer still uses to this day. A visual depiction of the Vardon Grip is the logo of South Herts Golf Club where Vardon was the club professional from 1902 until his death in 1937.
Walter Hagen
At a time when professional golfers were treated like second-class citizens, Hagen was a breath of fresh air. He won 11 majors, behind only Jack Nicklaus (18) and Tiger Woods (15). He was also the first native-born American to win The Open, something he achieved three times. When refused entry to the clubhouse at the 1920 Open, Hagen hired a car which he used as a dressing room! He played hundreds of exhibition matches and played a major role in designing golf clubs for Wilson. He was the first golfer to earn $1m. He once said: "Don't hurry, don't worry, you're only here for a short visit, so be sure to smell the flowers along the way." It summed up his champagne lifestyle perfectly.
Bobby Jones
The greatest amateur golfer the world has ever seen. Bar none. Jones became a legend in his own lifetime when he won The US Open, The Open, the US Amateur Championship and the Amateur Championship in 1930. It was an unprecedented achievement. And after he had tucked it under his belt, Jones decided there was nothing more to be achieved and retired from competitive play at the age of 28 to pursue his career as a lawyer. Not content with what he had done on the course, he was also the man who was responsible for creating Augsta National and The Masters.
Gene Sarazen
Sarazen was the first golfer to win all four majors. He has since been joined by Ben Hogan, Jack Nicklaus, Gary Player and Tiger Woods. He is the man credited with inventing the sand wedge. In 1935 he won The Masters after recording an albatross at the 15th hole. It was later described as "the shot heard around the world". Although standing less than 5ft 6in, Sarazen was one of the longest hitters of his era. At the age of 71 he recorded a hole in one at The Open at Royal Troon. He had a sponsorship deal with Wilson that ran for 75 years!
Ben Hogan
Hogan is one of only five men to have won all four of golf's majors. He claimed nine in all. But that is only a tiny part of his story. He had a huge influence on his contemporaries and many of the superstars who came after him. He only played in The Open once - and won it. He was a late developer. Born in 1912, he won his first major, the US PGA, in 1946. In 1949, at the age of 36 he nearly died when his car collided with a bus. He was told he may never walk again but he returned to the PGA Tour in 1950 and in 1953 won The Masters, US Open and The Open. He was one of the first golfers to spend hours on the practice ground and developed a swing that all but eliminated a hook. It is a swing that has been copied by many, many world-class golfers.
Patty Berg
Today's LPGA stars have much to thank Berg for. She was one of the founding members of the LPGA Tour, Berg is widely thought to be the player who helped revolutionise women's golf. She also has the most major victories with 15 - that's the same total as Tiger Woods.
Henry Cotton
Cotton achieved fame during the 1930s and 1940s, with three victories in The Open( 1934, 1937, and 1948). His record round of 65, shot during the 1934 Open Championship, led to the Dunlop golf company issuing the famous 'Dunlop 65' ball. Cotton placed 17 times in the top-10 at the Open. Following his retirement from competitive golf in the early 1950s, Cotton became a successful architect of golf courses, including designing the world-famous Penina Golf Club and Pestana Alto Golf in Portugal's Algarve. He also established the Golf Foundation.
Peter Thomson
Thomson remains the best player ever to come out of Australia. He was a quiet, unassuming man but had a ferocious competitive spirit. He won The Open five times, including three in a row from 1954. He played little golf in the United States but won the Texas Open in 1956 and finished fourth in the US Open. In 1985 he won nine times on the Senior PGA Tour. He was hugely influential in his homeland, where he was president of the Australian PGA from 1962 until 1994. He was also non-playing captain when the International team beat the USA in the Presidents Cup in 1998. He was also an acclaimed golf writer and commentator and designed dozens of courses around the world.
Arnold Palmer
Palmer became known as The King and attracted a huge following, known as Arnie's Army. His appeal was down to the way he played the game. He only knew one way - and that was to attack. The Open Championship was dying on its feet until Palmer flew to Britain to take part in 1960. He won in 1961 and added a second victory the following year - and the best Americans followed his example. He had a magnetic personality and was a sponsors' dream. He also had a gift for being able to remember the names of people he had only met once - it meant that he made them feel special. He was also a world-class course designer.
Mickey Wright
Ben Hogan once said that Mickey Wright's swing was the best he had ever seen. Her winning record seems to suggest it worked too as she won 90 times as a professional and 13 of those were majors. She retired at the age of 34 because of problems with her feet. You can only begin to imagine how many tournaments she would have won otherwise.
Kathy Whitworth
Whitworth started off as a tennis player and only took up golf when she was 14. It turned out that she was a natural. She won 88 times on the LPGA Tour, with her most dominant years coming in the 1960s and '70s. She won six major titles too and was the first American captain for the inaugural Solheim Cup in 1990.
Jack Nicklaus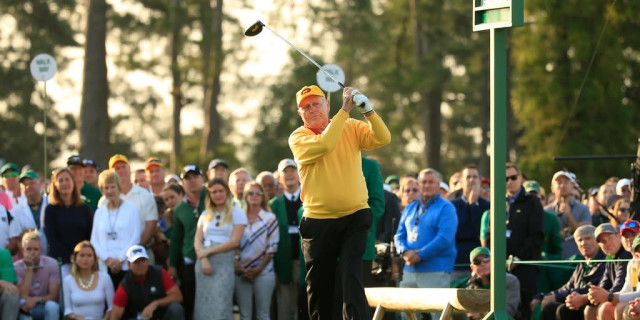 There are those who will tell you that Tiger Woods is the greatest of all time but Jack Niclaus' record speaks for itself - he won 18 majors in a glittering career. Nobody has won more. In total, he won 117 professional tournaments and competed in 164 majors, more than any other golfer. He won the US Amateur in 1959 and 1961 and was second at the US Open in 1960. His first major came in 1962 when he claimed the US Open, his last won in 1986, when he won The Masters for a record sixth time at the age of 46. He is also widely recognised as being one of the sport's best course designers.
Nancy Lopez
A child prodigy, Lopez is considered one of the greats of women's golf. Lopez was widely recognised as the best player in the world during the late 1970s into the 1980s. She won 52 times but, surprisingly, only claimed three majors. She won nine times in 1978, her first full season on the LPGA Tour and eight times the following year.
Seve Ballesteros
From the moment he announced himself on the world as a 19-year-old at The Open, we all knew that Seve was a special talent. He would go on to win 90 tournaments, including five majors. But it was the way he played that caught our imagination. He was incredibly wayward with a driver in his hands but his recovery play was from a different planet. For Seve, there was no such thing as an impossible shot. If there was a gap, a way to the green, he would find it. And oh how he loved the Ryder Cup. It also helped that he was impossibly handsome. His smile melted hearts all over the world. He was taken from us far too soon, aged just 54, but his name and his legend lives on.
Tiger Woods
Woods gave notice of his special talent by winning the US Amateur three times. As a child he had appeared on the Bob Hope Show to demonstrate his incredible golf skills. He turned professional in 1996 and wasted no time in winning his first tournament on the PGA Tour. He rewrote the record books in winning The Masters in 1997. He would go on to win 15 majors, the most dramatic of all coming in 2019 when he won The Masters after recovering from a serious back injury that had threatened to end his career. He has been blighted by injury for much of his career but remains one of the most influential figures in the sport.
Annika Sorenstam
The Swede was a colossus in the women's game, an incredible talent. By the time she retired at the age of 38, Sorenstam had won 10 majors. She claimed 72 titles on the LPGA Tour, 17 on the Ladies European Tour and seven in Japan. Between 1995 and 2008 she missed just four cuts in majors. She played in the Solheim Cup eight times and captained Europe in 2017. She played 33 matches, winning 22, losing 11.
Rory McIlroy
The Northern Irishman was a gifted golfer from a young age and was the world's top-ranked amateur in 2007 when he was just 17. He wasted little time making an impact on both the European Tour and PGA Tour, winning in Europe for the first time in 2009 and on the PGA Tour the following year. He has won four majors and played for Europe in the Ryder Cup on seven occasions - he once described it as an exhibition match but quickly changed his mind. He is a player who is not afraid to speak his mind and has been an outspoken critic of LIV Golf. He has won 24 times on the PGA Tour and 16 times on the DP World Tour and is the biggest draw in the game. However, The Masters continues to elude him.
---
Related Content
The 10 Most Influential Golfers of All Time
---

Be part of the action with a selection of unique golf tournament experiences, from playing in a pro-am with the stars to watching the action at golf's most illustrious events. Whether it's the Masters or The Open, The Ryder Cup or WM Phoenix Open, build your own bespoke package with the experts at Golfbreaks.com.
---
What do you think? leave your comments below (Comments)
---
Tags: PGA Tour FedEx Cup european tour dp world tour
---
comments powered by

Disqus