Winners And Losers at The 2023 Ryder Cup
---
The Ryder Cup brings out the best - and worst - in players. Here, we look at the winners and losers at Marco Simone.
WINNERS
Luke Donald
Did not put a foot wrong all week. Kept his players' feet on the ground, chose inspired partnerships. Said all the right things to the media, and showed complete respect to his American opponents.
Rory McIlroy
Banished the memories of Whistling Straits for good. Led from the front, played some wonderful golf and showed his competitive side all week long. Happy to play all five sessions, one of two Europeans to do so. Back in love with the Ryder Cup again. Tears of joy this time around.
Viktor Hovland
Wonderful performance. Answered all and any questions about his short game in sensational style. Hovland is going to be a fixture in this team for years to come. Hated Whistling Straits but banished those memories in fabulous style. What a player!
Tyrrell Hatton
The Englishman was a rock for Europe. Wears his heart on his sleeve but, for once, managed to rein it in at Marco Simone and emerged with a smile on his face.
Patrick Cantlay
Love him or loathe him, you can't help but admire his ability to block out the noise. Holed some incredible putts on Saturday afternoon and showed Justin Rose no mercy in the singles. The more the crowd booed, the better he played. The USA have found their new Captain America.
Max Homa
Conducted himself superbly all week, and played some glorious golf. A hugely underrated golfer, and his Ryder Cup experience may well be the making of him. The only American to play all five sessions, and contributed 3.5 points to a losing cause.
Ludvig Aberg
Living the dream. It is impossible to believe that this young man has only been a professional for about three months - and has never played in a major! Vindicated Donald's decision to give him a wild card pick. A superstar in the making.
Robert MacIntyre
The Scot wanted to make this team so badly, and there were some concerns that he might be out of his depth. Not a bit of it. Rose to the occasion in magnificent fashion and this performance could be the making of him.
Shane Lowry
Forget what he did on the course. Lowry is the perfect team man - when he wasn't playing he was out on the course cheering on his teammates and conducting the galleries. A week he will never forget. And a certain future captain.
The Course
We are knew that this was going to be a great Ryder Cup venue, and that is how it turned out. Some great risk-and-reward holes, wonderful par threes, punishing rough, tremendous natural spectator viewing areas - and amazing weather from start to finish.
Justin Rose
Winner of the Nicklaus Jacklin Award given to the player who best exemplifies the true spirit of the Ryder Cup. A Ryder Cup veteran, he shepherded rookie Robert MacIntyre to victory in the fourballs, encouraging the Scot throughout their match.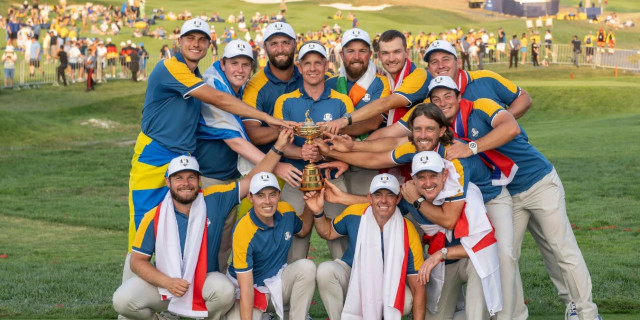 LOSERS
Zach Johnson
Made some very puzzling selection decisions. Looked like a man who was lost in the headlights.
Scottie Scheffler
Who would ever have believed that the world number one would find himself on the wrong end of a 9&7 hammering in the foursomes. No matter what he tells the world, Scheffler is struggling with his putter. Does, however, deserve some credit for his performance in the singles against Jon Rahm. Played four times without a win.
Brooks Koepka
A wonderful golfer but you have to ask questions about his ability to be a team player. Was sullen for most of the week. Mind you, a 9&7 defeat will do that for you! Can't help but feel that he is just more comfortable when playing as an individual.
Wyndham Clark
Played some extraordinarily poor shots for a man who has won the US Open. Really looked like the pressure got to him.
Patrick Cantlay
Has to figure on both lists because of the reports that he refused to wear a Team USA cap in protest at the fact that he wasn't being paid to play in the Ryder Cup. Really?
The Gallery
Luke Donald and his European team paid tribute to the part played by the fans. In the main, they were exceptional. But….
It was quite clear that many had spent a little too much time sampling the Peroni. It is one thing to give your team passionate support, it is something entirely different to boo the Americans for no reason, to shout out during backswings, to urge them to thin shots into the water, to cheer poor shots from the visitors and to shout out the F-word as often as we heard it in Italy. And the most disappointing thing for me is that most of the boorish behaviour came from British fans.
HOW THEY ALL FARED
EUROPE
Ludvig Aberg: Played 4, won 2, lost 2, halved 0
Matt Fitzpatrick: Played 3, won 1, lost 2, halved 0
Tommy Fleetwood: Played 4, won 3, lost 1, halved 0
Tyrrell Hatton: Played 4, won 3, lost 0, halved 1
Nicolai Hojgaard: Played 3, won 0, lost 2, halved 1
Viktor Hovland: Played 5, won 3, lost 1, halved 1
Shane Lowry: Played 3, won 1, lost 1, halved 1
Robert MacIntyre: Played 3, won 2, lost 0, halved 1
Rory McIlroy: Played 5, won 4, lost 1, halved 0
Jon Rahm: Played 4, won 2, lost 0, halved 2
Justin Rose: Played 3, won 1, lost 1, halved 1
Sepp Straka: Played 3, won 1, lost 2, halved 0
UNITED STATES
Sam Burns: Played 3, won 1, Lost 2, halved 0
Patrick Cantlay: Played 4, won 2, lost 2, halved 0
Wyndham Clark: Played 3, won 1, lost 1, halved 1
Rickie Fowler: Played 2, won 0, lost 2, halved 0
Brian Harman: Played 4, won 2, lost 1, halved 0
Max Homa: Played 5, won 3, lost 1, halved 1
Brooks Koepka: Played 3, won 1, lost 1, halved 1
Collin Morikawa: Played 4, won 1, lost 3, halved 0
Xander Schauffele: Played 4, won 1, lost 3, halved 0
Scottie Scheffler: Played 4, won 0, lost 2, halved 2
Jordan Spieth: Played 4, won 0, lost 2, halved 2
Justin Thomas: Played 4, won 1, lost 2, halved 1
---

The Ryder Cup is unlike any other tournament in golf and the atmosphere is something that every golf fan should experience. The experts at Golfbreaks.com can help with all aspects of your Ryder Cup experience, from accommodation and ticket packages to hospitality and travel and playing some of the fantastic nearby courses.
---
---
What do you think? leave your comments below (Comments)
---
Tags: ryder cup PGA Tour european tour dp world tour daily picks
---
comments powered by

Disqus