How Dysfunctional Team USA Lost The Ryder Cup
---
DESPITE the final scoreline, let's not kid ourselves that this was anything other than a Ryder Cup rout, because that is exactly what it was.
I love the Ryder Cup, and I enjoy seeing Europe win it, but I genuinely thought that we were going to be in for a close and thrilling contest in Rome. It is now 11 years since we saw that dramatic finish at Medinah. Every match since then has been a procession.
And the Americans have only themselves to blame for this defeat.
Where to start?
This was a dysfunctional team with a captain who will surely come under the microscope for all manner of things, from the men he named as wild cards to some of his bizarre selection decisions over the first two days.
Team USA were undercooked. Nine of the 12 players on the team had not played a competitive round of golf since the Tour Championship. They would never prepare for a major that way.
None of them played in the Italian Open at Marco Simone and only nine of them could be bothered to fly out on a specially chartered flight to have a look at the course before the Ryder Cup began. It smacks of arrogance.
Compare with with the European team, every single one of whom took part in the BMW PGA Championship at Wentworth two weeks ago and then flew out to Rome with Donald to see how the course had been set up.
They were ready to play and they wanted to play for each other - and it showed.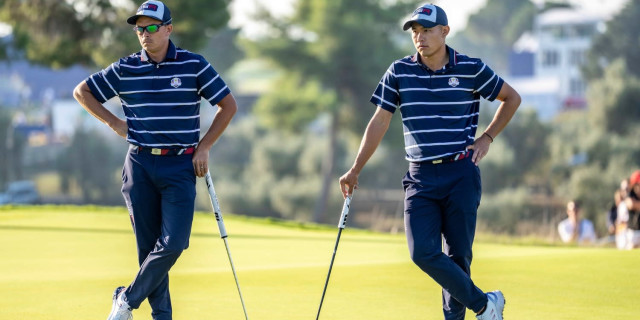 And what on earth is this obsession the Americans have with picking ageing golfers as vice-captains? Jim Furyk, Davis Love III, Steve Stricker and Fred Couples all play on the Champions Tour. They don't interact with the players on a week-to-week basis and cannot possibly know what makes them tick.
Surely it would have been better to have had the likes of Webb Simpson or Matt Kuchar in Rome? Or Lucas Glover, who so narrowly missed out on selection. He may well be in his forties but at least he knows what makes these golfers tick. Zach Johnson will tell us that is why he had Stewart Cink as one of his vice-captains. But Furyk? Love? Couples? Stricker?
Luke Donald would have loved to have had an Italian in his team. He had already named Edoardo Molinari, a man used as a stats guru by a number of world-class golfers. And when it was obvious that there wouldn't be an Italian player, he called upon Francesco Molinari, who played such a key role in Europe's win in Paris in 2018.
He also had Nicolas Colsaerts, Thomas Bjorn and Jose Maria Olazabal. The Molinaris and Colsaerts are still competing, Bjorn was the winning captain in Paris in 2018 and Olazabal is a Spaniard, like Jon Rahm.
After the Saturday fourballs, with his team trailing 10.5-5.5, Johnson said that his team were a family. Well it is true that families often bicker and fight among themselves. But that is not what he meant. He was trying to convince us that they were united. I am sorry, but I just don't buy it.
Johnson will have plenty of time to reflect on his own performance. Four of his players failed to win a tournament in 2023 and it is not with hindsight that his wild card selections will be questioned.
Patrick Cantlay was one of his best players, and produced some astonishing golf, but what was all that cap nonsense about? He denied claims that he refused to wear a Team USA cap as a protest at not being paid, claiming that the headgear provided didn't fit him. What utter nonsense!
And what on earth was his caddie, Joe LaCava, thinking about getting in Rory McIlroy's face after Cantlay holed that outrageous putt on the 18th green on Saturday night. It served only to fire up McIlroy and his teammates to ensure that there was going to be no comeback for the Americans.
Luke Donald summed it up perfectly when he said that the Europeans play for each other. It is hard to believe the same thing about their opponents.
---

The Ryder Cup is unlike any other tournament in golf and the atmosphere is something that every golf fan should experience. The experts at Golfbreaks.com can help with all aspects of your Ryder Cup experience, from accommodation and ticket packages to hospitality and travel and playing some of the fantastic nearby courses.
---
---
What do you think? leave your comments below (Comments)
---
Tags: ryder cup PGA Tour european tour dp world tour
---
comments powered by

Disqus