5 Reasons Why You Should Watch The 2023 Walker Cup
---
It's now been a century since the Walker Cup was first staged in St Andrews, making it a fitting anniversary as this historic event returns to the most venerable stage in the game.
From Bobby Jones and Francis Ouimet to Jack Nicklaus, Tiger Woods and Rory McIlroy, many legendary names have been part of this biennial contest throughout its rich story.
Once the absolute pinnacle of amateur golf for players from Great Britain & Ireland and the United States, there have been suggestions that its status has been somewhat diminished in recent years; perhaps a byproduct of a perceived lack of competitiveness with the Americans routinely dominating.
However, this remains a special showpiece that has been elevated further on this occasion by the venue itself.
We're sure that your attention will be in much demand this weekend, but here are several reasons why you should share some of your time with the 49th Walker Cup.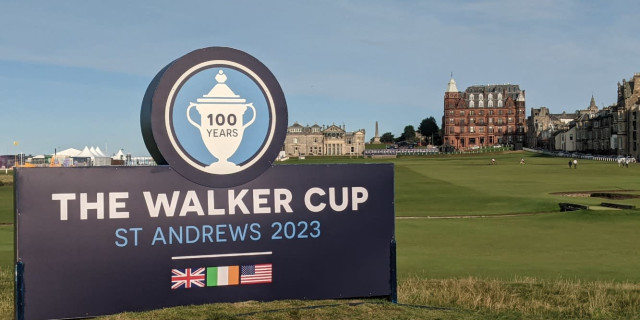 St Andrews
Any event on the Old Course is noteworthy, but it's been almost half a century since the matches were contested in the Auld Grey Toun, making the next couple of days even more significant.
The weather forecast is immaculate, meaning that bright skies and golden sunshine will blanket these revered links, illuminating the undulations and presenting this wonderful setting in the best possible light.
Even better, for those in attendance, spectators will have the opportunity to walk the holes behind the players, sharing the view that the competitors have over each shot, making this a unique viewing opportunity at St Andrews.
Matchplay
We're all eagerly anticipating the Solheim Cup and Ryder Cup later this month, but why not kick off your feast of team matchplay golf by watching the Walker Cup?
Momentum is the regularly spoken word during these events and we could see a dramatic swing or two during the two days. While the American side is widely favoured this week, it must not be forgotten that in 1971 at St Andrews, Michael Bonallack's GB&I pulled off a stunning upset to defeat a United States team that included the likes of Lanny Wadkins and Tom Kite.
Also, the strategies of matchplay are ideally suited to the chess-game that is the Old Course. For any keen student of golf, that's a tantalising mix.
Gordon Sargent
The star-man for the United States is sure to draw a crowd at St Andrews. Sargent is a hugely powerful golfer, achieving incredible speed and hitting the ball massive distances. He seems ready made for success in the professional ranks - but he's first set for this glorious chapter in what has been a stunning amateur career.
Winner of the NCAA Division I Individual Championship last year, Sargent received a special invitation to play in this April's Masters Tournament. He later qualified for the US Open; making the cut at Los Angeles Country Club and received low amateur honours.
Earlier this week, R&A Chief Executive Martin Slumbers presented the 20-year-old with the Mark H. McCormack Medal as the leading player in the World Amateur Golf Ranking.
The likes of Scottie Scheffler, Collin Morikawa, Bryson DeChambeau and Justin Thomas have played in the Walker Cup during the past decade alone. This is where you discover American stars of the future.
Connor Graham
Some eyebrows may have been raised when captain Stuart Wilson selected the teenage Scot, who at 16 years, 10 months and nine days old is the youngest player in the Walker Cup's history - but there is no doubt that the youngster is a formidable talent.
From Blairgowrie (little more than 30 miles north of St Andrews), Graham won the Scottish Amateur Open earlier this year and represented Scotland in the R&A Home Internationals. He will also compete as part of Team Europe at the Junior Ryder Cup in Italy.
Last year, Graham won the R&A Junior Open and became an ambassador for The Paul Lawrie Foundation, meaning that the former Open champion keeps a close eye on his progress.
The story of Connor Graham is one that we should all be following this weekend.
Romance
Let's be frankly honest; there's very little to actually like about the men's professional game these days. It's become a murky world of geopolitics, clandestine business dealings and rampant hypocrisy that has resulted in obscenely gratuitous sums of money being handed out to players.
That's not to say that the elite amateur game doesn't have its problems, either, but there is something purer about seeing these young men playing for each other, their team, and their nation.
We should enjoy these emerging golfers before they are entirely spoiled by the riches of the FedEx Cup and LIV Golf.
Embrace the comparative romanticism of this event at the Old Course.
Ticket Details & TV Times
If you wish to attend the Walker Cup at St Andrews, tickets can be purchased here. They will cost £25 per day for adults (or £40 for the weekend). Under 16s will go free when accompanied by an adult.
Should you not be on site this weekend, live coverage is available on Sky Sports Golf (GB&I), Golf Channel (USA) and the Walker Cup website. Only the singles matches will be shown on Saturday (from 13:30) and Sunday (13:00).
---
Related Content
---
What do you think? leave your comments below (Comments)
---
Tags: Walker Cup st andrews
---
comments powered by

Disqus