Are These The Lowest Handicaps in Golf Today
---
HANDICAPS are a thorny subject for club golfers. You only have to look at the reaction when a new system is introduced.
Although we all want to play better, score lower, most of us complain about our handicaps. Too high. Too low. Bear no relation to reality. Blah blah blah!
But just imagine finishing your round and then having to add shots to your final gross score.
And with 20 of the world's top amateur golfers gathering at St Andrews for the Walker Cup we are about to see some of the best golfers on the planet, with some of the lowest handicaps.
The world's number one men's amateur golfer is Gordon Sargent, who will be leading the American team. His handicap is +5.5. In other words, to break par on a par-70 golf course, Sargent needs to shoot a 64!
Sargent was born on May 27, 2003, and is renowned for the vast distances he hits the ball.
He received a special invitation to appear at The Masters in 2023. According to Max Homa, who played a practice round at Augusta with Sargent; "He hits it 95 miles. He was so far by us it's crazy. He's a phenomenal golfer. Really nice kid. He doesn't look like he's going at it that hard. I've heard so many good things about his game. It was probably even more impressive to see him in person."
Sargent averages around the 185-190mph ball speed mark which equates to well over 300 yards in average distance.
The top-ranked British golfer is John Gough, who is 13th in the standings - all 12 players ahead of him are Americans. He will be out to prove that means nothing during the Walker Cup.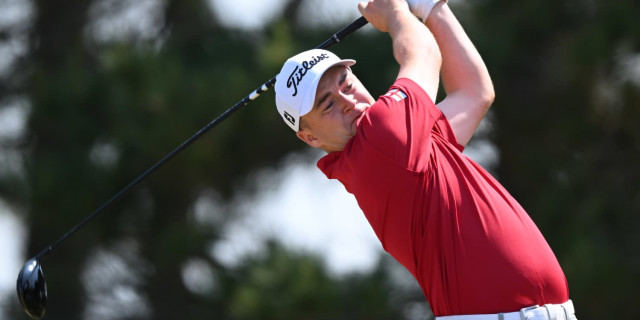 (John Gough - Image Credit: The R&A)
Gough won the Irish Men's Amateur Championship this year as well as the Australian Master of the Amateurs. His handicap is +5.8. And this will blow your mind - when he took part in the Amateur Championship in 2023, there were TWENTY players with handicaps better than his.
There has been a fair bit of controversy over the inclusion of 16-year-old Scot Connor Graham in the Walker Cup team but the young man has a handicap of +5.3 so you can be sure that he knows his way around a golf course.
When Tiger Woods turned professional his handicap was +8. Just stop and think about that for a moment. If his first hole was a par four, add eight and that becomes a 12 - he would then need to play the remaining 17 holes in eight under par just to play to his handicap.
Sergio Garcia, who was a prodigy from a very early age and played in a host of European Tour events as a young amateur, turned pro with a handicap of +6, and that is not unusual. Phil Mickelson and Shaun Micheel were also off +6, while Jim Furyk and Ben Curtis joined the professional ranks when their handicaps were +7. Jack Nicklaus was off +4, Annika Sorenstam +3 and David Duval +1.
When English golfer Matthew Jordan won the Lytham Trophy with a 72-hole total of 272 in 2018 his handicap was +7. And he was ranked as only the eighth-best amateur in the world at the time.
Lou Stanger, of Decade Golf, spent some time during lockdown working out the handicaps of the world's best players. He did so using the 'old' USGA method where the best 10 of 20 scores count for handicapping purposes and calculated a differential for every round Woods had ever played as a pro. He then kept a running tally of what Tiger's index would have been had he submitted his scores for handicap.
Dustin Johnson, Jordan Spieth and Brooks Koepka were tied at the top of his list with a +6.5 index, while Rory McIlroy was +6.
Tiger's index stood at +6.5, but his best season was in 2008 when he won four times in six events and his average index was +8.8. Not even winning nine PGA Tour titles, including three majors, in 2000 could beat that!
The 10 Lowest Handicaps at The 2023 Amateur Championship
Christiaan Maas (South Africa): +8.0
Tiger Christensen (Germany): +7.0
Frank Kennedy (England): +7.0
Alex Maguire (Ireland): +7.0
Andres Schonbaum (Argentina): +6.7
Ben Van Wyk (South Africa): +6.7
Charlie Crockett (England): +6.5
Mark Power (Ireland): +6.5
Carl Siemens (Germany): +6.5
Paul Ulmrich (Germany): +6.3
---
Related Content
The Secret to Lowering Your Golf Handicap This Year
What The World Handicap System Gets Right
The World Handicap System - The Debate Rages On
---
What do you think? leave your comments below (Comments)
---
Tags: GOLFERS Golf daily picks
---
comments powered by

Disqus