TaylorMade Unveil Milled Grind 4 (MG4) Wedges
By: Golfshake Editor | Tue 15 Aug 2023 |
Comments
---
TaylorMade have announced the release of their new Milled Grind 4 (MG4) wedges that looks set to be highly popular.
The club features new Spin Tread technology, which generally represents a huge advancement in the Milled Grind family.
Golfers will find a combination of spin control, versatility and a premium feel in the MG4 wedge.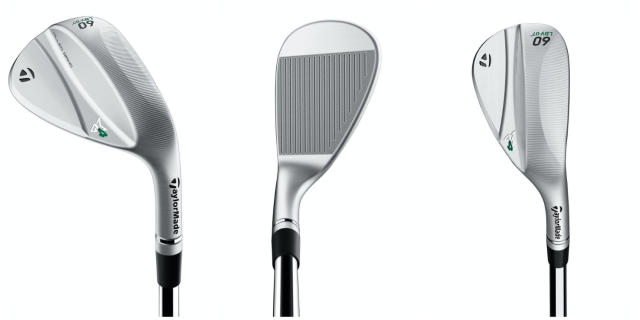 Bill Price, Senior Director of Product Creation, Putter & Wedge at TaylorMade, acknowledges the impact the MG4 will have.
"This is a major step forward in the progression of the Milled Grind family. With MG4 we have evolved our approach to wet spin and developed an all-new Spin Tread technology.
"We use a laser etching treatment to create face roughness, which translates to better friction and moisture channelling for optimal ball control – especially on partial shots."
Through this advancement, wedge play during difficult weather conditions will become a lot easier, which should inspire confidence when playing in poorer weather.
By combining laser treatment with strategically designed grooves and a raw face, TaylorMade can now confidently say they have vastly improved wet spin rates compared to previous models.
Performance and technology were not the only two focal points however, as the manufacturer also looked at aesthetics and player feedback.
Consequently, the MG4 features a refined finish with a slightly darker tint, minimising glare and providing a more unified appearance that blends effortlessly with the raw face as it oxidises over time.
Moreover, the redesigned back geometry provides the wedge with a more solid yet softer feel, which compliments its Tour-inspired shape and address.
"The feel component is a significant factor," said Greg Cesario, a member of the TaylorMade Wedge Design Team.
"By replacing the chrome-plated face with raw finishes early in the Milled Grind evolution, we were able to influence spin and also enhance the overall feel of the wedge."
The new MG4 wedge range features the following sole grinds:
Low Bounce (LB): Low leading edge for added versatility and shot making in firm conditions.
Low Bounce V (LBV): Designed for skilled players with a shallow attack angle, offering exceptional spin and the ability to manipulate face angles effectively.
Standard Bounce (SB): All-around performance that prevents excessive digging and allows the clubhead to glide through the turf smoothly.
Standard Bounce C (SBC): Provides increased versatility for players who prefer to manipulate face angles, without compromising bounce performance.
High Bounce (HB): TaylorMade's standard high bounce design is playable for skilled golfers and defies the convention that high bounce wedges are only for high handicappers. In fact, Rory McIlroy uses a HB 60° Milled Grind 4 depending on course conditions.
High Bounce Wide (HBW): With an increased sole width, this high bounce option offers improved playability and excels in sand play.
Tiger Woods Grind (TW): Offered in 56° and 60° lofts, each sole on the MG4 TW was inspired by Tiger's grind. The 56° wedge is a dual sole with heavy heel relief, while the 60° has an extremely high bounce on the leading edge with a shaved heel. Designed to be supremely versatile, these unique grinds allow Tiger to take on any shot, on any course, anywhere in the world.
The MG4 wedge is available in lofts of 46°, 48°, 50°, 52°, 54°, 56°, 58° and 60°, with the 46° and 48° lofts only available in Standard Bounce options.
For more information visit: TaylorMadeGolf.eu
---
What do you think? leave your comments below (Comments)
---
Tags: Wedges taylormade
---
comments powered by

Disqus