Regularly Change Your Golf Grips to Gain More Distance
By: Golfshake Editor | Wed 31 May 2023 |
Comments
---
There isn't a golfer out there who would honestly say no to being able to hit the ball a little bit further. Ultimately, that can be accomplished through a combination of factors; including fitness, technique, swing speed and the equipment you use, but perhaps something that you may have overlooked is the role of grips in the pursuit of greater distance and performance.
See Golfshake Research - How Often Do You Change Your Grips?
Golf Pride has provided some context for this after announcing the results of a research study into grip performance that concluded that new golf grips offer an increased average carry length of 2.3 yards on full golf shots.
Players taking part in the study found that their average ball speed (average: 121.6 mph) increased by 1.3mph, and the average carry length (average: 168.6 yards) increased by 2.3 yards with the designated test club. Moreover, 82% of the participants surveyed felt that the new grip was 'secure to very secure' in their hands. Whereas, for non-new grips, only 24% said the grip felt 'secure, to very secure.'
How The Test Was Conducted
A test group of golfers, aged 24-40, with handicaps below five, took part. Participants used an identical set of three standard length (37") Titleist fitted irons with Project X shafts and a singular MB fitted iron head. Each shaft had a different Golf Pride Tour Velvet standard size grip fitted - one new grip, and two exposed to ultraviolet (UVA/B) light. The two UVA/B exposed grips (UV1 and UV2) were placed in a QLab QUV Accelerated Weather Tester chamber for eight hours and 24 hours, respectively. Tests were conducted in the Fitting Studio at Golf Pride HQ in Pinehurst, USA. Participants hit ten shots with each grip into a simulator on an artificial turf surface and a TrackMan 4 launch monitor was used to collect the performance data.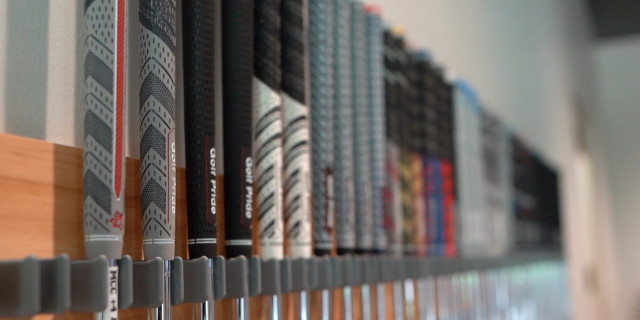 Comments
Greg Cavill, Global Project Engineering Manager for Eaton Corporation, and his team, conducted this study - he said: "The results of this detailed test clearly demonstrate that there are tangible and defined benefits to re-gripping. We've proven within this study that new grips can offer 2.3 yards of additional carry, increased ball speeds, and, importantly, greater confidence with the club in the hands.
"We're excited to continue exploring the benefits of re-gripping, and further understanding how the connection between the hands and the grip can have an impact on performance," he added.
Over 80% of players do not regrip their clubs every year. If this population were to replace their worn grips with new grips at least once per year, they would see an increase in consistent face impacts leading to performance gains.
Audrey Rodriguez, Head of Global Brand Marketing for Golf Pride, commented: "With this latest research study, we can decidedly say that fresh grips have a positive impact on your game. An extra couple of yards' carry could be the difference between a birdie and a bogey, so understanding the benefits of new vs worn grips will allow golfers to continually perform at their optimum levels." She added: "This is very much the tip of the iceberg of what we're doing as an industry leader to drive the importance of the grip category, and highlight grips as a key piece of performance equipment within the game."
Golfshake Research - How Often Do You Change Your Grips?
Providing extra analysis, we have looked back at results from Golfshake Surveys in 2018 and 2019, where we asked golfers just how often they changed their grips:
Never
2018 Survey - 26%
2019 Survey - 24%
At Least Every 2 Years
2018 Survey - 28%
2019 Survey - 28%
Every 3+ Years
2018 Survey - 29%
2019 Survey - 31%
Golfer Who Play More Than 30 Times Each Year
Never - 18.9%
At Least Every 2 Years - 34.4%
3+ Years - 30.2%
When you consider that data, it's clear that the majority of golfers are not paying due attention to the condition and ongoing health of their grips.
In the article; How to Keep Your Golf Clubs in Top Condition, we said: "They are the most touched area of a golf club and therefore, require just as much upkeep. Ideally, grips should be cleansed after every session - round or driving range - and you should use a damp cloth for the process. Simply wipe the entire grip's surface but remember not to have the water too hot."
This is something we should be extra mindful of ahead of a new season, as former European Tour winner Andrew Murray explained as part of his Back2Basics Tuition Series on Golfshake: "Now, for me, the grip is the most important part of the whole deal, making sure that the grip is in good condition. Don't be frightened of washing the grips in hot soapy water if you need to as well and it might just bring them back to life. But if they are beyond that, they probably need replacing, so make a visit to the pro shop."
Maintaining grips is a daily essential after every round, while replacing them is something that some golfers may consider each year, considering that - according to this new study by Golf Pride - it can make a difference to performance on the course - and who doesn't want to take advantage of every little marginal gain they can benefit from?
---
What do you think? leave your comments below (Comments)
---
Tags: grips GOLFERS golf pride golf grips Golf daily picks
---
comments powered by

Disqus