GolfBuddy Laser ATOM Pocket Rangefinder Review
---
The sheer number of golfers who do not utilise technological advancements such as rangefinders or GPS watches is truly astonishing.
Knowing your exact distance from the flag - or even a troubling hazard - is crucial to unlocking lower scores and generally having more fun out on the course.
Whilst GPS devices aren't new to the industry, they remain severely underused, and that's because not many golfers understand just how helpful they are.
We were issued a Laser Atom Rangefinder by our friends at GolfBuddy to review - and the device is truly excellent.
What is GolfBuddy Laser Atom?
The GolfBuddy Laser Atom features a high-quality construction process that results in a neat and attractive rangefinder that handles exceptionally well.
It is small in size - 84 x 57 x 31mm - and the carabiner that is supplied alongside the rangefinder allows for easy storage when out on the course.
The entire package includes the Laser Atom, a magnetic leather case - which boasts a stylish look - a USB C-Type cable, the aforementioned carabiner and a microfiber cloth to help remove any residue when playing.
Its LCD screen displays useful information such as the targeting crosshair, slope-adjusted distance (if slope is on), height of the target, battery indicator and it also notes what mode you are in - either scan or pin.
Scan mode is a useful inclusion, as it enables the golfer to scan an array of targets, as opposed to locking on a sole target in pin mode.
It effectively allows you to scout out all the hazards in a quick and easy fashion, which is far more efficient than locking onto each target individually.
Review
I've had the pleasure of utilising the Laser Atom during two rounds of golf, both played during especially poor weather.
First and foremost, the magnetic leather case is luxurious. Not only will it protect the device from potential water damage, but it also looks sleek when clipped onto my golf bag.
Its small size was a personal bonus as it was easy to remove and insert into the case, although I could understand a struggle around the smaller size for some golfers.
The small size and lightweight design are intentional, as GolfBuddy offer the golfer the opportunity to store it in their pockets as they tackle the course.
You won't be required to continuously take it out of the case, as the device fits seamlessly into your pocket and ready for its next deployment.
Operating the rangefinder was a simplistic task; click the power/measurement button, select the mode and then place on the target to gain a reading.
A useful function that instantly stood out was the fact that this rangefinder will provide the distance of the target without you directing it to do so.
I've previously used devices that would require you to aim and then interact with a button to gain the reading, which could take several attempts in particularly challenging weather.
I faced no such issue with the GolfBuddy Laser Atom, and it actually shortened the round due to quick, direct and reliable readings when preparing for my approach shot.
It has become common for rangefinders to calculate the slope and provide the golfer with the range it is actually playing at - which is what the GolfBuddy Laser Atom does too.
Toggling the slope reading on and off is an easy task, as all you'll be required to do is hold down the Mode button for five seconds to activate the slope reading.
The slope icon is an indicator to demonstrate if it is on, so make sure you can see the icon otherwise you are targeting the flag without slope, which may produce an inaccurate reading.
Review Summary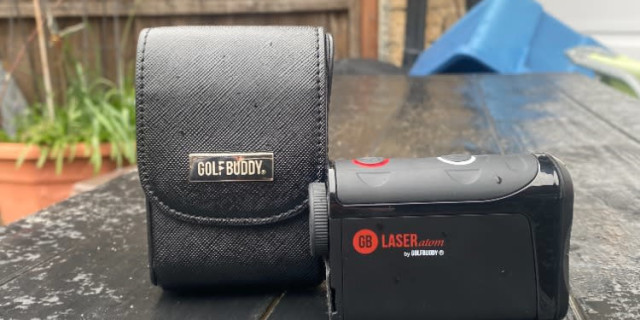 The minute size of the Atom Laser will definitely be a selling point for GolfBuddy, as its compact shaping means its effortlessly easy to use out on the course.
Scan mode is a tremendous feature and one that could save you a handful of strokes when it matters the most.
Having the device provide an automatic reading without instructing it to do so is hugely beneficial, enabling you to find your distance quickly and hassle-free.
Slope can be extraordinarily difficult to eye-ball, which means the slope toggle is a very useful resource to always have readily available.
Why You Need to Buy
The GolfBuddy Atom Laser is a mid-priced rangefinder and at £279.99, you are effectively gaining your own virtual caddie.
Whilst the device might not be able to read putts for you, gaining reassurance of the exact distance from a target can instil the utmost of confidence before the subsequent stroke.
Although rangefinders and other GPS devices are growing in popularity, they are still underused by a large chunk of amateur golfers.
If you would like more information on the highly impressive Atom Laser, you can head to GolfBuddy's website.
---
Related Content
The Best Golf Laser Rangefinders on The Market
---
What do you think? leave your comments below (Comments)
---
Tags: review Laser Rangefinders golfbuddy gear equipment
---
comments powered by

Disqus