Manors Reveals Frontier Golf Apparel Collection
---
Manors, a successful apparel company that was created three years ago, will be turning their attention to golf's future.
The brand had previously created clothing that celebrated the history of style in golf, but the firm are heading towards the performance-enhancing market from now on.
Through their first performance collection, revealed March 23, golfers will be able to explore the frontier of the game and the culture.
What is Manors?
Since their inception in 2019, Manors has been on a driven mission to bring additional styles to golfing apparel.
Over the years, they've been able to celebrate the sport's history of style through a collection of impressive releases.
Manors is an English-based apparel company that are hoping to remove the 'snobbish sport of suburbia' narrative in favour of one that welcomes everyone to the tee.
The company offer ready-to-wear clothing and accessories that are guaranteed to stand out on the golf course.
Manors have found the perfect combination between style and performance to help you not only look great when golfing, but to deliver on the greens too.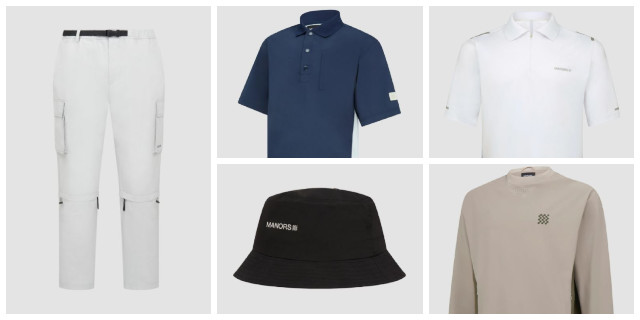 The Frontier Collection
The Frontier Collection is purpose-made for the seasons, which is characterised by relaxed silhouettes of the most innovative technical materials.
Taking direct inspiration from UK golf courses, muted and monochromatic colour palettes dominate the latest release.
The varied designs have been influenced from sports, music and films to help bring a fresh look to the sport of golf.
The end result is a truly original collection that never asks golfers to sacrifice style for performance.
Amongst the collection is the first ever Zip Off Tech Plus Fours, which is a tribute to the sports' first style icons.
The Frontier Shooter Shirt looks set to be another popular inclusion, which has been directly influenced from the stylish NBA warm up jerseys of the late 90s.
This particular shirt has been designed with thermal under garments and layers, specifically for spring and autumn rounds that alternate significantly in temperature.
Luke Davis, co-founder and Creative Director of Manors, noted:
"Golf is f****** hard, so it makes sense that most brands want to help people improve - but there's more to it than shooting low. We don't believe golf is just a sport to be mastered; it's a game to be explored."
---
The Frontier Collection launches on www.manorsgolf.com and a number of select retailers on the 23rd of March 2023.
Additionally, you can follow Manors on Twitter, Instagram & Facebook.
---
What do you think? leave your comments below (Comments)
---
---
comments powered by

Disqus