Titleist Offers Black Finish to T100 Irons And Vokey SM9 Wedges
By: Golfshake Editor | Thu 26 Jan 2023 |
Comments
---
Titleist has made a stunning all-black Titanium Carbide Vapor finish available for both its T100, T100•S and T200 irons - and the acclaimed Vokey Design SM9 wedges.
Available for pre-sale beginning February 23 and in golf shops worldwide on March 3, the new T-Series Black irons utilise an improved heat-treated binding process to deliver a stylish, tour-inspired look that players love with an even more durable, long-lasting finish.
The new Titanium Carbide Vapor finish is matched with True Temper AMT Black, AMT Tour White and Project X LZ shafts that have an onyx powder coat finish. All-black Golf Pride Tour Velvet 360 grips complete the set-up for a strikingly clean look.
"New T-Series irons have proven to be the most advanced irons we've ever made," said Josh Talge, Vice President, Titleist Golf Club Marketing. "The tour-inspired shaping combines with ultimate forgiveness and feel to give golfers the looks and performance needed to play their best. T-Series Black irons take it to the next level with a new Titanium Carbide Vapor finish that looks incredible and is more durable than ever."
"I love the finish," said Cameron Smith, who has recorded multiple victories with his T100 Black models in the bag including THE PLAYERS and The Open Championship at St Andrews.
"The new black finish is a little bit more durable - they've definitely stood the test of time. I just like how they look. I think they look a little bit smaller. This lets me narrow in a little bit more and obviously the less glare and stuff like that off the sun, helps that a lot."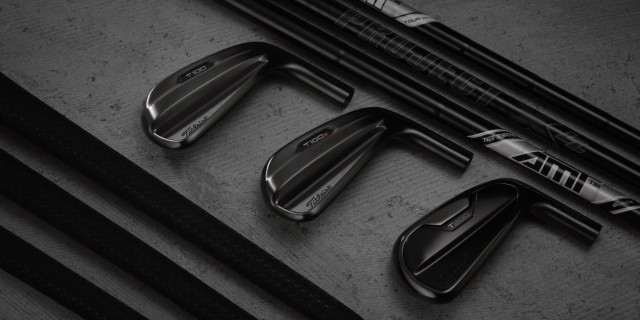 T100 Technology
As the ultimate modern tour iron, and most played iron model on the PGA Tour, T100 irons offer extreme precision and versatility with unrivalled feel. With a tour-contoured sole and variable bounce design, T100 irons are designed to produce the best turf interaction in the game. T100 irons feature dense D18 tungsten weights that allow for maximum control over CG placement, and a fully forged construction brings together the forgiveness and feel needed by the game's best.
T100 Black Specifications (Custom Only)
RH, LH Availability (4-P)
Finish: Titanium Carbide Vapor
T100•S Technology
Retaining the key features of T100, but with 2-degree stronger lofts and a new Muscle Channel, the T100•S iron is built to be the faster tour iron. For players seeking a tour-inspired profile and feel with added speed, T100•S is the complete package. T100•S features the same forged construction and dense D18 tungsten weights as T100, and with even more weight savings from the added Muscle Channel, T100•S has an even lower CG placement promoting optimised launch conditions.
T100•S Black Specifications
RH, LH Availability (4-P)
Finish: Titanium Carbide Vapor
Shaft: Project X LZ Onyx
Grip: Golf Pride Tour Velvet 360 Black
T200 Technology
Built as a tour-ready distance iron, T200 irons improve upon the technological advantages of the previous generation and feature a new compact and sleek shape. T200's multi-material, hollow body construction provides controlled distance and launch, while improved Max Impact technology and forged L-Face inserts work together to retain speed on off-centre strikes and create a fast, solid feel and sound. The distance and forgiveness advantages from T200 are worked into a player-preferred profile, as T200 irons feature the same minimal offset as T100 and T100•S as well as a shorter blade length and thinner top line than its predecessor. Titleist's most advanced iron ever combines maximum performance with a tour-inspired look and feel.
T200 Black Specifications
RH, LH Availability (4-P)
Finish: Titanium Carbide Vapor
Shaft: True Temper AMT Black Onyx
Grip: Golf Pride Tour Velvet 360 Black
---
BUY IRONS ONLINE at Scottsdale Golf / BUY IRONS ONLINE at American Golf
---
T-Series Black irons are available for pre-sale beginning February 23 and in golf shops in limited quantities on March 3.
SMRP: £1,499/ $1,699 (7-piece set)
Vokey Design SM9 Wedges
The tour-proven craftsmanship, performance and technology of Vokey Design SM9 wedges will now be available in a new premium all-black Titanium Carbide Vapor finish.
Available globally on March 3 (while supplies last), Vokey SM9 Jet Black Premium wedges bring a fresh look to the most played wedges across the worldwide professional tours and with golfers everywhere.
The all-new finish is built to last, thanks to a time-intensive heat-treated binding process that enhances durability. The wedges are paired with a Dynamic Gold Onyx S200 shaft and an all-black Tour Velvet 360 grip with BV Wings to complete the modern, sleek look.
"A player has to love their wedge when they look down at it and finish plays a key role," said Master Craftsman Bob Vokey. "Having confidence in your wedge at address is hugely important."
Jet Black Premium is available in all 23 Vokey Design SM9 loft, bounce, and grind combinations in both right and left-handed through custom order.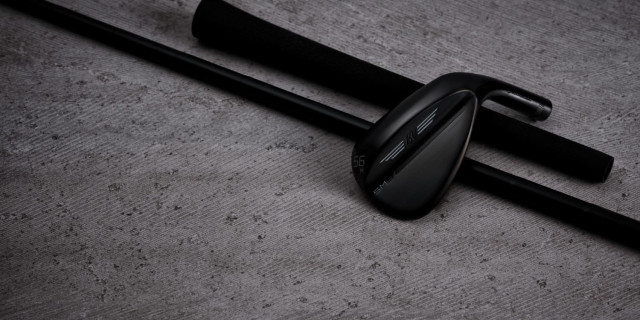 SM9 Tech
Ultimate in shot versatility.
Vokey SM9 wedges are the ultimate in shot versatility, featuring six tour-proven grinds. Finding the right grind to match your swing and playing conditions will give you the best turf interaction, contact and shot performance.
Progressive Centre of Gravity for precise distance & trajectory control .
The CG has been raised vertically by adding weight to the topline design, where a tapered pad at the back of the toe helps align the CG properly without being visible from the playing position - promoting a more controlled ball flight and solid contact.
New patented Spin Milled process for maximum spin.
A new Spin Milled cutting process in the SM9 models - which includes tightening allowable tolerances - produces consistently sharper grooves wedge after wedge, resulting in higher, more consistent spin.
The Vokey Wedge Selector tool helps golfers select the proper loft, bounce and grind options for their swing and course conditions. Vokey recommends that golfers visit their local Titleist fitter to confirm the results. Experience the Vokey Wedge Selector tool at: www.titleist.co.uk/golf-clubs/wedges/selector
Vokey Design SM9 wedges feature a modern, clean look, which provides a canvas for customisation. The WedgeWorks custom options include:
Six unique toe engravings.
Stamping options | 10-character Straight/Freestyle stamping; 15 characters around the toe; and two lines of 10 characters each.
Custom paint-filled | Loft, Bounce and Grind markings and BV Wings logo.
SM9 wedges can also be custom ordered with an industry-leading selection of shafts, grips, shaft bands and ferrules. For a complete list of options, please visit www.titleist.co.uk/golf-clubs/vokey-design-wedges
Featured Shaft & Grip
Shaft: True Temper Dynamic Gold Onyx S200 with BV - Black shaft band
Grip: Golf Pride Tour Velvet 360 Black/Black with BV Wings
---
BUY WEDGES ONLINE at Scottsdale Golf / BUY WEDGES ONLINE at American Golf
---
Vokey Design SM9 Jet Black Premium wedges will be in golf shops beginning March 3.
MSRP: £219/$249
---
What do you think? leave your comments below (Comments)
---
Tags: Wedges vokey Titleist irons Golf Clubs gear equipment
---
comments powered by

Disqus