11 Bad Decisions You Can Make on The Golf Course
---
IT IS often said that the most important six inches in golf is the space between our ears. We have all made decisions on the golf course that we later live to regret. We have all walked off a tee or green shaking our heads in disbelief at some act of stupidity.
Here are just a few of them. I know, because I have done each and every one of them.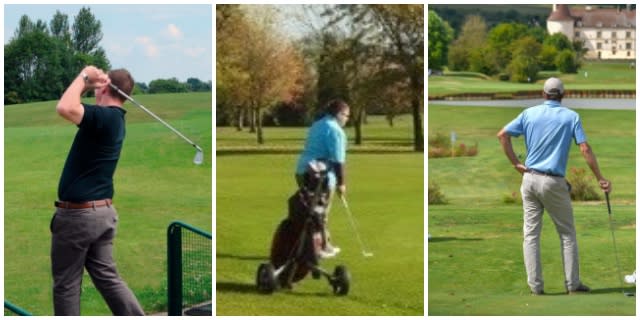 The Opening Drive
So you haven't warmed up and you are standing on the first tee facing a drive to a fairway with water down the left and trees to the right. You reach into your bag and pull out a shiny new ProV1. Seconds later you wish that a) you had warmed up and b) that you hadn't reached for a shiny new ProV1. Your ball has, of course, vanished into the trees, with no hope of ever being seen again. And your second effort is in the water. Thank goodness you are playing Stableford
The Water Carry
You have played 13 holes really well. You come to the 14th. It is a 470-yard par four. Your stripe your drive, straight down the middle. There's a headwind, so you still have 230 yards to the front of the green, and 220 yards to clear the lake in front of you. You reach for a five wood. You haven't had a single negative thought in your head all day. But, suddenly, your head is filled with thoughts of….the lake. And where does your ball finish? In the lake!
The Downhill Putt
You are faced with a quick 12-feet downhill putt with a right to left break. You have been putting really well all day and you see the line. You know you are going to hole it and walk off with a birdie. Don't dribble it to the hole. Be confident. And watch your ball miss the hole and gather speed as it ends up off the front of the putting surface
The Driver Decision
Remember that opening drive? You should have learnt from it, right? But no. Here you are standing on the tee, looking down a claustrophobically narrow fairway and what do you do? Do you reach for a long iron or a rescue club? Of course you don't. You haul out the big dog and look on in horror as the ball disappears into the row of gorse bushes lining the right side of the fairway. Why, oh why, do we do that?
The Shot From the Rough
You have hit your tee shot into the rough and, remarkably, you have have found your ball. You can barely see the top of the ball, which is surrounded by wet, juicy grass. All logic dictates that you should simply take your medicine and smash it out with a wedge. Instead, you reach for a four iron - and hit the ball 50 yards into even thicker rough. And then you hit a wedge back out into the fairway. By then, the damage has already been done
The Miracle Recovery
Once upon a time you hit a 260-yard three wood that soared high into the air, cleared the lake and landed on the green, finishing three feet from the pin. So there you are, 260 yards from the green, with a huge water hazard between you and the putting surface. You draw on the memories of that once-in-a-lifetime shot, pull out your three wood and top the ball straight into the water
The Things You Wish You Hadn't Said
Oh dear! The things we say and wish that we hadn't….
"Sorry boys but I am really struggling with my game" - and you then go out and play the best round of your life
"I've been playing really well" - you've guessed it. Having built up the expectation you can barely hit the ball.
"Unlucky mate" - your playing partner is having a nightmare. When you tell him, for the umpteenth time, that he is unlucky, don't be surprised if he never speaks to you again - or aims his sand wedge in your direction. Keep your mouth shut. When people are playing badly, the last thing they need is your sympathy.
You are standing on a tee, with out of bounds all the way down the right and you know that one of your playing partners is feeling anxious about his drive. You reassure him with the words: "Don't worry mate, you never slice the ball. You will be fine." He then hauls out his driver and hits the worst slice known to man. And here's the worst thing - everybody turns round and gives YOU the death stare!
The Gimme
You are in a matchplay contest and your opponent has consistently given you two-foot putts. Without hesitation, you gratefully pick up your ball and put it in your pocket. And then you come to the 17th. You are all square and, yes, you have left yourself a two-foot putt for a half. You look expectantly at your opponent but he avoids eye contact. Obviously, you miss the putt and go on to lose the match on the 18th. Why, oh why, didn't you hole out those short putts he conceded to you?
The Fairway Bunker
Your well-struck drive has taken a wicked bounce and ended up in a fairway bunker. You have 170 yards to the hole. But you choose to ignore the fact that this bunker has a proper lip. You don't catch the ball 100% properly, it hits the lips, shoots up into the air and hits you on its way into the exact sport from where you have just played it. Only now it isn't sitting up perfectly, It is embedded in the mess you created by not hitting it perfectly!
The Risk and Reward Hole
The thing about risk and reward holes is that most of us choose to ignore the word "risk". And wish we hadn't. A risk-and-reward par four will be reachable from the tee but it will also feature water, trees, thick rough or deep bunkers - or all of the aforementioned. Get it right and you stroll off with a birdie. Get it wrong and you are ripping up your scorecard and refusing to talk to any of your playing partners.
The Forgotten Wallet
You have finished your round and head into the clubhouse, get changed and walk to the bar. "OK guys, my round. What does everybody want?" And then you go for your back pocket and suddenly remember that you left your wallet on the bedside table. It wouldn't be so bad, but you did exactly the same thing last week!
---
Related Articles
8 Characters You Will Likely Meet at Your Golf Club
The Types of Golfer You See at the Driving Range
15 Types of Golfer You Can Be Partnered With in the Monthly Medal
---
What do you think? leave your comments below (Comments)
---
Tags: daily picks
---
PLAY MORE PLAY BETTER - LATEST TUITION TIPS
---
Leave your comments below
comments powered by

Disqus