Mizuno Launches New JPX923 Series Irons
By: Golfshake Editor | Fri 23 Sep 2022 |
Comments
---
Legendary Japanese equipment manufacturer Mizuno has something new for golfers to relish in the form of its JPX923 Series of Irons, which have been inspired by data from hundreds of thousands of golf swings, and the JPX Fli-Hi.
Mizuno's new JPX923 series of irons are the latest chapter in Mizuno's highly successful JPX story. The family of irons has been engineered for custom performance to offer the ultimate blend of looks, feel and workability. The JPX923 Series has been developed alongside Mizuno's comprehensive custom-fitting program to deliver exceptional performance and help all golfers get the very most from their games, from elite tour players to slow-swinging amateurs, and every player in between.
The new family features five unique iron models created from three specific metals and developed using Swing DNA data from over 350,000 real golfers. The expanded head options combine with one of over 50 custom shafts for specific trajectory, ball speed and ease of use to create options for players of all standards.
"The new JPX923 series was planned out with Mizuno's custom ethos at its core" says David Llewellyn, Director of R&D for Mizuno. "We already offer more than 50 unique shafts within our custom program, by expanding to five iron models, there's an ideal combination for every type of player."
Mizuno's Swing DNA System records 40 unique data points from more than 175,000 golfers each year. This data provides the basis for every JPX Iron project.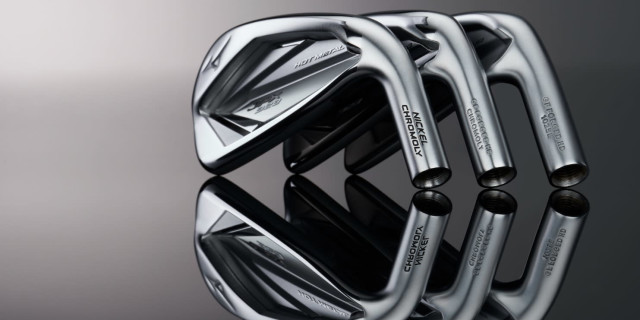 "We're constantly evolving the JPX series based on more than 175,000 unique swings we capture every year on the Mizuno Shaft Optimizer," says Bill Price, Mizuno's Director of Fitting. "Recently we're seeing an increase in the number of players with slightly slower swing speeds being fitted - and a trend to more shaft lean. Hence a slight increase in bounce angles through all the models and the introduction of the Hot Metal High Launch"
The JPX923 series comprises: JPX923 Tour featuring a new V-Chassis and thinner topline, JPX923 Forged showcasing Mizuno's third generation of Chromoly Forging and JPX923 Hot Metal, JPX923 Hot Metal Pro and JPX Hot Metal HL all featuring new, faster 4335 Nickel Chromoly - 35% stronger than Mizuno's original Chromoly.
JPX923 Tour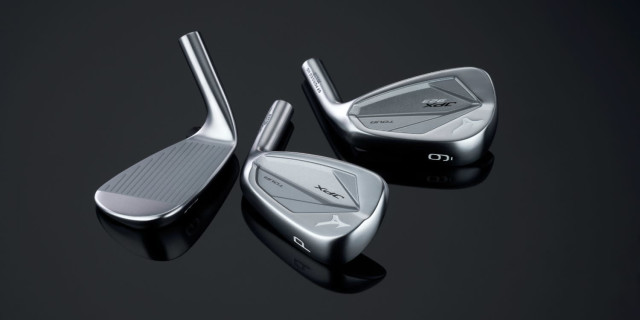 Consistently Mizuno's most-played iron model in professional golf and still one-piece Grain Flow Forged in Hiroshima Japan from 1025E Pure Select mild carbon steel, the JPX923 Tour adds a copper underlay for an even smoother sensation at impact. The JPX923 Tour also presents a narrower top line and sole in tandem with more rounded trailing edge for cleaner turf interaction. Player enhancements made possible through the introduction of Mizuno's new 'V-Chassis'.
The JPX923 Tour is a shallow cavity suitable for elite amateurs and professionals, featuring refined scoring irons that are more compact with a noticeably shorter blade length from 6-iron to GW for precision where it's most needed. The irons are finished with a non-reflective white-satin brush.
"The goal was to engineer a compact, players cavity back that looked and felt like a muscleback at impact. With the copper underlay and new topline, the JPX923 Tour is right there," says David Llewellyn.
Availability: 4-GW RH (February 2023)
JPX923 Forged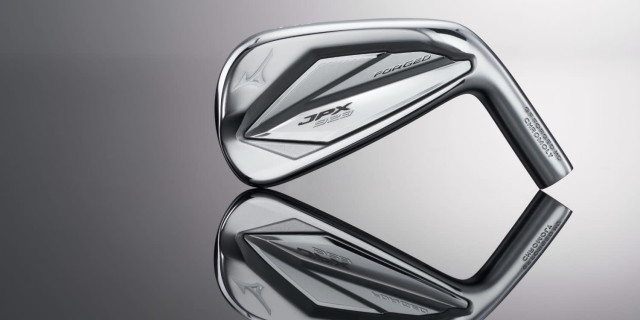 A mid-sized, full body Grain Flow Forged iron delivering a perfect balance of ball speed, stability, and feel. Mizuno's third generation of Chromoly Forging (4-7 iron) incorporates a milling slot that extends wider to heel and toe. Paired with an even thinner clubface it creates thier highest one-piece Forged ball speeds from an even greater portion of the clubface. The irons showcase a thinner top line throughout, plus compact scoring irons (8-GW) and bevelled sole for improved turf interaction.
The JPX923 Forged is a mid-size cavity iron suitable for a wide range of players, from professionals to mid-handicap amateurs. The 4-7 iron are Forged from a single billet of 4120 Chromoly and back milled from to heel and toe. This creates extreme ball speeds from a compact workable profile. The face thickness is now reduced to just 2.2 mm behind impact compared to 2.6mm in the JPX921 Forged. The 8-iron to GW are forged from 1025E Pure Select mild carbon steel for ultimate precision, control and feel in the scoring zone. 8-iron to GW are more compact with shorter blade length for further control.
"The new JPX923 Forged pulls off two impressive achievements. First it feels more solid even though it's faster from the face. Second, it looks sleeker with a thinner topline and narrower sole even though it plays more forgiving," says Chris Voshall, Mizuno's Director of Product.
Availability: 4-GW RH & LH (February 2023)
JPX923 Hot Metal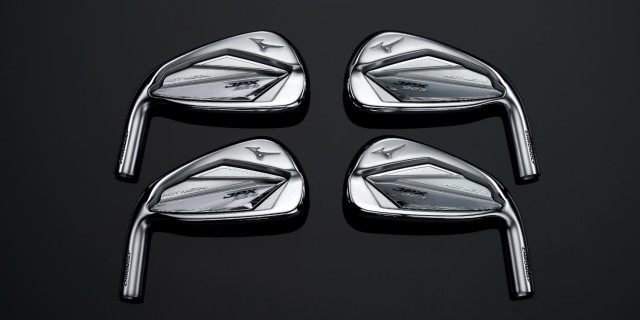 Introducing Nickel Chromoly - a new material with so much additional ball speed, Mizuno engineers switched their focus to feel and stopping power. At 35% stronger than the original Hot Metal material, 4335 Nickel Chromoly enables a high-energy 8% thinner clubface. Combined with Mizuno's vibration controlling V-Chassis and deep CG design, the JPX923 Hot Metal irons are as enjoyable and controllable as they are long. The seamless cup face construction delivers the deep centre of gravity needed for a high launch and controllable landing angle for increased stopping power whilst the thinnest part of the sole has been extended 18% wider to create a wider high-energy area on the face for more consistent ball speeds.
There are three fitting options - Hot Metal Pro, Hot Metal and Hot Metal HL (High Launch). 175,000 real golf swings recorded via Mizuno's Swing DNA system every year highlighted the need for variable launch options.
"There are so many different kinds of players looking for increased ball speed from their irons, we needed more options for them at a fitting level. The custom studios use shaft selection incredibly well to help with launch angle or slower swing speeds, but the JPX923 Hot Metal HL gives them a great new tool to work with," says Chris Voshall.
JPX923 Hot Metal Pro is a player's speed cavity that's compact, with minimal offset for confident ball-strikers seeking maximum ball speed. It's suitable for low to mid handicap golfers.
JPX923 Hot Metal is a forgiving speed cavity suitable for mid to high handicap golfers. It features a full speed, high stability cavity for straight flight and distance.
JPX923 Hot Metal HL is a high launch speed cavity delivering a higher launching option for players with moderate swing speeds or aggressive shaft lean, it's suitable for mid to high handicap golfers.
Availability: JPX923 Hot Metal Pro: 4-PW RH & LH, JPX923 Hot Metal: 4-LW RH & LH, JPX923 Hot Metal HL: 5-SW RH Only (September 2022)
---
All JPX923 irons will be available through the Mizuno Custom Program, which offers one of the widest selections of no upcharge shafts and grips in the industry. It provides a comprehensive range of custom fitting options, from state-of-the-art Mizuno Performance Centres spread throughout the world to a global network of Mizuno Fitters and Swing DNA Fitting Centres that rely on the Mizuno Shaft Optimizer and high-tech Swing DNA software to pinpoint each customer's best-performing specifications.
Mizuno has always strived to "create the best products for consumers," and the entire JPX923 iron family adheres firmly to that spirit and desire, while offering the best performance benefits that modern technology can bring.
RRPs:
JPX923 Forged - £185.00 / €195.00
JPX923 Tour - £185.00 / €195.00
JPX923 Hot Metal Pro - £150.00 / €195.00
JPX923 Hot Metal/Hot Metal High Launch - £135.00 / €175.00
JPX Fli-Hi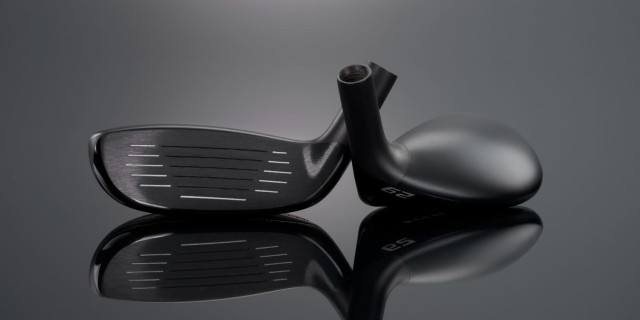 Mizuno has engineered the JPX Fli-Hi to replace less reliable long and mid-irons to help golfers of varying standards to get the very most from their long games.
Mizuno has a long-held objective of helping golfers of all abilities play better golf. The brand's Fli-Hi concept was developed to meet every golfer's demand for greater playability and easier ball-flighting potential at the longer end of the bag.
The JPX Fli-Hi range of hybrids, #4 - #7, are packed with innovative technologies to help golfers launch the ball high and land it soft from longer range.
Using the JPX Fli-Hi you can replace your strongest lofted irons for more practical distance gaps at the longer end of the set. Weight is located internally on the back side to encourage a draw bias in addition to higher launch. The JPX Fli-Hi can be included within a custom iron set, with the same shafts.
"We see a lot of players with moderate swing speeds who hit many of their longer irons the same distance - they just don't have the clubhead speed or consistency of strike to launch the stronger lofted clubs," says Chris Voshall, Mizuno's Director of Product. "The JPX Fli-Hi is designed to give those players more practical distance gaps and consistency of flight."
The Fli-Hi's wider footprint and material construction deliver an even more playable, high-flying alternative to their predecessors. A 17-4 stainless steel face and 431 SS body deliver an upgrade in ball speed, while the bendable hosel allows for adjustments in lie angle.
The clubs feature a lighter crown which allows for a higher ball flight, while a re-engineered Wave Soleplate increases the effective high ball-speed area of the Fli-Hi's clubface to deliver more consistent ball speeds.
The JPX Fli-Hi is designed to slot seamlessly into a set, with the models from #4 to #7 designed to correspond directly to the irons they have been created to replace.
The JPX Fli-Hi range features a graduating profile from fairway wood to hybrid to maximise playability. The 20 degree (#4) has a wider fairway type profile, moving towards a tighter hybrid type shaped 29 degree (#7) with a deeper face.
With a deeper centre of gravity than the replaced iron, the JPX Fli-Hi produces more predictable launch and spin rates, thereby more reliable distance gaps between clubs.
Golfers unsure as to how many long irons to replace should visit their local Mizuno Swing DNA centre where qualified fitters will be able to analyse their Shaft Optimizer readings and make their recommendations accordingly. JPX-Fli Hi hybrids can be ordered individually or as part of a custom set.
Availability: 4-7 'Iron' Replacement RH Only
RRPs - JPX FLI-HI: £150.00 / €195.00
---
For further information on Mizuno's full range of golf equipment, apparel and accessories, please visit: MizunoGolf.com.
---
What do you think? leave your comments below (Comments)
---
Tags: mizuno irons hybrids gear equipment
---
comments powered by

Disqus