What Happens IF a LIV Series Golfer Wins The US Open
---
LIKE it or not, the 2022 US Open is going to be overshadowed by the news that the PGA Tour has suspended every player who took part in the LIV Invitational at Centurion.
The likes of Dustin Johnson, Phil Mickelson, Sergio Garcia, Talor Gooch and Louis Oosthuizen will tee it up at Brookline knowing that instead of playing in the Travelers Championship next week they will now have to wait until June 30 at Pumpkin Ridge for the second LIV-sanctioned tournament.
They will be joined by Bryson DeChambeau and Patrick Reed, who are the latest golfers to throw in their lot with the LIV Series - and the most high-profile. Unlike most of the others who have joined, 28-year-old DeChambeau is in the prime of his career and his signing is a massive coup. And Reed is a streaky player who is capable of winning anywhere.
With the financial compensation they have all received for aligning with the Saudis, none of us should be feeling too sorry for them.
The real issue will arise if one of them should win at Brookline. Obviously, the PGA Tour would want to have the US Open champion in their fields going forward.
Mickelson has finished runner-up in his national open on six occasions. And before anybody writes off his chances, remember that he won the PGA Championship at Kiawah Island last year at the age of 50, becoming the sport's oldest-ever major champion. That was on a golf course that really shouldn't have suited his game.
Oosthuizen has not been at his best this year but in 2021 he finished tied second at the PGA, second at the US Open and tied third at The Open, and he could - and should - have won all three.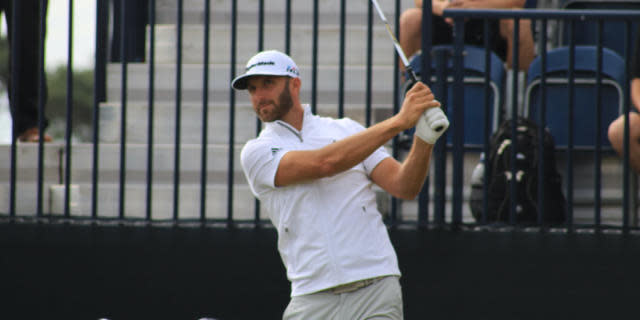 Talor Gooch had been enjoying the best year of his career, winning on Tour and riding high in the FedEx Cup. That is now all over for him.
DeChambeau won this very tournament just two years ago. He has struggled with a niggling wrist injury that required surgery but if he is fully fit there is no doubt that he is quite capable of winning at Brookline.
Trust me when I tell you that the powers-that-be will praying this does not happen.
There is an argument for saying that Sergio Garcia and his petulance will not be missed but, sadly, we are unlikely to see him playing the Ryder Cup again, and that is a real shame.
PGA Tour commissioner Jay Monahan said, in the statement that was issued to all members of the tour: "In accordance with the PGA Tour's tournament regulations, the players competing without releases are suspended or otherwise no longer eligible to participate in PGA Tour tournament play, including the Presidents Cup.
"The same fate holds true for any other players who participate in future Saudi Golf League events in violation of our regulations.
"These players have made their choice for their own financial-based reasons.But they can't demand the same PGA Tour membership benefits, considerations, opportunities and platform as you. That expectation disrespects you, our fans and our partners."
Several players had resigned their memberships before news of the suspension broke - Johnson, Garcia and Graeme McDowell among them.
It is also clear that there is now a rift between the rebels and the guys who have chosen to remain within the PGA Tour and DP World Tour umbrellas.
PGA champion Justin Thomas said: "Anybody that's shocked [by the suspensions] clearly hasn't been listening. They took that risk going into it, whether they thought it was a risk or not.
"I have great belief and great confidence in the PGA Tour and where we're going and continuing to grow to, and those guys just aren't going to be a part of it.
"They're obviously throwing so much money at people that it's very hard to turn down. It doesn't matter who you are or what it is, everything has a number. They're reaching that number for some people and I hope that they don't get others.
"But a very strong core group of us is very stable and firm in our position, and I hope that it stays that way."
Rory McIlroy said: "I think it's the right thing because these guys have broken rules and done things outside of the tournament regulations, and because of that there are going to be consequences."
Ian Poulter said he was shocked by the PGA Tour's decision to suspend and added that he intends to appeal. He could not really have believed that no action would be taken.
The DP World Tour has yet to reveal what will happen to the likes of Sam Horsfield, Laurie Canter and Martin Kaymer. They may be less likely to suspend those players. And the reason is that they do not have the same financial resources as the PGA Tour when it comes to facing the legal challenges that surely lie ahead.
---

Be part of the action with a selection of unique golf tournament experiences, from playing in a pro-am with the stars to watching the action at golf's most illustrious events. Whether it's the Masters or The Open, The Ryder Cup or WM Phoenix Open, build your own bespoke package with the experts at Golfbreaks.com.
---
What do you think? leave your comments below (Comments)
---
---
comments powered by

Disqus