5 Golfers to Watch at The Players Championship
---
An exhilarating and unpredictable finale to the Arnold Palmer Invitational resulted in fascinating viewing, as the lead seemingly swapped hands after every hole.
Due to the troubling conditions at Bay Hill Club & Lodge, the winner would have to be reliant on their short game, where the marble-like greens were susceptible to misbehaving.
Scottie Scheffler ultimately had the most control around the greens, and his even-par showing was enough to secure his second PGA Tour title in his last three starts.
Talor Gooch and Billy Horschel shared the overnight lead, with Viktor Hovland just one-stroke back after a disappointing finish to his third round.
Gooch's contention came to a swift halt on the 5th hole, as he three putted from 3-feet to card double bogey on his way to a five-over 77.
Horschel threatened to follow a similar fate, although his resilience expertly shone through as he battled to the very last putt - which he narrowly missed.
Hovland produced an excellent four-day performance in Florida, but he too misjudged his final putt, failing to force a playoff with Scheffler.
The PGA Tour remains in Florida for the flagship event, The Players Championship, where 47 of the world's top 50 will assemble at TPC Sawgrass.
History
If we consider the magnitude of this event, there's plenty of iconic history that has taken place on the fairways of TPC Sawgrass.
Often referred to as the unofficial fifth major, The Players Championship has long been a revered title that every player to have graced the sport is eager to obtain.
The first edition took place in 1974, but it was played at Atlanta Country Club in Georgia before moving to Colonial Country Club in Texas the following year.
In 1976, an agreement was struck with Sawgrass Country Club that secured multi-year hosting rights of the tournament, with the first to be hosted in 1977.
Since 1982, The Players moved across the road to the Stadium Course, where it remains to this day.
After 24 years of history at the Stadium Course, the layout went under significant renovation in 2006, which was widely appreciated by the returning players in 2007.
Included within the rework was a sparkling clubhouse, designed in a Mediterranean Revival-style that exudes ultimate class throughout the expansive and visually attractive building.
The Players typically produces a renowned winner, with the likes of Justin Thomas (2021), Rory McIlroy (2019), Jason Day (2016) and Tiger Woods (2001, 2013) winning here.
The Previous Edition
For successive weeks, Bryson DeChambeau and Lee Westwood shared the final pairing, where the former was hoping to secure back-to-back PGA Tour titles for the first time in his career.
The pair played brilliantly at Bay Hill, although Westwood came undone by the brutal final day conditions that the greenkeeping staff mischievously create.
Westwood had opened with three rounds in the sixties (69-66-68) to secure his presence in the last pairing, whilst DeChambeau carded 69-69-67.
Justin Thomas produced a peerless display on the Saturday, scoring 64 which initiated his recovery from a 71-71 start.
On the final day, Westwood played the front nine to one-over, which could have had a negative impact on his quest for glory if DeChambeau hadn't went out in 38 (+2).
Brian Harman sensed an opportunity to attack, and after acquiring two birdies on the front, he reluctantly gave them back with bogeys on the 3rd and 6th.
His three-under finish on the back nine, however, propelled him up the leaderboard as he set the clubhouse lead at 11-under.
Thomas, who exhibited his natural rhythm the previous day, stuttered throughout his opening nine - finishing even-par after a bogey and birdie on 8 and 9.
It wasn't until he made the turn, where the Sunday engine ignited ferociously: carding three birdies and an eagle at the par-5 11th.
Westwood continued his bid for a first PGA Tour title since 2010, but putts weren't dropping for the Englishman, who eventually finished runner-up.
When Thomas parred the remaining two holes, he sat in the clubhouse with a healthy lead that would prove unassailable.
For Westwood, his fine form would come to a sudden halt - failing to finish in the top 10 on the PGA Tour for the remainder of the season.
Five to Shine
The field for this tournament should excite every golf fan throughout the world. After all, how often do we get to see 47 of the world's top 50 players contend for the same trophy?
The difficulty with exceptional fields is determining a winner, although this series does not reflect solely on the favourites.
Typically, established players that boast big brands do well around Sawgrass, and we can expect a similar stature of player winning this year's competition.
The eventual victor will be awarded $4.7 million, which is comfortably the highest amount ever issued for a standard PGA Tour event - only the Tour Championship betters it, with a winner's share of $18 million this season.
Without further ado, we present five players who you should keep a keen eye on, including their odds on Betway, whether that be for their chances of victory or those who are targeting a revitalising period of golf to save their seasons.
Abraham Ancer
Abraham Ancer is no longer a prospect and at the age of 31, he may reflect on his PGA Tour career as underwhelming. Look, it's highly difficult to win on tour now, and it's almost impossible to imagine that anyone will dominate the sport like Tiger Woods did when he broke onto the scene. Still, there's a lot to like about Ancer and his one PGA Tour victory - WGC-FedEx St. Jude Invitational - may be impressive, but we all would have expected more from the exciting Mexican. A competition like The Players Championship offers his brand a chance of immortality; his name could forever be etched into the realms of professional golf. If only it was that simple, as 47 of the world's top 50 share the exact same goal. That's the difference between the best and the elite, however, they'll find a way - will Ancer prevail this week?
His previous victory, albeit sole win, demonstrated he has the game for the big stage - and seldom is the setting bigger than the picturesque TPC Sawgrass. In previous weeks, we have realised that extravagant distance can be easily punished if the accuracy does not match the elongated length, in regard to driving distance. This is one area that Ancer has locked down, as he averages a shy under 300 yards (298.6, 108th) but his driving accuracy is among the best on tour (69.70%, 6th) meaning he's in prime position to attack the flags. Obviously, not every flag warrants aggressive behaviour - especially with some of the weekend pin positions - so his accuracy with irons will be vitally important, something he fails to impress with (68.25% GiR, 100th). Jon Rahm currently leads the tour with 76.28%, and you can imagine just how beneficial that 8% advantage would be over the course of 72 holes. Ancer won't be expected to contend this weekend, but his seasonal statistics say otherwise. If he can dial in his short irons and wedges, we could see a second PGA Tour title - but this is a difficult course to arrive unprepared.
Betting Odds: 51/1
Dustin Johnson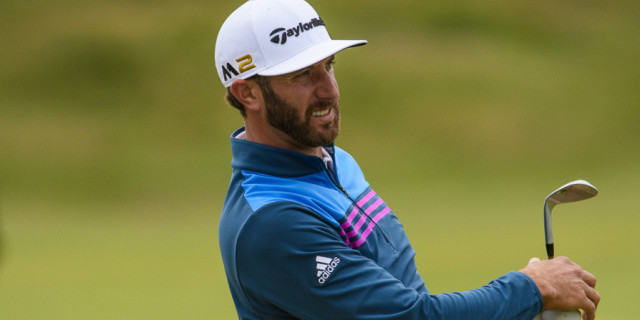 Dustin Johnson's brand has been attacked, questioned and then judged continuously over the last few months. He remained fairly silent regarding his involvement with the Saudi Golf League, but he has since committed his future to the PGA Tour, which concluded that saga - at least for the time being. Johnson doesn't come into this event with any form really, having only featured in three PGA Tour events this season, with two starts coming in the calendar year - Farmers Insurance Open and The Genesis Invitational. With the former world number one playing so little golf, can we expect a career-performance or a short week? That solely depends on the mindset of the elite athlete and whether he's truly committed to the PGA Tour or did he use hollow words to win back fans?
Considering his few appearances, he's not qualified for seasonal statistics against the field. To be honest, there is no form to judge. He's simply not played enough golf to warrant an analysis on his recent performances. Johnson will obviously be looking for a strong finish at The Players - who wouldn't? - but does he have the drive, the hunger for more titles? That remains to be seen and he has suffered a brutal 12-month period, failing to win once. His last victory? The rescheduled 2020 Masters, and he absolutely blitzed the field that week in Georgia. He's a multi-major champion whose brand is among the greatest in golf, but the big question is if he still has the hunger and if the multi-million dollar deal from the SGL has turned his head - do you think it has?
Betting Odds: 29/1
Hideki Matsuyama
Hideki Matsuyama has featured in this series before and I like to include new players, but this course is so suited to his game that I think he has an excellent chance of winning this week. Let us not forget his opening nine-under 63 that resulted in him leading by two during the cancelled 2020 edition. With eight PGA Tour victories to his name - including two this season - and the lucrative Masters jacket hanging steadily in his closet, Matsuyama is starting to become a superstar for the sport - and we're all for it. A master of his trade, blending the respectful Japanese culture with the annoyances of golf isn't your typical match made in heaven, but it would be in the 30 year old's case. This will be his ninth appearance at Sawgrass, and he has breached the top 10 on two of those occasions (T7th 2016, T8th 2019).
The current Masters champion is the opposite of the former Masters champion in Johnson, as he has played in a plethora of events this season - meaning we can analyse his performances to date. Matsuyama is another great example of how players are preferring distance to accuracy, but a driving distance average of 305.9 (43rd) is contradicted by 60.89% accuracy (92nd). I guess when your iron and wedge game is as good as the Japanese's (72.08% GiR, 21st), then it's not overtly catastrophic if you miss the odd fairway - although he's technically missing four in every 10 attempts. We saw how thick and nasty the rough was at Bay Hill, and Matsuyama's T20th finish was largely thanks to a great final round of 70. He has plenty of work to do on the greens too, losing strokes on the field whilst putting (SG: Putting -.200, 152nd). So, there's plenty of room for improvement and if we can get a pure Matsuyama, you can be sure he'll be up there come Sunday.
Betting Odds: 29/1
Kevin Na
Kevin Na is becoming a cult hero on the PGA Tour, although his pace of play has been heavily questioned and scrutinised by not only media outlets, but players themselves. At the age of 38, Na is on the cusp of the twilight era of his career, but five PGA Tour titles would suggest that he's more than capable of holding his own. Having secured his maiden title in 2011, he had to endure six painful, winless years before capturing The Greenbrier Classic in 2018. His latest victory came in 2021, when he triumphed in the Sony Open, beating both Chris Kirk and Joaquin Niemann to the title.
What can we expect of him this week? That's difficult to assume. His seasonal statistics would indicate that there isn't much hope for Na - from a field this stacked with quality - but this is professional golf - anything can happen. His Putts Per Round worsen as the tournament continues, which would be expected with tougher conditions being introduced, but to fall from 10th in Round 1 to 196th in Round 2, would indicate a mental problem more so than the conditions tightening. His driving accuracy breaks the top 50 (64.45%, 45th) but you would expect him to be driving it a little further than 289 yards with the accuracy percentage that he has. If there's one area of his game that fares well it's sand saves, where he's successfully getting up-and-down 68% of the time (7th). Away from that, however, leaves for sorry reading. Na is in for a difficult week and as we all know, Sawgrass bites at the worst possible time.
Betting Odds: N/A - KEVIN NA HAS NOW WITHDRAWN FROM THE PLAYERS AS HIS WIFE IS DUE TO GIVE BIRTH.
Jordan Spieth
It was a shame to not see Jordan Spieth tee it up at Bay Hill. With his recent form and tremendous touch, he may have had a real chance of winning the event. There's been a lot of talk about Spieth 'being back', and his recent performances have given that argument some substance. His best finish was runner-up at the AT&T Pebble Beach Pro-Am, around three notoriously difficult tracks. Away from that though, and there isn't another top 10 in site, with his closest being a T21st finish at the Sentry Tournament of Champions. A positive display at Riviera resulted in a T26th finish at The Genesis Invitational, and that was his last involvement with golf, having opted to forego his invitation to the Arnold Palmer Invitational.
Spieth has fortunately played in enough events to have his statistics contrasted to the field, and it's another vote in favour of distance over accuracy. Averaging more than 310 yards off the tee (310.3, 23rd) is, obviously, a gigantic advantage. If we look at Na's, for example, Spieth will be typically using a club shorter from the fairways, which is a psychological advantage just as much as a performance one. He forfeits a proportion of his advantage with his driving accuracy (58.20%, 123rd), but a lot of players have gone down this route, so the data must be in favour of blitzing the ball, as opposed to placing it. When Spieth is firing on all cylinders, his putting is usually the secret weapon that gets him over the line. However, this season he is ranked 112th for SG: Putting, which is far below the standard he asserts himself to. His Valero Texas Open win broke an almost four-year winless streak and he doesn't have the Players trophy in his cabinet - will we see primetime Spieth or the stuttering version that he has become associated with?
Betting Odds: 41/1
---
The field ensures that this year's Players Championship is not one to be missed, with all members within the world's top 10 committed to the event.
Typically, this course and moment produces winners of the utmost calibre, and it may be foolish to think otherwise for this edition.
With a cool $4.7 million laying in wait, who is your pick for this season's Players Championship winner?
---
This tour preview article was written in collaboration with Betway.
---
---

Be part of the action with a selection of unique golf tournament experiences, from playing in a pro-am with the stars to watching the action at golf's most illustrious events. Whether it's the Masters or The Open, The Ryder Cup or WM Phoenix Open, build your own bespoke package with the experts at Golfbreaks.com.
---
What do you think? leave your comments below (Comments)
---
Tags: PGA Tour FedEx Cup daily picks
---
PLAY MORE PLAY BETTER - LATEST TUITION TIPS
---
Leave your comments below
comments powered by

Disqus