The American Dream: Daniel O'Loughlin And The College Golf System
---
Golfshake's Liam Moore meets young English professional golfer Daniel O'Loughlin, who is embarking on his career following a record-breaking tenure at the University of Colorado. Daniel describes his journey to date and his experience of the American college system.
---
The dream for many young boys is to carve a career as a professional sportsman, but the harsh reality awaiting those lifelong ambitions is a stark reminder of what elite truly looks like.
Through the American college system, there are divisions that are present to separate the good from the best and approximately, there are 280 colleges that can offer NCAA Division 1 golf - the highest standard available.
Typically, each college creates a team of ten but only the top five will travel for tournaments and once there, the best ranked four will compete - leaving six team members without a tee time.
A lot - and we mean a lot - of American golfers with ambitions to feature on the PGA Tour, or even win a major championship, are cruelly rejected from the system: but what about the English golfers that travel over to try their luck?
Early Beginnings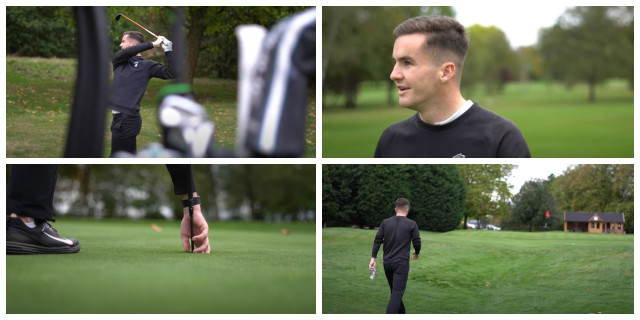 Daniel O'Loughlin was one of those golfers who opted to study in the land of dreams in a bid to achieve his lifelong vision of becoming a professional golfer.
O'Loughlin started golf later into his childhood at the age of 10 and was introduced to the sport through his grandad, who remains his biggest fan.
"My grandad bought me lessons down at my local club - as I solely played football - and I was pretty decent at it considering it was my first time doing it."
The vast majority of us can remember our initial interaction with the sport of golf, but the struggles of starting in adulthood were not present for the 23-year-old.
"I just kept playing it [golf] casually with no expectation of where it was going and then suddenly, I was getting pretty good and I just stuck with it."
This time represented the very beginning for O'Loughlin's journey in golf, which would not only take him all over the country - but across the Atlantic too.
Once he realised his potential, he started to enter junior tournaments and what followed was instant success.
As he and his family started to understand his limitless potential, he started to enter national competitions.
"After a few events in Nottinghamshire, I was selected to play for Nottinghamshire against other counties and this is when my handicap started entering the low-end of single figures.
"I had a few good results in the national tournaments and then I got picked for England," a beaming O'Loughlin tells me, reminiscing about the early origins of his journey.
What truly kept his interest was the fact that he was performing well on a consistent basis: a top 10 finish in Nottinghamshire would be followed by one in Kent.
Regardless of where he played, he scored well and he did so with a smile on his face, which is crucial for his long-term involvement within the sport.
As an amateur, O'Loughlin tasted success; he won the Walton Heath Trophy in 2019 and shares that honour with the 2007 victor, Danny Willett.
Moving to America
That's a wrap on college golf! (and university) Incredible few years at Colorado, couldn't have asked to be in a better place. Thank you @CUBuffsMGolf @RoyEdwardsCU pic.twitter.com/mVhzG821Jj

— Daniel O'Loughlin (@danielologolf) May 20, 2021
However, prior to the Walton Heath Trophy in 2019, O'Loughlin had travelled to America via a scholarship that was awarded to him for his golfing ability.
"I don't think anything could have prepared me for how it is; I had been over once to play a tournament with England but that was only 4/5 days and you don't get a full taste."
Attending university is a huge milestone in anyone's life and it typically involves more than just the person who is there to study.
Family members see off their child and it is an emotional moment, knowing your parents won't be around the corner if you've moved to another city.
But what if you attended an American college? Not only will family not be local, but you'll be on the other side of a rather large ocean.
"Suddenly, I was in Louisiana and I didn't take a visit prior, I just went over and thought: 'Okay, there's a lot of good players here, you must be doing something right'.
"You're just dropped there, parents gone, you're 18 and all on your own and it was crazy but the Americans really do look after you - especially being an international."
You may entertain the idea that being granted a scholarship could be the very beginning of a successful career for a professional golfer and while it does hold that potential, there are no certainties involved.
In addition to a hectic golf schedule, you're expected to attend every class and not fall behind from an academic perspective; failure to do so could result in removal from the golf team.
"If you don't maintain your certain grade point average - you need to keep up with a C grade or above - you will not be allowed to play golf, at all."
Fortunately, in addition to his marvellous ability, O'Loughlin excelled within the academic arena and understood how important his education was.
"I did well with my studies - I was an academic all-American twice, both in my final two years."
The College System Talent
All-Pac-12 Second Team honors for @danielologolf! #GoBuffs pic.twitter.com/Uf4uXym5i3

— Colorado Buffaloes Men's Golf (@CUBuffsMGolf) May 6, 2021
After a year in Louisiana, he transferred to Colorado and finished his final four years living in the state.
Upon graduation, he actually holds the lowest scoring average record in the school's history (71.68), which understandably made his name known.
However, he could not achieve this feat without the relentless work that he put both his mind and body through, a great antithesis to the typical English university timetable.
"We played golf every day and a typical day would start with working out before class, say 6:30-7:30, and then you'd have classes from 8-12 before grabbing lunch.
"From there, you'd head straight to the golf course and you'd play 18 holes and then practice for a few hours before getting home at 6/7 and then completing all your homework - it was so full on!"
That schedule was not including competitions that would occur frequently, which required golfers to travel across the nation to test themselves against the country's best.
Some of the golfers that O'Loughlin came up against had starts on the PGA Tour, with a select few even featuring in major championships.
"It's funny, the top-end guys on the college circuits have had PGA starts and even major starts as they had successfully qualified for them.
"They were the best amateurs in the world at the time and we just so happened to be playing in the same tournaments at the same time - it was good to match myself up against them."
While the Englishman has not quite matched up to some of his former peers in regard to starts, he still remains in touch with them.
"I keep in contact with them and a lot of them are on the Korn Ferry Tour and competing every week; a few have played on the PGA Tour since - it's just so competitive."
The Next Steps
Upon graduation, the Nottinghamshire-born golfer opted to travel back to England in an attempt to forge a professional career in his homeland, via the EuroPro Tour.
However, the mini tours in America provide an access point to the more established tours - Korn Ferry and PGA - and he could have decided to stay in America.
"The situation was like this: I could head home and have a full schedule to play through my management company, Trinifold, or I can stay in America and try to qualify for events as I did not go to Q-School and therefore, had no guaranteed starts."
While his future remains in England momentarily, due to the influx of contacts he made while studying in America, the door will always be open for a return.
"I think next year I will see where I am and what I want to do: do I want to give myself another go on the EuroPro or should I head back to America to explore alternative options - Korn Ferry or Q-School".
O'Loughlin is at the very start of his professional journey and while he may be pro currently, he understands that he'll need to climb the ladder if he wishes to earn a living from golf.
Of course, working at a golf club and conducting lessons is also a valid career path in the world of golf, but the 23-year-old has other ideas.
"I want to 100% make a career from either the PGA Tour or the European Tour; if I can do this full-time or as an occupation, I am going to be very, very content."
The Future
However, while O'Loughlin is undeniably a special golfer, he's still at the early origins of his professional journey and therefore, improvements will need to be made.
Typically, touring professionals are lethal with every club in their hand but this is especially true for wedges and distance control, which is one area he believes he needs to work on.
"A lot of courses we play will be a case of hitting driver and then a wedge, so if I can be world-class within those numbers, then I'll be able to do so much better going forward.
"I just think I need to maximise my scoring numbers - putting, chipping and wedge play - that's going to help me tremendously."
At the age of 23, O'Loughlin is one of the younger members of the EuroPro Tour and with his historical college record behind him, the heights are certainly within reach.
Whether he opts to establish his career in Europe or America remains to be seen, but either way, there is no denying the special ability that Daniel O'Loughlin possesses.
One thing is for certain, however: the American collegiate system has certainly benefited him and propelled him into the position he is in today.
---
Related Content
PGA EuroPro Tour - 2021 Season Review
---

Be part of the action with a selection of unique golf tournament experiences, from playing in a pro-am with the stars to watching the action at golf's most illustrious events. Whether it's the Masters or The Open, The Ryder Cup or WM Phoenix Open, build your own bespoke package with the experts at Golfbreaks.com.
---
What do you think? leave your comments below (Comments)
---
Tags: Europro Tour european tour daily picks Challenge Tour
---
comments powered by

Disqus