Golfing Feuds Are Nothing New
---
EVERYBODY likes a good feud, when two individuals choose to play out their differences in public. When it happens in sport it spices up rivalries and draws in people who might not otherwise be interested in that particular sport.
Golf's headlines are currently being dominated by angry exchanges between Brooks Koepka and Bryson DeChambeau. It all began with Koepka criticising his younger rival for the length of time he takes to play and came to a head at the recent PGA Championship when Koepka rolled his eyes during an interview as DeChambeau walked past in the background.
You may think that bitter rivalries in golf are rare. You would be wrong. Here, we look at some of the most high-profile differences of opinion.
Paul Azinger and Seve Ballesteros
The pair butted heads in spectacular fashion at the 1989 Ryder Cup at The Belfry. After being told by teammate Curtis Strange to be wary of gamesmanship in their Sunday singles match, Azinger refused to let Ballesteros change a scuffed ball on the second green. "Is this the way you want to play today?" Ballesteros asked. And so the mood was set. On the 18th hole, Ballesteros got his own back by disputing a drop Azinger took out of the water. It didn't end there. Two years later at Kiawah Island - the infamous War On The Shore - the pair clashed again, this time during the foursomes when Seve and Jose Maria Olazabal were playing Azinger and Chip Beck. Ballesteros noticed that the Americans had changed the type of ball they were using and accused them of cheating. Azinger later described Ballesteros as the king of gamesmanship. And Seve? He said of the US team: "The Americans were 11 nice guys - and Paul Azinger."
Rory Sabbatini and Ben Crane
Chalk and cheese. Crane is a notoriously slow player, and Sabbatini is a man who is not known for his patience. They were paired together at the 2005 Booz Allen Classic. At the 17th hole on the final day Sabbatini hit his approach into the water, lost his cool and walked up to the green before Crane had the chance to play his second. When Crane hit, Sabbatini chipped, putted out and walked to the 18th tee without waiting for Crane. To be fair to Sabbatini, he later apologised but it's fair to say that they don't send each other Christmas cards. And there was a LOT of sympathy for Sabbatini.
Patrick Reed and Jordan Spieth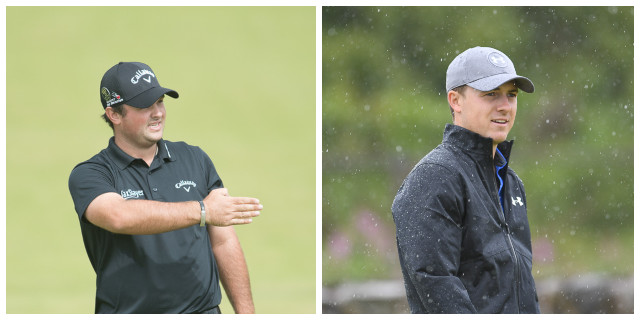 Reed and Spieth formed a successful partnership in a losing cause at the 2014 Ryder Cup at Gleneagles and it continued in 2016 at Hazeltine and at the 2017 Presidents Cup. Then, in 2018, everything changed. When denied relief by an official at Bay Hill that March, Reed was heard to say: "I guess my name needs to be Jordan Spieth, guys." At the WGC-Match Play, Reed joked about having carried Spieth at the Ryder Cup. Later that year at the Ryder Cup in Paris the pair did not play together once and Reed told The New York Times: "The issue's obviously with Jordan not wanting to play with me. I don't have any issue with Jordan. When it comes right down to it, I don't care if I like the person I'm paired with or if the person likes me as long as it works and it sets up the team for success."
Tommy Bolt and Eric Brown
Bolt was known as Thunder Bolt. He had an explosive temper that frequently boiled over. Brown was a Scot who didn't suffer fools gladly. Or anybody else for that matter! They faced one another in the singles at the 1957 Ryder Cup at Lindrick. Brown went three up and began to grow ever more agitated by Bolt's slow play, which Brown thought was entirely deliberate. So he asked his caddie to go and get a chair. Brown won the match and when Bolt told him he hadn't enjoyed it, Brown rubbed it in: "I don't suppose you did … because even you knew when the games were drawn that you never had an earthly hope of beating me." Afterward, Bolt took a shot at the crowd: "Individually they are pretty nice folks. But get them together and they are about as miserable a bunch of people as you could ever have the misfortune to run into in a supposedly civilized world."
Tom Watson and Gary Player
Watson accused Player of cheating at the 1983 Skins Game. The two exchanged words. Unfortunately their conversation in the car park was overheard by a journalist who decided to write the story. Watson claimed that Player had improved his lie by moving some blades of grass before a chip shot, and Player defended himself, saying he was "within the rules." Watson was also subjected to a tirade of abuse after the 2014 Ryder Cup in which the USA were thrashed by Europe. What he didn't expect was that the abuse would come from one of his own team, a certain Phil Mickelson, who won few friends for attacking a legendary figure within the sport.
Vijay Singh and Phil Mickelson
Singh has been involved in verbal spats with a number of players over the years and at The Masters in 2005 he criticised Phil Mickelson for damaging the pristine greens at Augusta with his spikes. Mickelson said: "After sitting in the locker room for a while, I heard Vijay talking to other players about it and I confronted him. He expressed his concerns. I expressed my disappointment with the way it was handled. I believe everything is fine now." It later emerged that the pair had been involved in a bitter row and very nearly came to blows.
Sergio Garcia and Nick Faldo
Faldo upset many people during his illustrious playing career, mostly on account of the fact that he was utterly self-absorbed - it was what made him the golfer he was. But his disagreement with Garcia came after Faldo's disastrous stint as European Ryder Cup captain in 2008. Faldo's performance led to a rethink about the way captains are selected. In 2014, on the Golf Channel, Faldo responded to a comment about Garcia's Ryder Cup prowess by saying the Spaniard had been "useless" in Kentucky. Four years later Garcia won three points in Paris and became Europe's all-time Ryder Cup point leader. When asked how he felt, he replied: "This means a lot to me. I have passed some of my heroes today—and Nick Faldo."
Tiger Woods and Sergio Garcia
Woods is self-confident and intensely private. Garcia is a passionate individual who wears his heart on his sleeve and, by his own admission, has behaved like a spoilt child many times over the years. But no matter who you are and what you have achieved, you do not go public with any slight on Woods and he made one of the biggest mistakes of his career with his "fried chicken" remark that was aimed at Woods and the fact that he is black.
---

Be part of the action with a selection of unique golf tournament experiences, from playing in a pro-am with the stars to watching the action at golf's most illustrious events. Whether it's the Masters or The Open, The Ryder Cup or WM Phoenix Open, build your own bespoke package with the experts at Golfbreaks.com.
---
What do you think? leave your comments below (Comments)
---
Tags: PGA Tour european tour daily picks
---
PLAY MORE PLAY BETTER - LATEST TUITION TIPS
---
Leave your comments below
comments powered by

Disqus