What Makes Your Day on the Golf Course
By: Golfshake Editor | Wed 05 May 2021 |
Comments
---
Every day on the golf course is a special one, but some rounds are just that little bit more magical than others. What separates the great from the good? Is it an excellent score, beating an established target, or the company of playing partners? Often, enjoyment will be derived from the course you're playing, or particular moments like chip-ins, holed bunker shots, long putts, all things that make a round especially memorable.
We asked several of the Golfshake Ambassadors a simple question; What Makes Your Day on the Golf Course?
For Matt Holbrook - in a tone reminiscent of Phil Mickelson - it's straightforward. "Hitting bombs and holing putts. I'm not even joking either, nothing beats a well struck tee shot or a nicely holed putt - one of the ones that has a fair bit of break and it just drops at the last minute, then the sound when the ball hits the cup! Music to my ears."
Clearly, this recent eagle must have ticked several boxes.
Yeah I did. #Eagle pic.twitter.com/EleK6jsZoA

— Matt Holbrook Golf (@MattHolbrook86) May 4, 2021
Mel Davies takes a more general approach, stating: "What makes my day is firstly nice weather, followed by good company on a good course. I'm also really pleased if an aspect of my game I've been working on has been particularly good."
It's hard to argue with that.
For Richard Moore - somewhat tongue in cheek, we think/hope - it's all about the number on the scorecard.
"It is never about anything except a good final score. I get no delight in hitting great shots in isolation unless the end result falls into place. Today, I shot to my handicap (+12) but am still seething about the triple on the 3rd which would have made all the difference. To hell with playing partners, and enjoying the fresh air, those are secondary to me. It's all about the final score!"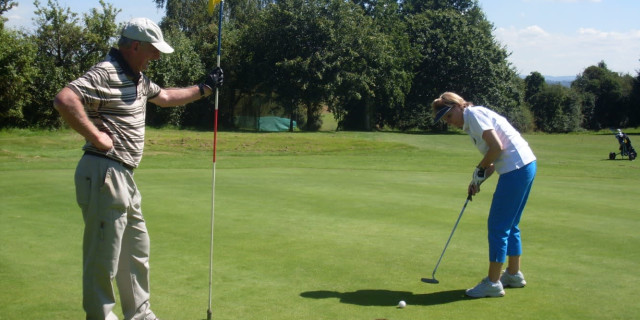 Golfshake Editor Kieran Clark said: "Like everyone, I find golf a challenging game, but I embrace that and take rich enjoyment from trying to do my absolute best for 18 holes. Hopefully, there will be the occasional sprinkling of magic in there, with fun company and a majestic setting further enhancing the day. Ultimately, the golf course is an escape, a welcome refuge from reality, and that is something to be grateful for, especially these days."
Finally, Kevin Heggie presents a more varied scenario that makes his day on the golf course.
"My perfect day on the course would consist of a whole host of factors! For a start, the forecast would be fair, but not too hot, with just a light breeze to keep the flags fluttering on either a top 100 heathland or links track. I'd be looking at arriving with plenty of time to enjoy a breakfast, ideally on a terrace overlooking the course, whilst browsing the complementary course guide. After a decent warm up on a grass range with premium balls, we'd hit the 1st tee with no one else in sight, and play at a leisurely (but not slow) pace as millionaire golfers. After the round we'd return to the terrace to enjoy a drink and food in the sun."
That may just be the perfect description of golfing nirvana.
However, many of you would contend that any time spent on a golf course is to experience paradise. We can't disagree!
---
Related Content
---
What do you think? leave your comments below (Comments)
---
Tags: GOLFERS Golf daily picks
---
PLAY MORE PLAY BETTER - LATEST TUITION TIPS
---
Leave your comments below
comments powered by

Disqus