2020 Golf Year In Review - That Was Year That Was ....
By: Golfshake Editor | Mon 21 Dec 2020 |
Comments
---
THAT was the year that was and I know that, like me, you will all be hoping that 2021 is a better one for us all. What brings us all together is this wonderful game of golf that we all love so much but its importance was put into perspective by the pandemic that has gripped the world in 2020 and claimed the lives of so many people. And, despite the best efforts of the vast majority of us, it continues to wreak havoc.
Twelve months ago, who would ever have thought that we would all be wearing masks as a matter of routine (well, most of us anyway!), that we wouldn't be allowed to pop out for a pint when we want to, that we wouldn't be able to spend time with friends and family and that there would be a shortage of toilet rolls?
It was in December 2019 that we first began to hear stories emerging from China about something called coronavirus. We were told it was highly contagious but that it was being contained. Hmmm….it didn't quite turn out that way, did it?
We knew that things were serious when Boris Johnson addressed the nation back in March and told us that he was locking down the country. He told us that he wanted us to work from home. He ordered us not to mix with people. And so began the daily updates which we watched in a state of disbelief as the number of deaths and hospital admissions soared.
Sport around the world came to a grinding halt. The European Tour shut up shop. The Players Championship at TPC Sawgrass was abandoned after just one round. Concerts were cancelled, theatres and non-essential shops were ordered to close their doors. And we discovered that we were no longer going to be able to play golf in the UK. We could walk across and around golf courses but we had to put our clubs away - and they remained locked away until May. The Open Championship was cancelled for the first time since the Second World War, the Ryder Cup was also scrapped, and the US PGA Championship, US Open and The Masters were all shunted to the end of the year, and were Players din eerie silence, without spectators.
People turned to zoom calls. We communicated via FaceTime and many of us discovered something called TikTok. Human contact, cuddles became a thing of the past.
Many of us decided to exercise and adopt a proper diet for the first time in years - yours truly included. We binge-watched past Ryder Cups and box sets. Those with gardens installed practice nets. Those without gardens perfected their putting strokes on the lounge carpet. Some even decided to swing golf clubs indoors - ceiling lights and ornaments suffered as a result.
---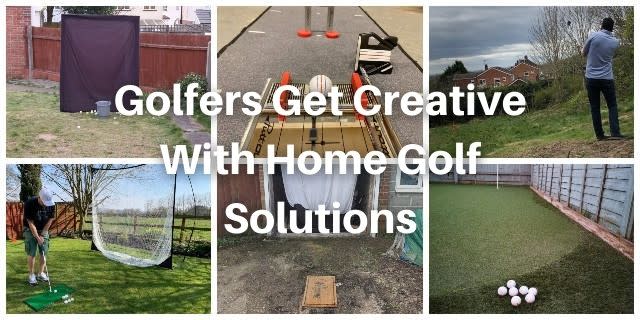 ---
And then, finally, we were set free again. We all rushed out to see if we could find a hairdresser and many of us had to go clothes shopping because weight loss meant that everything was now too big.
And for golfers there were several new challenges. The first was trying to get a tee-time. We had all been starved of the game for weeks so it should have come as no surprise that demand was huge, all the more so because, initially, we had to play in two balls. Non-members found it well-nigh impossible to play. People who had never before picked up a golf club or hadn't done so in years decided that golf was an attractive proposition and so tens of thousands of men, women and children joined golf clubs. It was a real boom time.
But how strange to have to arrive in the car park ready to play. And bunker rakes were removed, holes were either filled with sand or upturned. And he had to avoid touching flags. There were many other changes but, lo and behold, with courses full of people playing pairs, playing time plummeted. And, by and large, we returned to find our courses in magnificent condition. Most of us were also fortunate enough to be enjoying wondering weather.
---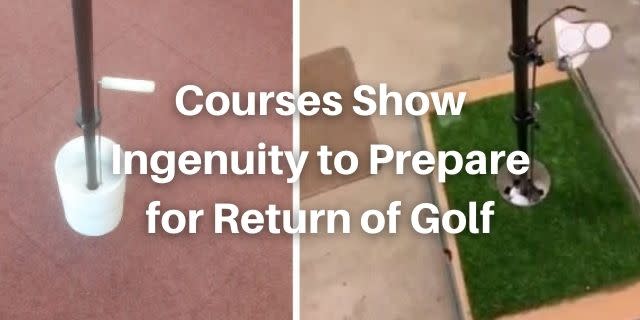 ---
Golf courses and driving ranges the length and breadth of the land were full to bursting point. Eventually the rules were further relaxed, meaning we could enjoy a pint and sandwich with friends after playing. And we could also play in four balls. It had been an uncertain time for golf clubs but things were looking up. Then came November and the introduction of the World Golf Handicap system. Beforehand, it had received some pretty rotten press but the world of club golf has continued. Or at least it did until a further lockdown meant that golf clubs had to shut their doors - AGAIN.
Wouldn't you just know it? Within hours of the November lockdown ending, we had our first proper snow, along with torrential rain, meaning that many of us couldn't go out and play.
And as the year comes to an end, huge parts of Britain are effectively locked down once more, with a new Tier 4 system being introduced. Non-essential shops and the entire hospitality trade are closed. For those of you in Tier 4, golf has taken on a surreal feeling yet again - reduced to two balls and clubhouses closed. Countries throughout Europe have closed their borders to us. We are, it seems, social pariahs.
We thought that the Covid rules were going to be relaxed over Christmas but it now turns out that it's a one-day-only offer. There is an upside to this, of course - it means that we will not have to spend three or four days with people we would much rather not be with! And it means that tens of thousands of you can head to the golf course on Boxing Day with a clear conscience!
In all seriousness, this has been a horrible year. Here at Golfshake we wish you a safe Christmas and a peaceful new year.
---
Related Articles
Why Tee Time Access is Golf's Biggest Challenge This Autumn
Things We Learned During And After The Lockdowns
Glorious Weather Turns Us Into Fitness Fanatics
European Tour Deserves Credit For Completing Season in Style
---
What do you think? leave your comments below (Comments)
---
Tags: daily picks covid 19 2020
---
PLAY MORE PLAY BETTER - LATEST TUITION TIPS
---
Leave your comments below
comments powered by

Disqus