8 Strange Backgrounds of Tour Pros
---
Ask your typical tour pro how they got into the sport, and you will probably receive a typical answer. Usually, it goes like this: they were an all-around sporting prodigy until about 13 or 14, then they decided to focus on golf after something or other (a minor injury, normally) shattered their dreams of playing professional football, before enjoying a stellar amateur career and working their way up to the PGA or European Tour. However, although this pattern is common, not all pros have enjoyed such a seamless or conventional path up to making birdies for half-a-million-pound checks. In fact, you might be surprised at some of the backgrounds of the most unusual tour pros. If you're curious, we've rounded-up the weirdest below.
Y.E. Yang
Forever etched into history as the man who scuppered Tiger Woods' 100% win rate when leading going into the final round of a major, Y.E. Yang already has a reputation as a golfing maverick. But perhaps the South Korean golfer's most unusual trait is actually how he got into the sport in the first place. He took up the sticks aged 19, an age at which players like Jordan Spieth were winners on the PGA Tour. Then, as if that wasn't odd enough, he had to suspend his golfing ambitions for three years as he was drafted for mandatory service in the South Korean army. It was only at age 24 that Yang turned professional, becoming the 2009 PGA champion less than 15 years' later.
K.J. Choi
Another player with an unusual background is K.J. Choi, also from South Korea. Like Yang, he had to delay his professional career due to military service and his case only gets stranger when you learn that prior to turning his hand to golf, Choi was a competitive power lifter, able to squat 350 pounds when he was just 13 years old. Unsurprisingly, his competition nickname (for powerlifting, not golfing alas) was 'Tank', which is actually a fair summary of his hard-to-crack golf game, too. Choi has 29 professional golf wins to date and has been as high as fifth in the official world golf rankings, while winning such high-powered events as the 2011 Players Championship.
Seve Ballesteros
Ah, Seve. Has there ever been a golfer more thoroughly unconventional than the third on our list? I can't think of many. Seve's mould-breaking personality was forged on the beaches of Pedrena, where a young Ballesteros would practice bunker shots with pebbles and a flared-open 3 iron – the only club he had starting out. That was how he honed his legendary short game, and his long game, which at its peak was equally impressive, was fine-tuned blasting the same 3 iron from his garden down a huge hill, across several rows of houses and onto the closest green of the nearby Pedrena Golf Club. It took him until he was in his early teens to get a start at the club proper, quickly transitioning from huffing bags to shooting 65 aged just 13 and the rest is history.
Mike Austin
You probably haven't heard of Mike Austin. That's a pity, for many reasons. He wasn't, by historical standards, much of a golfer. Other than being a tour journeyman, he had little competitive success. However, for many years he held the Guinness World Record for the longest drive ever achieved in a competition, managing an amazing 515-yard smash with a wooden club when he was 64 years old. He led a fascinating life, brushing shoulders with the likes of Errol Flynn and Howard Hughes in Hollywood, appearing in movies, while teaching boxing, tennis, baseball and golf.
Tiger Woods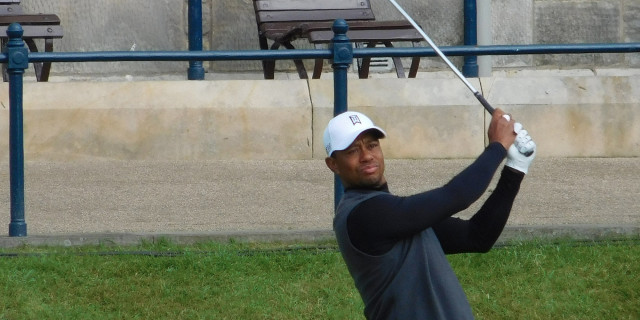 While Tiger Woods' start in golf was in many ways highly conventional – startling success as an amateur and a quick admission to the upper-most ranks of the pro game – in other ways it really was not. Woods was not from a wealthy or privileged background, as many American pros were when he was breaking out. Instead, he was a military brat who learned to play by sneaking onto the local Army golf course with his dad Earl after hours. His training – there's no other word for it – was also highly unusual, being ridiculous even by the otherworldly standards of rigour of most pros. Not only would Earl actively bait his son from a young age, but he would purposefully jingle change while he was playing shots and even hurl abuse at him. No other pro had his upbringing, thank god. But then again, no other pro has had Tiger's success, either.
Sam Snead
Yup, the man Tiger is on the verge of ousting with the most PGA Tour wins of all time also had a highly unconventional path into the game. Snead was a backwater boy, a hillbilly of the old school who learned to play golf wacking rocks with a crooked stick in his back garden. His first formal introduction to the game came surprisingly late, aged 15, when he began caddying at his local Hot Springs golf club, before graduating to playing.
Gary Wolstenholme
Legendary Walker Cup player, Gary Wolstenholme was also one of the oldest golfers ever to turn pro. After an amateur career that included a 1995 Walker Cup win over a certain Tiger Woods, Wolstenholme entered the paid ranks age 48, joining the Seniors Tour age 50. Why so late? Well, the short answer is because he had an exceptionally late start. When he was 18, he was a 23 handicap and it took him until 27 to earn his first England cap.
Ian Poulter
The final golfer on this list is Ian Poulter. Poulter's unusual route to being the Ryder Cup legend he is today is well known, but I'll repeat it here just in case you don't know it. He turned pro aged 20, which is normal enough until you hear that when he did so he was playing off a handicap of 4. Not plus 4, 4. As in 4 strokes over par. He also started out as a teaching rather than a playing pro, earning his living flogging mars bars and giving £1 lessons to youngsters at Leighton Buzzard Golf Club. Now he's one of England's most famous players – what a turnaround!
---

Be part of the action with a selection of unique golf tournament experiences, from playing in a pro-am with the stars to watching the action at golf's most illustrious events. Whether it's the Masters or The Open, The Ryder Cup or WM Phoenix Open, build your own bespoke package with the experts at Golfbreaks.com.
---
What do you think? leave your comments below (Comments)
---
Tags: PGA Tour FedEx Cup daily picks
---
PLAY MORE PLAY BETTER - LATEST TUITION TIPS
---
Leave your comments below
comments powered by

Disqus