Should More Golf Courses Be Open to the General Public for Daily Exercise?
---
The Old Course at St Andrews famously becomes a public park on most Sundays, but in this unique age of social distancing, there are influential calls suggesting making more venues across the country accessible to the general population for walking, jogging, and basic exercise. Many clubs have opened their doors, which is a positive way to create a connection with the local area, but there have been tales of vandalism and theft that have understandably concerned courses throughout the UK. What should the role of golf be at this time? Golfshake's Derek Clements looks at the debate.
---
"Golf is a good walk spoiled."
These words are attributed to Mark Twain, although the reality it is highly unlikely it was the American who said it. But somebody did.
But all of a sudden, in the current climate, golf courses have become rather more attractive propositions for people who have never in their lives picked up a driver, wedge or putter, with a growing number of MPs calling on UK golf clubs to allow members of the public to use their courses for their daily exercise.
Caroline Lucas, the Green Party MP for Brighton Pavilion, tweeted: "It's surely common sense to create as much open space as possible to allow socially-distanced exercise. Let's open up golf courses to the public (there are 300,000 acres of them across UK) and give people more room to walk and run."
Labour's Dulwich and West Norwood MP, Helen Hayes, agreed. She said: "Access to open space is vital for maintaining our physical and mental health at this very difficult time. In order to alleviate pressure on our parks and help make sure they stay open, I'd encourage any organisation with a large area of private open space to consider opening it up to the public, where this doesn't compromise the safeguarding of children on site.
"I know that some of the local schools are already doing this where they are able to without compromising safeguarding and it would be really great to see golf courses and sports clubs opening up their grounds too."
Harriet Harman, the Labour MP for Camberwell and Peckam, said: "All who own large green space in our crowded city centre should share them with those locked down in flats."
Many courses have already said yes, while others steadfastly refuse to do so. And, sadly, there have been reports of vandalism, while other clubs have been broken into, seeing precious trophies stolen.
The day after the UK first went into lockdown, the board of Caversham Heath Golf Club decided to allow non-members to use its land for a run, a stroll or to walk the dog. The Berkshire club, which has a dress-code that forbids denim, untucked shirts and flip-flops, closed the course for play but is to be lauded for refusing to put a padlock on the gate.
Instead it welcomed local people desperate for some green space where they could exercise while practising social distancing. More power to their elbow. It is safe to say that, when this is all over, the local community will remember how they were embraced by Caversham Heath. Some may even like what they have seen and be tempted to take up the game and join the club. Either way, it is a sensible way to win local friends and influence people, don't you think?
"It was obvious to us that social distancing can be difficult for people on the street whereas we had the space," said Caversham's general manager, Gary Stangoe
I'm all in favour of having people enjoy golf courses during the lockdown for families avoiding busy parks, exercise, running, dog walking.
However this weekend has seen football on the greens at 2 courses, motorbikes on Walton Heath and now BBQs on 3 greens at Cowglen ???? pic.twitter.com/MtbHBS1pki

— Stewart Armstrong (@FuzzyGolf) April 27, 2020
However, Steve Bootes, the general manager at Sittingbourne & Milton Regis Golf Club, Steve Bootes, has ruled out any possibility of allowing the public onto his course. He told Kent Online: "We would not entertain having any Tom, Dick or Harry running around our golf course, that's for sure. The members pay a lot of money for the upkeep of the place and to have people running around it would just be a mockery to be honest, that is why you have parks and places like that."
Bootes may well have the support of his membership but that is a stance and an attitude that is unlikely to endear the club to its local community.
"I don't think us, as a private members' golf club, would be interested in allowing it to be opened up to the general public for that. We don't want people turning up for a walk, thinking it is their hour's exercise. Exercise should be from home or very close to home.
"People would have to travel here and that would come under the unnecessary travel restrictions. We are trying to deter anyone from coming to the golf club at the moment. From a business sense, we would love to have the course back open, so people can come and play, but for that to happen there would have to be some really strict guidelines from above coming down.
"We can do all we can but to police it would be a nightmare. I know Denmark are looking at doing things to play on but would it work here? I don't think it would. The sooner people start bunkering down to the rules the sooner we can see light at the end of the tunnel being nearer."
---
Related Content
An Open and Shut Case for Golf Courses Around the Globe
How Golf Courses Are Looking During Lockdown
---
The vice-captain of a club that plays at Leven Links has attacked dog owners who have failed to pick up after their animals on the course. Leven is closed and it has resulted in a big increase in the number of people choosing to use the course to exercise their dogs.
"Walking dogs over the course shows a disregard for the course," said Leven Thistle Golf Club vice-captain Alan Lee. "It's disappointing to be sat at home while others do not share the respect and consideration by venturing out to places they never normally went, and letting their dogs desecrate the course.
"Our greenkeepers work hard and present us with an excellent course while being exposed to this on the course and in our bins. It's not their job."
Course manager David Gray echoed Lee's frustration and is urging dog owners to use the nearby beach or a public park for their walks. "There's plenty of parks, paths, places to go," said Gray. "You're supposed to be walking around where you stay. People need to take some responsibility."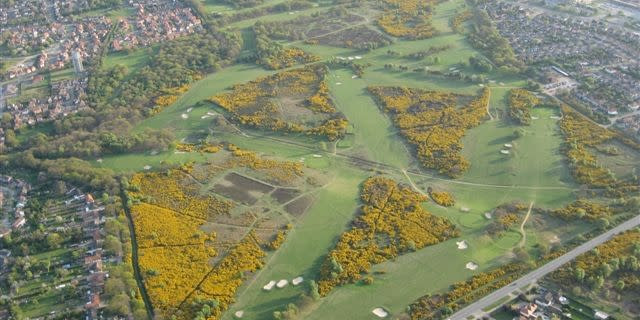 The chairman of Rushmere Golf Club in Ipswich has said people have been seen having picnics and sunbathing on the course. Steve Potts said: "I've heard from our greenkeepers that there were many people out on the common this weekend. It is really disappointing to see that some people are not following the guidelines and it is really emphasised at Rushmere Common because a few hundred yards up the road is Ipswich Hospital where nurses and doctors are working hard and sadly people are dying.
"Apparently there were children cycling on the fairways and people having a picnic on a green. I know people are allowed to go out for one form of exercise a day, and most people are adhering to those guidelines, there are clearly a minority who are not."
The golf club has asked Suffolk Police to increase their presence in the area. "Firstly my concern is that people are not adhering to government guidelines. We all want this to be over as soon as possible and the way to do that is to follow the guidelines. But we are also concerned that the golf course, which we have just spent a considerable amount of money on, will be damaged by people not using it for its purpose.
"We expect it to be busier on the weekends, but my concern is that, if we are going to have a period of nicer weather, that people will come out during the weekdays as well due to them working from home."
So what happens next? The Government continues to tell us that we must continue to stay at home other than for exercise, and it seems pretty obvious that golf courses that are not located in the middle of nowhere should be embracing their local communities and allowing exercise-only access. If they are concerned about people walking across the greens, why not just rope them off? Most people aren't stupid - they will quickly get the message and they will thank you for giving them somewhere to walk where they can enjoy wildlife, trees and green space.
---
What do you think? leave your comments below (Comments)
---
Tags: daily picks
---
PLAY MORE PLAY BETTER - LATEST TUITION TIPS
---
Leave your comments below
comments powered by

Disqus