10 Golf Books to Read During Coronavirus Lockdown
---
With UK golf courses, driving ranges and even indoor simulator bars closed due to coronavirus lockdown, this is the perfect opportunity to catch up with some golf-related reading. Our list of the best golfing books to read during lockdown has something for you, whether you're a Bob Rotella fan or fancy something a bit more lighthearted. Read on for the full list:
Hank Haney, The Big Miss
Any list of golf books worth its salt has to include The Big Miss, which tells the story of Haney's six years coaching Tiger Woods. The Big Miss of the title is the snap hook/mega block two-way miss that Haney and Woods struggled with, although this book is as much about Tiger the person as it is about Tiger the golfer. Technical tell-alls are interwoven with anecdotes about Tiger's bad tipping and self-centredness; however, it feels more like a character analysis than a jealous hatchet job. For insight into TW as a person and as a player, this is the book you want to read.
Mark Frost, The Match
Harvie Ward and Ken Venturi vs Ben Hogan and Byron Nelson, best-ball at Cypress Point. Sounds like fiction right? Well, in fact, this match really happened and is set down in riveting prose in Mark Frost's The Match. The book blends together biography (it charts each player's life from first swings to death), brilliant imagery (few golf writers can paint a picture like Frost can) and an unmatchable plot (made all the more engaging because it is furnished by history). One of the pairs shoot 57, the other shoots 58, but I won't spoil the suspense by telling you who shot what.
Bob Rotella, Golf is Not a Game of Perfect
We all know how important the mental game is to golf. And reading Golf is Not a Game of Perfect from start to finish is a task that is bound to improve this. Much of the advice is simple. Focus on the target. Stick to your routine. Don't get stewed up over a bad swing. However, it is also timeless and Dr Bob expresses these old adages with a refreshing directness.
Tom Cox, Bring Me the Head of Sergio Garcia
If you've read my review of Tom Cox's sidesplitting account of his year trying to make bank on the Europe 'say it really fast and it sounds like European' tour then hopefully Bring Me the Head of Sergio Garcia is already on your bookshelf. If not, see said review, and reflect that you might be in need of a sense of humour transplant. This is one seriously, seriously funny book.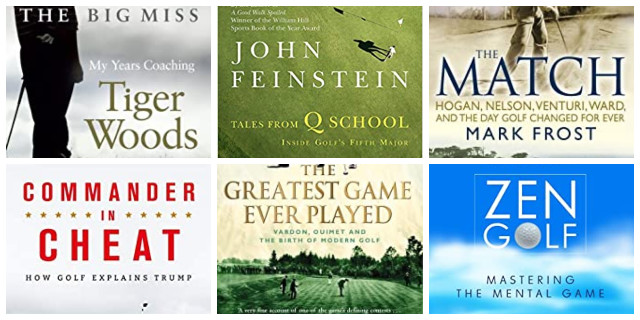 John Feinstein, Tales From Q School
Ostensibly, Tales From Q School, an account of PGA Tour Qualifying School, may seem a little dull. But don't let the mundane exterior fool you. Despite Tiger Woods not featuring and the fact that most of the golfers Feinstein follows you probably won't recognise, this is a riveting and engaging read that lifts the lid on the reality of professional golf when you're not in the world's top 50.
Mark Frost, The Greatest Game Ever Played
Frost again. This time he's telling the inspirational story of Francis Ouimet, the first amateur ever to win the US Open. At just 20 years old, Ouimet outlasted the two best golfers of his age, Harry Vardon and Ted Ray, in an 18-hole playoff. The book got made into a really very decent movie starring Shia LaBeouf, but for the beauty of the writing, read the paper before you download the film.
Steven Pressfield, The Legend of Bagger Vance
Another story that got a screen version, but works best on the printed page, the Legend of Bagger Vance explores the journey from post-war trauma to redemption undertaken by amateur golfer Rannulph Junah. It also features Bobby Jones, Walter Hagen - both wonderfully sketched - and a caddie who's really an angel called Bagger Vance. Very Mystic Meg and has a heartwarming end.
Joseph Parent, Zen Golf
If Doctor Bob doesn't do it for you, try Joseph Parent's Zen Golf. In truth, many of the nuggets of wisdom Zen Golf dispenses are similar to Rotella's ideas (which are, in turn, similar to every other sports psychologists…), but once again, it's a case of the how rather than the what. Parent peppers practical advice with wonderfully readable anecdotes about ancient monks, Buddhist parables and other nice touches that make Zen Golf not only imminently useful, but also enjoyable to read.
Rick Reilly, Commander in Cheat: How Golf Explains Trump
Probable malignant narcissist - check. Functional illiterate - check. World's only human butternut squash - check. And now we can add golf cheat to the Herculean list of Trump's defects. Reilly claims he kicks his ball out of the rough so often the caddies call him Pele.
P.G. Wodehouse, The Heart of a Goof
This list of golf books isn't ordered according to quality, but if it was, I think I would still pick P.G. Wodehouse's timeless collection of golfing short stories as number 1. It's simply so funny. And feel-good. And beautifully observant about human nature. My favourite story of the collection is The Magic Plus Fours, which tells the tale of a duffer who discovers a pair of trousers that turn him into a plus 2 handicapper. Every story in here, however, reads like a distillation of pure sunlight.
---
Related Content
The Self Isolation Guide For Golfers
---
What do you think? leave your comments below (Comments)
---
---
PLAY MORE PLAY BETTER - LATEST TUITION TIPS
---
Leave your comments below
comments powered by

Disqus