Golfshake Members Fitted for Callaway MAVRIK Drivers
By: Golfshake Editor | Fri 13 Mar 2020 |
Comments
---
Custom fitting has become an integral part of the golf equipment industry, seeing an increasing number of golfers taking the opportunity to have clubs tailored specifically to their technique, swing and body type, a process based on the careful analysis of data to discover the right combination of shaft, club head and weighting for their game.
However, when it comes to drivers, you could think that you already know what is best suited for your game, that a careful study of marketing information, and perhaps hitting a few shots down the range, is all that you need to identify the optimum club for you. Three Golfshake members may have thought the same until we recently took them to experience a fitting with Callaway Golf at the manufacturer's UK HQ.
For 2020, Callaway has launched its innovative MAVRIK range of clubs, including a series of new drivers. Overseen by fitting expert Matt Judd, the guys were surprised by what they were fitted with, underlining why it's an essential path for golfers who want to ensure that their equipment is working best for them.
Learning more about custom fitting, Golfshake's Ryan Rastall sat down with Matt for an overview of our members, explaining the entirety of the process, and describing how each of our golfers was paired with the correct driver.
By watching the above video, you can see how the day went, but for more detailed feedback, we asked the guys to share their thoughts on what their expectations were, how the fitting met those, and what they hope the future brings with their new Callaway MAVRIK drivers in hand.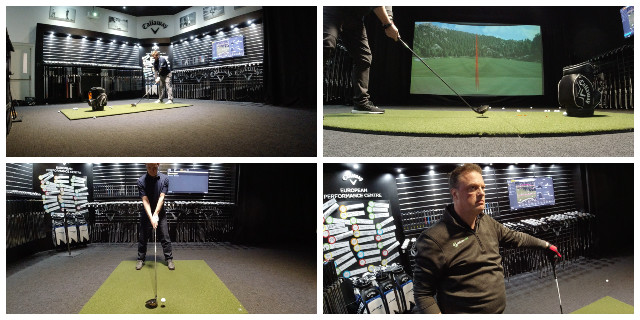 What was your past experience and knowledge of custom fitting before visiting Callaway?
(Kevin Heggie - 17 Handicap): "I've had the opportunity to have a number of custom fittings in recent years, and have always rated the experience, based on the feedback from the fitter which is backed up with data to show how changes in shaft, loft etc affects the outcome."
(Rob Cross - 6 Handicap): "Personally, I have been custom fit for EVERY club in the bag, including putter. My opinion is that every golfer would benefit from being custom fit and I can't understand when spending an awful lot of money, you have consumers buying a product which ultimately might actually make them worse, not better. The players who seem to feel that custom fit isn't for them, "I'm not good enough!" "That's just for low handicaps" are actually those who would see the much bigger benefits."
Mel Davies (11 Handicap): "I am a big believer of custom fittings having experienced a few now myself. The last few have been from American Golf, so I was looking forward to this one.
"Custom fitting in my opinion is the way forward and something every golfer should seriously consider. A good custom fitting will literally get the maximum out of you and your clubs making the results going forward better, which is what we all strive for."
What was your view of the Callaway Mavrik range before you were fitted?
(Kevin): "I've previously gamed Callaway drivers in the past, and I'd heard great things from online reviews and YouTube videos, so was really looking forward to trying out the range and comparing them to my current driver."
(Rob): "Callaway is a leading brand, the advertising has been bold and I'd seen a few reviews of the range (Golfshake of course), the technology and actual materials had changed. I've had Callaway clubs in the past and always tested the brand when looking at new clubs."
(Mel): "I thought the whole Mavrik range looked very impressive. I've always liked the look of Callaway drivers and this year's options looked as good as ever. You can see that a lot of research goes into the products and they want to be able to give the consumer the best products they possibly can, which is great for us golfers."
What did you know about the A.I that Callaway have used in the design on the new Mavrik range?
(Kevin): "Away from the course, I work closely with data and technology to exploit it, and do roll my eyes occasionally when terms like A.I and machine learning get liberally thrown around during meetings and presentations! However, in golf the datasets created really lend themselves to advanced analytics to predict the best outcomes in terms of design and performance, so I very much see A.I playing a major role in all club design, not just drivers."
(Rob): "Honestly, not a lot. I understand how it's used to look at how the face can be designed, using A.I to factor in all the mishits!"
(Mel): "I had read bits and also watched some videos on the concept of the A.I, so I was very excited to see what this would offer up. It's an interesting concept and one which I would be interested to find out more and learn more about it. Especially to see what improvements have been seen since it all started."
Which driver from the Mavrik range did you get fitted for, and was it the head you expected to be fitted into?
(Kevin): "My tendency recently has been a left to right shot, so I was expecting it to be either the Max or Standard version. On the day, I barely hit a ball right of the line, so in the end ended up with the Standard version with a draw setting in the hosel.
(Rob): "I tried them all, I was expecting to be fitted for the Standard or Sub Zero, but I'm not precious and would always try every option and trust the fitter. On this occasion, I could have been fitted for the Standard or the Max, but I liked how no matter how hard I swung the club I always got the most consistent result."
(Mel): "I was fitted for the Sub Zero, and being totally honest I thought that was the only one out of the three that I wouldn't end up being fitted for. I thought being an 11 handicapper the Standard version would be the one for me, failing that the Max. How wrong could I be."
What was your opinion of the technology that was used during your fitting experience?
(Kevin): "The facilities and technology used at the Callaway HQ were awesome. The data captured via TrackMan provided immense details for Matt to fine tune the performance of each driver/shaft combination quickly - the time just flew by, and the head/shaft combination I ended up with provided much more consistent results compared to my current driver."
(Rob): "TrackMan is KING! I've used a few different systems to be fitted and at the end of the day it is all relative. If SkyTrak says your old driver carries 240 yards, but your new driver carries 250 yards, then on the day it's a relative comparison. But i have used TrackMan for fitting and also playing, I have found it the most accurate."
(Mel): "The technology used during the fitting was what I would expect from one of the market leaders in golf clubs. TrackMan gives you lots of great feedback for all aspects of the shot. Very impressive indeed. The fact there are three different heads and so many options on the shaft department goes to show me that Callaway really are striving to find the best for everyone."
What feature of driver custom fitting most impressed you?
(Kevin): "Alongside the data, I think the most impressive part of the fitting was the seemingly unlimited number of shaft options, which just seems to grow and grow each year. Compared to my first driver fitting five years ago, the options around flex, and more recently length, enables the fitter to find that sweet spot in performance across spin, distance and dispersion."
(Rob): "All of it, but if I had to chose one it would actually have to be Matt's (my fitter) knowledge and experience to be able to improve every attribute TrackMan threw at us. To know based on the feedback what would work is such a great feature. Also, the amount of shaft options available is a bit nuts!"
(Mel): "The most impressive feature for me was the way that Matt pretty much knew straight away what would be the set up I needed but still checked out a few other options just to make sure his initial thoughts were right. I tried the Standard head as well as the Sub Zero I ended up with, and also a few different shafts showing me that Matt really wanted to make sure I ended up with the absolute best driver he could possibly fit me for."
How has your confidence with the new Mavrik Driver changed due to the custom fitting?
(Kevin): "On the course I've now reset expectations with regards to shot shape, which has taken a little time getting use it and trusting the new pattern. However, the more I hit it, and hit it straight with the occasional draw, the greater my confidence in it is growing."
(Rob): "Honestly, I am a good driver of the ball and have been for a number of years, so I have always been confident. BUT since putting the Mavrik in the bag, there has been no need to "get used" to my new driver. It feels like I've gamed the club for years."
(Mel): "I feel very confident addressing the ball as I know that this driver is the right one for me, so if I put a decent swing on it the results will be exactly what I would hope for. The club sits great behind the ball. The align grip feels great and all this on top of the fitting gives me massive confidence over every tee shot."
How has your driver performance on changed since the fitting?
(Kevin): "So far, so good. I'm finding the driver really easy to hit, and the results on the course are positive in terms of both distance and fairways hit. One of the few good things about this terrible winter we've had is the ability to track carry as the ball is usually plugged, and overall I feel I'm now hitting it further than before."
(Rob): "So, once the club arrived, I had a range session prior to playing in a Texas Scramble the following day. When I was with Matt we worked on keeping the spin rate consistent and this would maintain the same flight and carry for each swing. Texas Scramble over 18 holes is four drivers from each player... Hole 1, my drive, Hole 2, my drive, Hole 3, my drive. Better flight, better carry, more consistent."
(Mel): "I've used the driver for two full rounds now and also a few practice holes, and the dispersion is very good and I'm also getting about 10-13 yards longer on my good shots. These stats are shown in Arccos which I use for all my clubs. On my favourite driving hole at my course I have managed to hit my drive 15 yards past my last shot on the hole with my old driver. The strikes on the face are better and are much more consistent than before. What I can see is even in this weather I'm getting more run out when the ball lands which was something I didn't see before."
What is your overall opinion on your Mavrik driver fitting experience?
(Kevin): Definitely the best fitting experience I've had. Matt really helped get the the most out of the data as well, highlighting the valuable role the fitter still plays in the process, supported by data."
(Rob): "Super impressed. The venue itself oozes class, the studio is out of this world. Great fitter, great club options - you can't really get much better! The experience itself is as good as you're going to get, along with TrackMan stats to help guide the fitter."
(Mel): "The overall experience in my eyes is second to none. Very thorough and professional. Not rushed in any way and you leave feeling you will get the absolute most out of the club from the quality and detail of the fitting. You really are made to feel like a tour pro as everything is like it would be for the elite down to a normal club golfer."
Would you recommend this experience to a fellow golfer/friend?
(Kevin): "Yes, 100%. Anyone thinking of buying a new driver (or any clubs for that matter) should definitely be going for a fitting verses buying off the shelf, as there's so many combinations available to maximise the performance of golfers, it's a no brainer if you're looking to see meaningful gains on the course."
(Rob): "I have, and will continue to do so. The knowledge that tour professionals are in the same studio is awesome! But the whole experience makes you feel like a tour pro!"
(Mel): "I would always recommend custom fitting to any golfer looking for new clubs and to improve. This only reiterates my feelings that custom fitting is an absolute must. To be given the chance to go to a top brand like Callaway and get the whole fitting experience is something every golfer should try and do. You really won't be disappointed."
Are you looking forward to the season ahead now that you have the Mavrik driver in the bag?
(Kevin): "I cannot wait for the season to start! Driving is one of the more inconsistent parts of my game, but I also believe it's the most important part of my game in terms of scoring. If the Mavrik means I'm hitting it further as well as hitting more fairways, it should mean my second shots are with shorter irons, and hopefully this should result in more makeable birdie opportunities on the greens."
(Rob): "Yes. Having the knowledge that I have a driver I know is suited to me makes me super excited for the season ahead. I play on a golf course where a driver is needed on a high number of holes, if you hit it well then you can score well. Can't wait to get out there and use it as much as possible!"
(Mel): "My aim this season is to reach single figures and I feel the Mavrik will go a long way to help me achieve this, and that makes me really excited going forwards into the season ahead. The sound and feel of the ball on club head just makes me want to keep playing and hitting and also improving."
---
So, there you have it! Three delighted and excited golfers. We'll check in with them again later in the year to see how far they have progressed with the new drivers in hand.
Have you considered being custom fitted? Let us know if witnessing what the guys experienced has changed your minds.
---
What do you think? leave your comments below (Comments)
---
Tags: Mavrik drivers custom fitting callaway
---
comments powered by

Disqus