David Duval Deserves Better Than Being a Punchline
---
In this age of social media hashtags, emojis, and unfailingly dense hot takes, the sight of a professional golfer making 14 on one hole and posting a round of 91 is not an event that will draw much sympathy, more derision. It has the average duffer gleeful. Those scores are startling – they could even be deemed embarrassing – but David Duval does not deserve to be a punchline.
Ultimately, this is not life and death, simply a bad round of golf, and the champion of 2001 has endured many of those since his crowning achievement at Royal Lytham & St Annes.
But this is the Open Championship – you do not want to see past winners humbled, even humiliated by the circumstances of their play. Thursday at Royal Portrush was a sobering reminder of how far Duval has fallen during the past 18 years, but we shouldn't forget the scale of those heights. Two decades ago, he was above the clouds looking down on the rest.
His 23rd Open began exuberantly, opening with two birdies and two pars, his name made an unlikely appearance on the leaderboard. Could that run continue? That would be a story. However, before the ink was dry on that potential tale, the wheels came off with a quadruple bogey on the fifth, followed by a dropped shot on the sixth, but what happened on the par five seventh caused shockwaves, after hitting two provisionals, Duval played what he believed was the third ball, discovering that it had in fact been the second. Two shot penalty and back to the tee. It all added up to 14 – the highest score on a single hole in the Open since Herman Tissie's 15 at Royal Troon's famous Postage Stamp in 1950, as noted by the historically savvy Geoff Shackelford.
The ship – destined to founder – steadied somewhat until a treble bogey on the 17th. Making a credible par on the 18th completed a round of 91, equalling that of Prayad Marksaeng's 91 on that infamously brutal Thursday at Carnoustie in 1999. One better than Ian Baker Finch's career-ending 92 at Troon in 1997. Guy McQuitty shot 95 at Turnberry in 1986.
"You have an obligation as a professional to post your score," he said afterwards.
This is solid from Duval: "You have an obligation as a professional athlete. If you play, you post your score. Am I happy about that? Is there some ... embarrassment to it? I don't know. But I teed off in the Open and I shot 90 today. So put it on the board."

— Doug Ferguson (@dougferguson405) July 18, 2019
Let's turn back the clock to the days when those scores raised eyebrows for the right reasons.
Winner of the U.S. Junior Amateur in 1989, Duval had finished runner-up seven times on the PGA Tour before his winning breakthrough in the October of 1997 at Kingsmill. The floodgates were open. He won the following week at Disney and then the Tour Championship at East Lake.
He won four events in 1998. That tally of victories was matched in 1999, but the stakes were higher. Duval famously shot 59 to win the Bob Hope, two months before securing the Players Championship at Sawgrass. That summer he was trading the world number one spot with Tiger Woods, holding the exulted position for a total of 15 weeks. He had a chance to win the Masters in four straight years.
Both Nike players for a period, Duval was the yin to Tiger's yang. Woods the impassioned and demonstrative youngster who showed every emotion, Duval the picture of stoicism behind those trademark sunglasses, exuding both a mystique and sleek coolness. But those shades protected one of the game's most thoughtful and interesting personalities, characteristics later showcased through his successful transition into television golf punditry.
Finally winning his major at Lytham in 2001, that mask of impenetrability slipped with Duval's articulate and heartfelt speech revealing a side the outside world hadn't seen before.
Despite this long-anticipated success, Duval's body had already begun to fail. The Dunlop Phoenix in Japan that November – his 30th birthday – was his last victory. The decline would be dramatic.
He finished the 2002 season 80th on the PGA Tour money list and 211th in 2003. Various injuries and ailments were to blame – wrist, back, shoulder, vertigo – this once dominant force, the one player that Tiger feared, couldn't make cuts. There was also the breakup with his long-time girlfriend, Julie. He made one weekend on the tour in 2005 from 23 events. Like Baker Finch and Sandy Lyle before him, the magic dust had been exhausted.
Results were somewhat better – how could they not be – in 2006, including a T-16th at the U.S. Open. But these were all false dawns. Golf had been all-consuming for Duval, but he found a new and more rewarding perspective on life. Meeting Susan, a mother of three, they married in 2004, with Duval becoming a doting stepfather to Deano, Nick, and Shalene; later father to Brady and Sienna. Family was the barometer of success that he cherished. Dad was the title that mattered.
But he continued to plug away on the golf course, determined to recapture the aura. There were flashes – he was in contention after 36 holes at Royal Birkdale in 2008 – and his runner-up a year later in the U.S. Open at Bethpage Black was miraculous, perhaps the most unexpected major performance in living memory. He was second behind Dustin Johnson at the AT&T Pebble Beach National Pro-Am in 2010.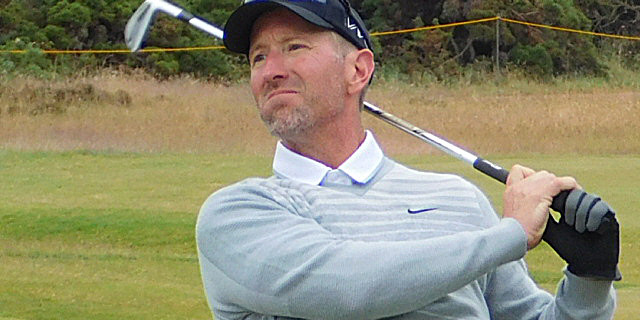 Eventually, Duval's PGA Tour exemption elapsed in 2011, facing the ignominy of requesting invites, a process that he stopped three years later. There was to be a rare lighting in a bottle moment at St Andrews in 2015, making the cut on the number before shooting a 67 in the third round. It was a brief glimmer of the old Duval. The memories of that have carried him since, but the absence of competitive rounds on tour make a repeat increasingly distant.
Now 47, there may be a future reprieve on the senior circuit. Whether he continues to enter the Open Championship remains to be seen. He has made just one cut in the game's oldest major during the past decade – only four in total since winning on the England's North West Coast.
While much attention understandably has been placed upon David Duval for all the wrong reasons in Northern Ireland, somehow it feels more appropriate to remember those halcyon days when he was the headliner. The Claret Jug is better for having his name part of that history.
---

The oldest & most prestigious major, a trip to The Open is a must for every golf fan. From tickets and transfers to hospitality & golf, Golfbreaks.com can build the perfect package to help you experience The Open in style.
---
---
What do you think? leave your comments below (Comments)
---
Tags: The Open Royal Portrush Northern Ireland Ireland daily picks
---
comments powered by

Disqus