How to Make Sure Greensomes is Fun
---
PACE of play remains one of the biggest concerns in golf, with increasing numbers of players growing increasingly frustrated by rounds that take up to five hours. It doesn't help that tour golfers take forever to play shots, addressing the ball, walking away, addressing it again, changing clubs, addressing the ball and then going back to the club they had in their hands in the first place before finally hitting the ball. Every day you will see club players doing the same thing.

In an effort to speed things up, formats such as greensomes are becoming increasingly popular. Played properly, a greensomes round should take no more than about three hours to play. But there are some things you really need to consider before you enter a greensomes competition, whether it be with a friend or being drawn to play with a fellow club member.

Love is all about never having to say your sorry. The same applies to greensomes. Lots of people love greensomes golf, and so they should. It is not something we do very often, so make sure you know and understand the rules and, perhaps most important of all, for goodness sake make sure you play it with somebody who won't want to chase you around the car park if you miss a three-foot putt on the final green to win the match and another at the first extra hole that sees you losing it.
5 Different Formats to Play With Your Mates

So what can we do to get the most from it? Nobody ever walks out onto a golf course with the intention of playing badly, so before you and your erstwhile best mate decide to pair up in the club's greensomes knockout, there are some things that you really need to consider.

Greensomes is an alternate shot format. You hit a shot and then your partner hits the next one. It is a format that will test relationships to the limit and beyond.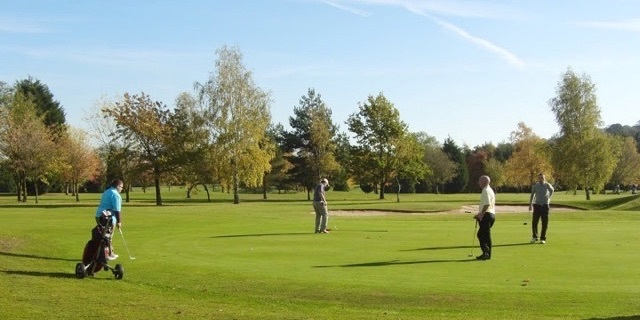 When you step out to the first tee, think long and hard about the golf ball you are going to use. Let's say your partner pulls out a brand new Titleist ProV1x on the first tee and he is hitting the opening drive, with the second to be struck over a lake. He hits a peach of a drive, long and straight down the middle of the fairway and then you stand over the ball and all you can think about is how your buddy is going to react if you top the ball straight into the water. Greensomes golf is about never having to apologise to your partner, so make sure before you start that he is not going to have steam coming out of his ears if you lose his ball on the very first hole.

There is a simple enough lesson. We all suffer from nerves at the start of a round. If you are playing greensomes, don't be the man or woman who arrives on the first tee seconds before your due time – it is not going to go down well with your partner. Make the time to hit a few shots on the practice ground first of all. And if you still feel nervous when you kick off, suggest that you don't use a brand new ball for the first couple of holes. And when you change it, don't forget to tell your opponents that you are doing so. If your partner is still happy to put that brand new ball down, then he will only have himself to blame if you put it in the water.

And if you do find a watery grave, make sure that the next ball comes out of your bag, not your partner's.

Spend some time before you start discussing which of you would be best teeing off on the odd numbered holes, and which of you should take the even numbers. If you are a poor iron player and most of the par threes are even numbers, then you should be hitting the opening tee shot. And, again, don't apologise if you duff it. Remember, too, that if you hit the opening drive out of bounds, it is then down to your partner to take the next drive from the opening hole – and he will still be driving at the second hole. To help you remember this, put your initials next to the odd holes on the scorecard and your partner's next to the even ones.
If you are playing out of your skin and your partner is having a nightmare, don't give him a hard time. He is not doing it deliberately. And when you get back to the clubhouse, do not ever criticise him in front of other golfers. It could be the end of a beautiful friendship. It's only a game.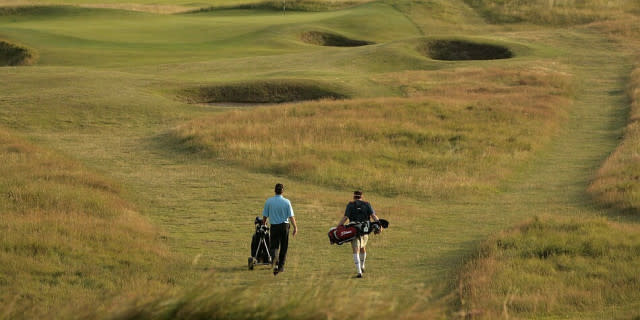 Possibly the biggest source of potential conflict during greensomes play comes on the greens. Most club golfers don't practice putting properly – if we could guarantee that every time we played 18 holes we wouldn't three-putt a single green then our handicaps would all come tumbling down. So here are some definite do's and don'ts to observe on the green: if you have a 10-foot downhill putt and it is not to secure a half, don't leave it four feet short, and don't run it four or five feet past the cup – if you do either of those things it will put a strain on your friendship, we promise you. Just make sure that your ball finishes at the hole side. It is a different matter altogether if that putt is to halve the hole – in that case, the only thing you need to avoid is leaving the ball short of the hole. If you come up short, you won't be able to look your partner in the eye.

One other thing to remember at all costs. If you are putting and you hit the ball and it finishes by the hole side do not, I repeat do NOT, walk up to it and knock it into the hole. Your opponents will be elastic. Your partner won't. Why? Because it will mean you have lost the hole. Alternate shots, remember!

Before you start your greensomes round, be sure that you understand the rules – and that means understanding your handicap allowance and knowing how many shots you and your partner receive or have to give away. If you both hit the ball out of bounds at the same hole, your partners then need to board the tee and drive – but they will still be driving at the next hole.

Greensomes golf should be fun, but it does come with a health warning. If you put your name doing for a competition and end up being drawn to play with the most competitive golfer in your club but you just enjoy playing in these events for fun, then you need to seek him out and have the conversation with him in advance and tell him that. And you know what? If, when you get out there, he gives you a rough ride, criticising you and not talking to you, then you really don't have to stay out there. Like we say, golf is meant to be fun.
---
What do you think? leave your comments below (Comments)
---
Tags: Greensomes
---
PLAY MORE PLAY BETTER - LATEST TUITION TIPS
---
Leave your comments below
comments powered by

Disqus