---
ECCO have long had a great reputation for making high quality shoes and ever since their entry into the golf shoe market they have been winning rave reviews from golfers and media alike. In recent years they have continued to innovate and it may be that the new ECCO Cage Pro features more technogoly than any shoe that ECCO have ever made.
So, the really question is, does that technology really work? I have been testing the shoe for a couple of months now and here are my thoughts on ECCO's Pro Cage shoe:
Tech Talk - What ECCO say about the Pro Cage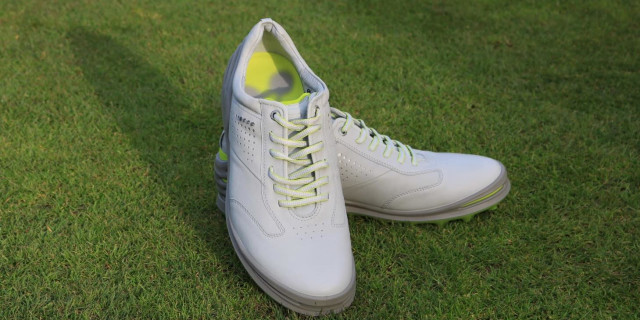 The ECCO CAGE PRO is ECCO's latest spikeless golf shoe that utilises a revolutionary sole to provide unrivalled grip and performance. This shoe further revolutionises to hybrid golf show concept with the introduction of a new performance focussed ECCO SPYDR-GRIP outsole. To add, the shoe also features a HYDROMAX treated upper, made from soft, resilient dritton leather, which is highlighted by the unique combination of a redefined direct injected heel cage and an organic structure sole design.
The SPYDR-GRIP outsole is less aggressive on the greens and provides outstanding grip in all conditions, as well as minimising the clogging of dirt in the sole. The unique, one-piece, DIP stability cage wraps from the heel through the midsole and across the toe box to offer more stability and comfort.
To further enhance comfort, the shoe has an anatomical design that aligns and moves in unison with the foot's essential ligaments and muscles, and the ECCO Freedon Fit combines a snug heel setting with a roomier forefoot area that allows toes to move naturally.
Looks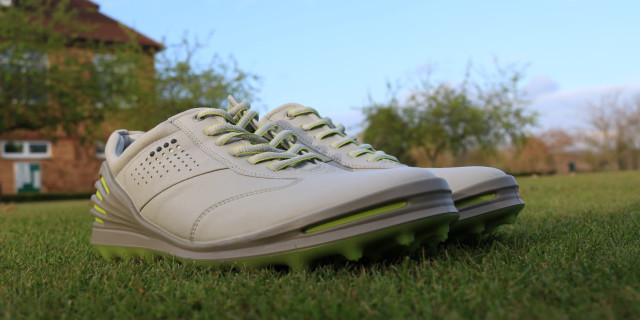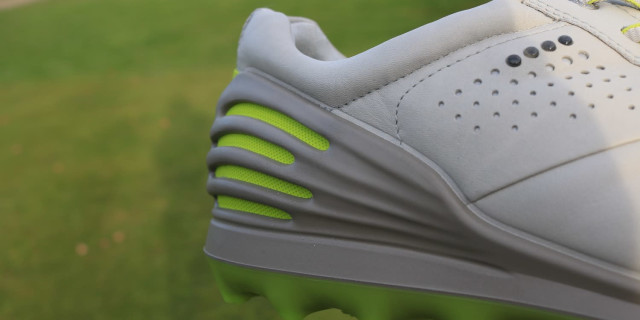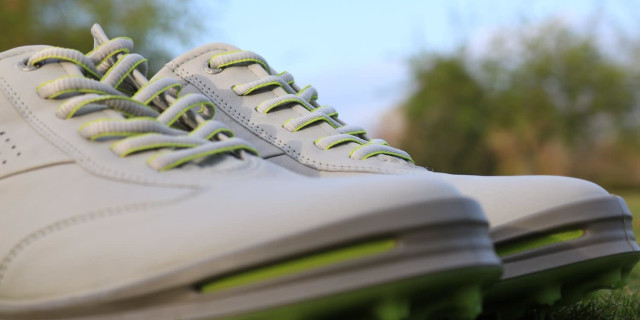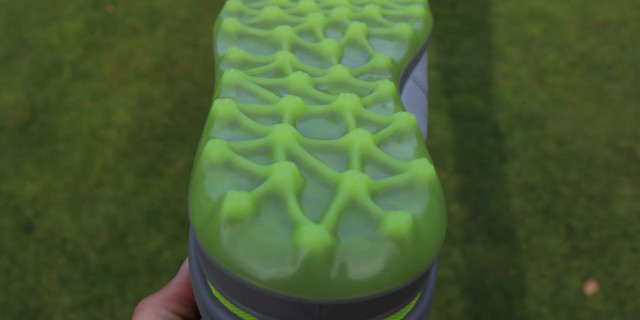 There are few features on that the ECCO Cage pro boasts that really impact in the looks and style of the shoe. The first is the Cage system that hugs the heel and toe the shoe and is visually striking. It really is quite unique. Talking of unique, the other really striking look to this shoe is the SPYDR sole. Personally I think it looks awesome. It combines suprisingly well with the far more traditional leather upper and also with the Cage system. All in all it is a hugely striking shoe, it is has shelf appeal and will get you noticed by your playing partners!
Feel
ECCO have built their brand on a combination of performance and comfort and the Cage pro really did hit the mark on both counts. The Cage system does work, you feel snug in the shoe without being cramped and the Freedom Fit design of the shoe really does create room at the front for your toes to move while being much more narrow at the back giving you a feeling of stabiltty.
I was a bit worried about how the moulded sole might impact feel through from the ground and when walking, but I have really not noticed a significant difference when compared to a spiked shoe.
Performance
Wow, these shoes are good!
It is fair to say I was very skepitical about the SPYDR sole. While it looks great, was it just a gimmic? The answer to that is a fairly resounding no. I have played a lot of rounds in the shoe now - 25+ and have not slipped once and I have played in a whole range of conditions. One of the selling points of the SPYDR sole is that it is less impactful on soft greens and that is certainly true when compared to a moulded spiked shoe, it really limits any damage.
My only slight gripe with the sole is that it is designed not to clog with mud and grass, while it is ceratinly delivers to some extent and is way better than a spiked shoe I have found that it still clogs a little.
I also felt this was a really stable shoe, the Cage system certainly does it job with your foot being held solidly in place. This is a big tick for any shoe in my opinion.
Pros
A really striking shoe that combines the very latest innovation and tech from ECCO. While it stands out it is the performance that really matters and this shoe performs.
Cons
The looks won't be for everybody and while the SPYDR systm ahs been delivering in the wet conditions during summer, the jury is still out on how it will handle winter in the UK.
The Bottom Line
I love this shoe! It is certainly very close to being best in class, if not the best. The innovations work and they impact positively on performance, the shoe is comfortable, really comfortable and it looks great. There really is not a whole lot not to like. It is a go to shoe for almost any conditions!
Owen's rating - 9/10
Available in UK: Now
SRP: £160 Laced £170 Boa Closure System.
For further information visit the ECCO Golf webiste - Click here
---
What do you think? leave your comments below (Comments)
---
Tags: ecco
---
PLAY MORE PLAY BETTER - LATEST TUITION TIPS
---
Leave your comments below
comments powered by

Disqus