Biggest Fashion Crimes in Professional Golf
---
What is it about golfers and what they regard as fashion? From ridiculous hats, to multi-coloured tops to trousers that appear to have made from curtain material, it seems that they will wear just about anything. So there are a couple of questions we should be asking: 1: do they get dressed in the dark? 2: does nobody in their lives, whether it be a wife, a girfriend, a mother, a manager or a caddie, think it might be better to take them to one side and tell them that they look ridiculous?
It is a long list, but here we take a look at 10 of the worst. Have a look - maybe you have photographic evidence that some of your golfing buddies have an even "better" sense of style. If so, send your pix our way...
Jersper Parnevik
Parnevik was what we call "a character". He used to chomp on volcanic dust (as you do). Then he appeared on the golf course one day wearing a sun visor with the skip flipped up towards the sky. Had he lost his mind. Actually, it turned out to be a rather inspired choice because sponsors began knocking on his door, looking for an opportunity to put their names on the skip. He has now joined the Champions Tour, abandoned the sun visor and opted for a rather natty range in pork pie hats.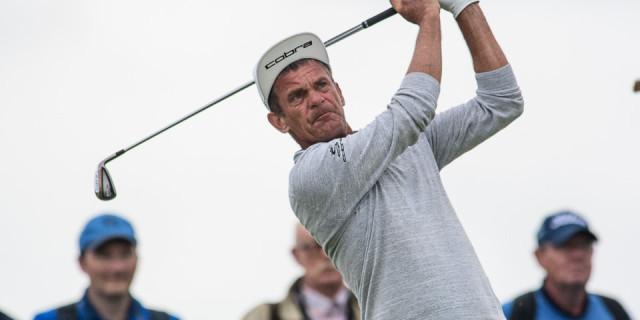 Jarmo Sandelin
The Swede is a serial offender, from the Star Wars-style sunglasses to the white furry hat and not forgetting some of the worst tops known to man.
John Daly
We assume that before the Wild Thing opens his wardrobe every day he first has to reach for his sunglasses. To say they are bright is the understatement of all time. You have to be good to wear trousers like Daly's. Sadly, the thousands of golfers who have gone out and bought them are usually grown men who hack their way around and haven't the foggiest idea about etiquette. A bit like Daly?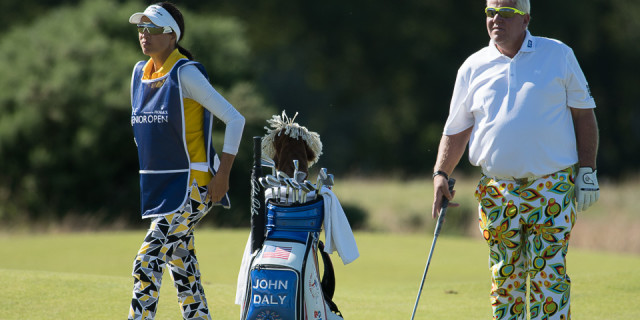 Gary Player
One of the greatest golfers of all time, Player spent most of his career dressed all in black. He was convinced that it attracted the power of the sun and gave him extra energy. Fair enough, except that you should actually wear bright-coloured clothing to reflect the sun away from your body. No matter because Player always looked the part, right up until the day he chose to play in The Open wearing trousers that had one black leg and one white leg.
Ian Poulter
Ah yes. Poults. Where does one begin? You could start with the Union Jack top and tartan trousers at the 2009 Open. Or the grey trousers with the Claret Jug on either leg at the 2005 Open? Not content with that, he came back the following year and dug out some red strides that again featured the Claret Jug on each leg? Or the black trousers with the red question mark at the same tournament? Then there was the gold lame top. He had his own line of clothing. Earlier this year he closed it down. Cannot think why, can you?
Justin Thomas
The American turned up for the first round of the 2017 Open wearing a shirt and tie. "I feel like this is the only tournament I can really get away with something like this," he said. He shot a 67. The golfing gods got their own back in the second round. He took 80 strokes, including a shocking nine.
ICYMI, Justin Thomas wore a tie Thursday at the British Open and Twitter predictably freaked out:https://t.co/P6m7kaEb0e pic.twitter.com/FuNoObTqHt

— GOLF.com (@golf_com) July 21, 2017
Rory Sabbatini
The South African is not known for his patience or good manners on the golf course, and has been known to head to the tee and drive off while his playing partner has still been on the previous green. His fashion statement is a liking for cowboy hats and bright coloured trousers. With his reputation, he might actually be better donning a hard hat.
Boo Weekley
The American loves hunting and shooting, and has often said he would rather be doing that than playing golf for a living. Perhaps that explains his liking for camouflage tops and hats - he simply doesn't want to be seen on the course.
Rickie Fowler
It has to be said that you would never miss Fowler, especially on the final day of a tournament, when he bestrides the fairways in orange. Fair enough, if you like that kind of thing. But what on earth is going on with the trousers that finish halfway down his ankles? Tommy Fleetwood has also taken to wearing them. Lads, come close and listen - no matter what anybody else may tell you, they look awful, like they have shrunk in the wash.
Catching up on golf. The only way you can wear these shoes at a Major:
- Your name is Rickie Fowler
- You win#theopen pic.twitter.com/BIoJ2EOlJz

— Joe Leverone (@joeleverone) July 20, 2017
Ryo Ishikawa
In an ideal world, the Japanese golfer would hope to stand out on the fairways with the quality of his golf. In the real world, he does so by wearing his hat back to front. Hmmm...
---
What do you think? leave your comments below (Comments)
---
Tags: Fashion
PLAY MORE PLAY BETTER - LATEST TUITION TIPS
---
Leave your comments below
comments powered by

Disqus