Getting into golf: The club fitting
---
In the fourth feature of this series of getting into golf articles Kim Dowsing, partner of regular Golfshake contributor Derek Clements, writes up her club fitting experience.
---
"Right then Kim, I want you to relax, stop worrying, hit a few balls and have fun."
So began the part of my golfing life that had been troubling me most. I had been told that if I want to get to grips with this game then I would give myself the best chance of doing so by learning to play it properly, so I arranged some lessons. And they have been going incredibly well.
But I was also advised to ensure that the equipment I was using was right for me - and that meant booking a club fitting. I don't know why I felt so intimidated by the prospect, but I was. I was booked in with Alex Beckett, a Mizuno Ambassador based at Norwich Family Golf Centre, and I was worried.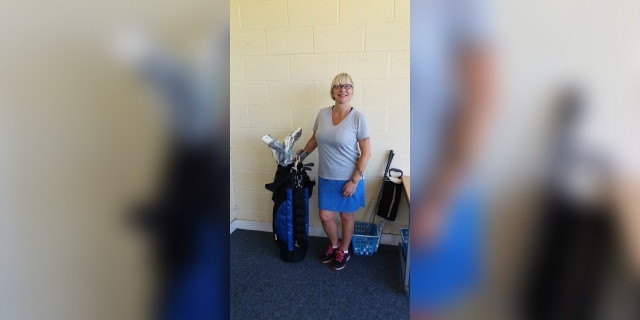 Surely I wasn't good enough, after just two lessons, to be fitted for a set of Mizuno woods and irons? Those around me who know about these things suggested otherwise.
And the concerns I had were quickly dispelled by Alex's words. He put me completely at ease. "Buying a set of golf clubs is like buying a suit of clothes," he said. "You wouldn't just walk into a shop, pick something off the rack and take it home without trying it on first, to make sure that it suited you and, most important, that it fitted you would you?
"This is just the same. Everybody is built differently. We are all different heights and weights and, with the best will in the world, we all swing the club differently. This will allow us to see what shaft and club combinations best suit you. And you must remember to enjoy this experience. If the ball rolls along the ground, if you top it, so be it. But remember that we are here to help you."
Alex is one of the team of professionals at Norwich Family Golf Centre and has completed a PGA fitting course. In other words, he knows what he is talking about, and he loves the product that he represents.
"Over the years, I have used various different makes of clubs but the first time I started hitting Mizuno irons I fell in love with them. I have been to the factory to see where they are made, so I know they are built properly and that the materials used in the construction of driver, fairway wood, utility clubs and irons is of the very highest quality.
"We will ask you to hit several shots with your own seven iron and they will be analysed using data provided by our Trackman system, and then we will see if we can find a combination that will give you better results."
My first problem was that I was asked to hit the ball from a mat, without using a tee. Almost every shot I have hit at the driving range has been with the ball teed up. But my fitting session came straight after a lesson in which I had been working on extending my backswing and, to my delight and considerable surprise, I found that I was able to hit the ball pretty well.
After several shots with my own seven iron, Alex handed me a seven iron to which was attached a devise known as the Mizuno Shaft Optimizer and Swing DNA system. It was first launched in 2009 and because the device measures all the relevant data it means that Mizuno's fitters don't have to own expensive cameras or lasers.
Alex asked me to hit three shots with this club, at the end of which he had all the information he needed - essentially, my swing speed, the distance I carried the ball through the air, the amount of roll and ball direction. Using that information, he was quickly able to narrow down the best shaft and clubhead options for me to a choice of three from a mind-boggling 40 options.
Alex said that even without checking the data, I would know when I had the right clubhead-shaft combination in my mind. And do you know what? He was absolutely correct. I hit various models but when I picked up the JPX 900 Hot Metal seven iron, I knew. I just knew. And the results confirmed it.
But the most special moment for me came when Alex handed me an 11.5 degree JPX 900 Driver fitted with a Fujikura Six women's graphite shaft. I have spent most of my time hitting irons and the occasional utility/rescue club, and here I was with this beast in my hands. It felt fantastic.
I tried to hit the first shot too hard, but then I slowed everything down and BANG. The ball soared off into the distance with a gentle right to left draw. Was that me who just hit that shot? Well, let's try another ball and see what it happens. The next shot was a carbon copy. And the next.
So we settled for a JPX 900 driver, JPX 900 three wood, five wood and four hybrid, all fitted with Fujikura Six women's graphite shafts, and JPX 900 Hot Metal irons, from a five iron through to a lob wedge, fitted with Project X LZ graphite shafts. They are standard length, set at two degrees flat, fitted with Lamkin REL General Electric Blue grips with one layer of tape.
I can't wait to get them in my hands, and Alex has told me that, if I want to, I can come back and see him in a few weeks and he will analyse my progress on Trackman. Needless to say, I will be taking advantage of this.
OMG, how I love this game.
---
Full the full series of articles with Kim on her quest to play golf visit: www.golfshake.com/news/tag/2017-getintogolf/
---
What do you think? leave your comments below (Comments)
---
Tags: 2017 getintogolf
---
PLAY MORE PLAY BETTER - LATEST TUITION TIPS
---
Leave your comments below
comments powered by

Disqus