Getting into golf: It's all fun and progress
---
In the third feature of this series of getting into golf articles from Kim Dowsing, partner of regular Golfshake contributor Derek Clements, find out how the 2nd lesson went.
---
CONFESSIONS OF A GOLF ADDICT, PART 2
"Right then Kim, today we are going to build your full backswing." What? OMG! Thus began my second golf lesson with Caroline Grady at Norwich Family Golf Centre.
I had spent the week since we had last met working on the mini-swing Caroline had taught me. The day before the second lesson I had visited our local driving range and hit 100 balls. I am a newcomer to this wonderful game but that session was the best I'd experienced to date. Almost every ball came out the middle of the club, travelling through the air with a right-to-left draw flight. I am beginning to feel that I am making progress.
But all of this had been achieved with a short backswing. Now Caroline wanted me to take the club further back and I was seriously worried that this would be the point where I would take a backwards step. For the very first time, I had gone through an entire practice session without missing a single ball.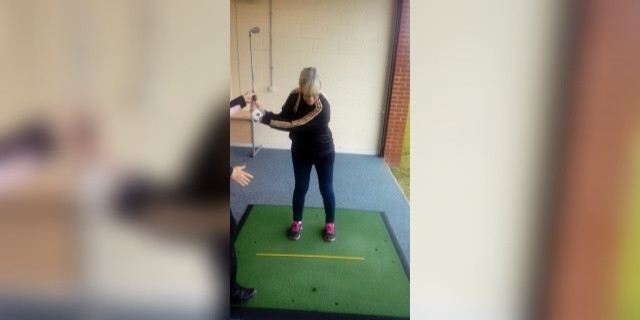 Now this might not sound like a monumental achievement to you guys but, trust me, it was and is a big, big deal. And I didn't want to go backwards.
I need not have worried. She demonstrated precisely what she wanted me to do in a clear and concise way. I understand that some golf professionals get totally bogged down with theory and are clearly influenced by various methods such as stack and tilt. Caroline says that she has drawn on her own experience and learning what does and what does not work with beginners.
As in all things, communication is everything and Caroline's skills in this regard are enviable, her enthusiasm infectious and deeply impressive. If your teacher loves what he or she is doing, it stands to reason that you are going to learn quicker, and enjoy doing so.
And I am having a ball with this - even at this early stage in my golf life, I can't help but be struck by the incredible enthusiasm of everybody involved with the game.
Before I hit a shot, Caroline insisted that I warm up. "I absolutely insist that all my pupils go through a series of warm-up exercises before they start hitting golf balls," she said. "The crucial thing is to go through rotation exercise. Why put yourself at risk of an injury? And it is also worth remembering that the golf swing is not a natural movement, so you really should give yourself the best possible chance by warming up your muscles before you do anything else."
During my first lesson she had stressed the importance of keeping my arms relaxed at address - and I have quickly realised how important this is. It has become increasingly clear to me from everything that I have learnt that tension in the golf swing is to be avoided at all costs. That also applies to grip pressure. I know that I had been holding the club far too tightly but Caroline adjusted my grip and everything feels far more natural now.
So what about this full backswing? Put simply, Caroline wanted me to rotate my shoulders 90 degrees, with my hips turning roughly half as much as that - this stores energy to allow for a powerful backswing coil which in simple terms is turning the shoulders more than the hips and reversing the process on the way down.
She also stressed the importance of getting the club into the correct position. It is important not to take the club back too far on inside swing plane, or too far outside the line.
At the mid-point of my backswing, at about chest height, she told me that the butt end of the club should point towards the ball, just as the wrists have completed their wrist set. To complete the back swing from that point just a small turn of the shoulders is required.
"It is important to rotate properly and you will learn as we go on that the correct weight shift is also essential," she said.
We started by hitting shots using my mini swing before Caroline demonstrated the position where she wanted my shoulders and arms to be at the top of my swing. "Whatever you do, don't let your arms pass your shoulders at the top of your swing - the best results will be achieved if you remember that less if more. A famous teacher once said, 'When the shoulders stop turning, the arms stop swinging,' and it is a valid point."
Before long I was extending my backswing and I was actually hitting the ball pretty well. While most our lesson focused on the backswing, Caroline also explained the importance of getting through the ball, turning my tummy towards the target and finishing with a full, high followthrough.
I have to tell you that Caroline's teaching methods have already helped me to make genuine progress. Best of all, I am having fun.
She filmed me during my lesson and, later in the day, I had a series of videos and tips on my iPhone, thanks to the teaching app Edufii. This is a fantastic teaching tool, and I love the fact that I can look at these videos whenever I want.
Can I share a secret with you please? I am worried that things are going rather too well. Watch this space for lesson three...
Caroline Grady can be contacted on 07771 674937 or via [email protected]
---
Full the full series of articles with Kim on her quest to play golf visit: www.golfshake.com/news/tag/2017-getintogolf/
---
What do you think? leave your comments below (Comments)
---
Tags: 2017 getintogolf
---
PLAY MORE PLAY BETTER - LATEST TUITION TIPS
---
Leave your comments below
comments powered by

Disqus