Feature Interview: Titleist's Josh Talge talks Titleist 917
---
Launched for the 2017 season, the Titleist 917 drivers and fairway woods have once again been a hit among golfers.
The 917 range was designed to deliver the most complete performance in the game today and provide increased speed for more distance, even on off-centre hits, along with the capability for precise customization to help you get the most from every drive.
Golfshake's Owen Davies caught up with Josh Talge, Vice President of Marketing for Titleist Golf Clubs, at the PGA Golf Show in Orlando to discuss how well the 917 launched – both on and off the course.
Talge said: "I think we've had a great launch. The momentum started with the tour guys and 80% of those guys put them in their bags immediately.
"We certainly don't force them to do it. We say 'we think we've got a better product for you. We've got it here. We'd like you to try it and we think this is going to improve your game' and by far and away most the guys picked up most the things we were hoping for.
"There was more ball speed, a little bit more forgiveness, which even the PGA Tour guys are looking for, more fitting options and the ability to really dial in some shot shaping. It's been a home run."
One key technology in the 917 is the Radial Speed Face 2.0. This thinner perimeter face width promotes greater off-centre ball speed for more overall distance across the face.
"The ball speed is coming from a completely redesigned face and the goal is to say 'okay if this was your sweet spot, but what can we do to widen that both width wise and depth wise,'" added Talge.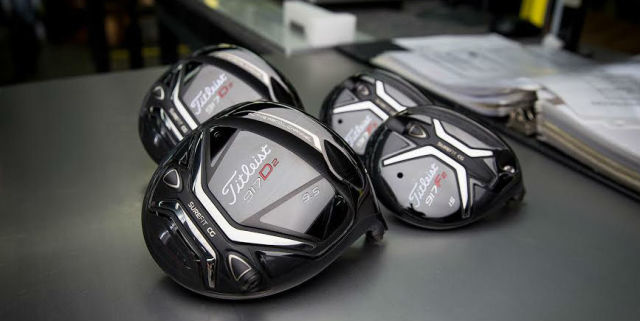 "Because you and I don't hit it perfectly every time, we need that little bit of help. So we had that as well as the arc channel, to make it a lot deeper and give you more spring and scrub some of that spin off.
"The other thing too is the feel and sound. We want to make sure all of our products look like a classic driver. Smooth transition lines, a real clean surface, we want to make sure that we have it look like the most premium high end product it can be.
"And the current colour is liquid slate. It's a take off some classics like the 975 and 983, kind of redone in a 2017 look. It's just a beautiful club.
"From a sound perspective, we go deep on engineering. We want to make sure that we hit the right frequency, volume and length of volume. A sound that really matches your ear and says that is a high performance machine, that's the quality I'm looking for, every time you swing it...especially the first time."
Titleist tend to release clubs every two years, however it may come as a shock that some of the team are working on technology that may not be put into play for another ten years.
Who knows how far we could be hitting the ball over the next decade?
Talge said: "The first thing we start with is, we want to build the best performance equipment in golf and that's a high bar.
"We say okay, what do we have that we can have ready. We can have teams working on products that are eight to 10 years out - really pushing the boundaries of what's possibly. And then we funnel that data and test it. We test and refine until we get it to something we can launch.
"We won't launch something unless it is better.
"We need to be able to say put this in your hand, get on a monitor, and I want to make sure that you see the performance.
"We will prove it to you.
"And that's a great feeling to have. To have the ability to say, this is it. And when we're pushing the boundaries like that it can certainly live in the market place for two years. There's no need to say three months later here's a new one.
"Our team is really pushing the boundaries of what's possible. We launched a concept programme this summer called C16 to ask what if you stripped away costs and materials and assembly methods, engineering tools etc that are really advanced and so expensive, could you give us better performance?
"Results showed us absolutely we could. We took parts of the BMW i8 and said what can we get to put in our 917 line. And to be able to do it at a price that's a lot tighter for the average golfer.
"That type of high-end work of pulling that stuff in, we're going to continue to see that."
However, in order to get maximum distance an accuracy it is important that you are fitted – no matter what club you buy. This is a concept that Talge agrees with.
"We make high performance products that are going to make your game better. If you just give us a little time, 30 minutes or 30 swings, we're going to give you the best performing product you've ever had.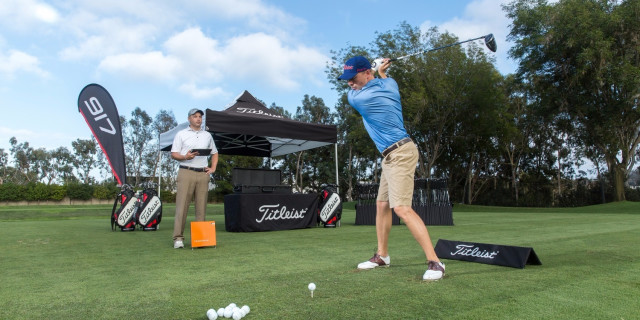 "We have the fitting tools and capabilities and the largest fitting network of any manufacturer, to really dial in to your swing. Swings are like snowflakes, no two are the same. We want to make sure were finding what's best for you because every swing is different.
"We can all be fit to get the best out of our swings. That's why we believe in doing it and doing it for all products frequently.
"One of the things that we've seen is people saying "I already know my specs" and give you product numbers. In my mind I think, that's a 10-year-old product.
"In 10 years technology has changed drastically and your swing may have changed drastically. We refit our PGA Tour pros if they make even the slightest change."
You can take a look at Golfshake's reviews of the Titleist 917 range:
Watch Owen Davies' review of the Titleist 917 Driver >>>
Learn more about Titleist 917 Drivers and Fairways >>>
917 v 915 Fairway Woods, how do they compare? >>>
You can learn more about the range by visiting the Titleist website here
---
What do you think? leave your comments below (Comments)
---
Tags: Titleist
---
PLAY MORE PLAY BETTER - LATEST TUITION TIPS
---
Leave your comments below
comments powered by

Disqus