Interview: Dominic Bott - Life as a tour caddie
---
Golf writer Josh Carr caught with with tour caddie Dominic Bot in April 2017.
What could be a better job than being a tour caddie?
You travel the world, walk some of the finest golf courses week in week out and meet some incredible people. And all just to carry a bag around on your shoulder and make the odd club selection. It sounds a wonderful lifestyle right?
Wrong.
For Dominic Bott, caddie to European Tour player Thorbjorn Olesen, it is far from that. From numerous long haul flights to missing cuts, the job is much more than a just reading a few putts.
The caddie, who has carried for the likes of Thomas Bjorn and Paul Casey, said: "I'd say it's one of the toughest jobs going i.e. travel, staying in hotels. I see a hotel, I see a golf course and I see an airport. That's it.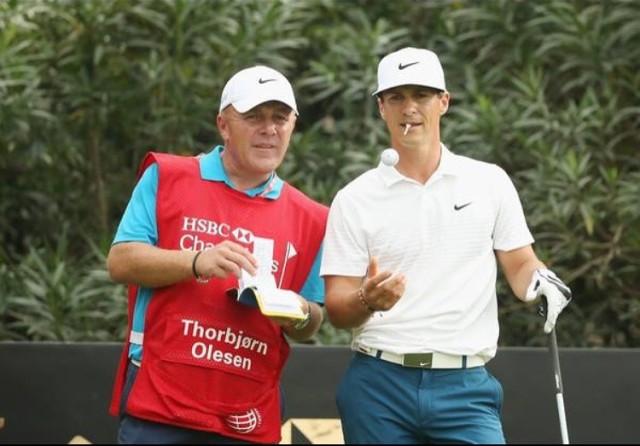 "As a caddie you're not allowed to be tired. You've got to be on the ball. It has its ups and downs. The ups are that on Sunday afternoon, somebody's going to be very happy. The downs are, you could miss ten cuts on the trot and you're away from your family.
"It is tough.
"People say it's a glamorous life staying in nice hotels. I've stayed in tents, I've stayed in caravans. I lived it through the old days too.
To explain just how tough the life of a caddie can be, Dom talked of the time his friend joined him in Dubai to live his life for a week.
"I took a close friend, last year, to Dubai for the Classic. He got in Tuesday night and we were playing the pro am early Wednesday.
"I said: 'You've got to remember from now on it's just me and you and you do what I do. You go home when I go home, you get up when I get up, you eat when I eat, if I want to go for a beer you come with me. You're going to live a week of a tour caddie.
"He got home Monday. He called me on Tuesday and said: 'I'm so tired. How do you do it? Then get on an aeroplane and go to the next venue?'
"It's not the glamorous lifestyle everyone thinks. Yeah we're making a few quid, but we do have bad times. But I have met some great people."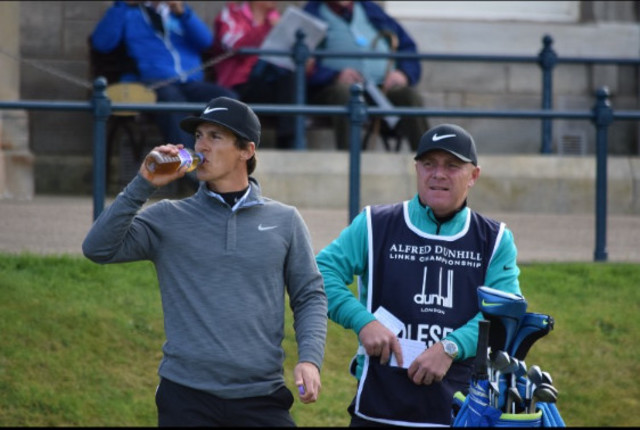 The 43-year old Yorkshireman has been on the bag as caddie for 9 wins, including one World Cup, but a well-decorated career hasn't come without both its ups and downs - especially when it comes to travelling.
"It is tough. I mean it would be tough on anyone.
"I got sick a few years ago. I was getting colds all the time and stuff like that so I went to the doctor and explained the situation. Usual questions, do you smoke, do you drink? all that. So I said yeah I do, but I also travel a lot. I've done 10 long haul flights in four months.
"The doctor said: 'No wonder you don't feel well. Long haul pilots do less travel than you.' I've done 10 in four months, whereas they do 10 in eight months.
"We went Turkey, South Africa, Dubai, Australia, home, 5 weeks off. It was Christmas time and we all know what we do at Christmas. We drink and eat more than you should do and then we come back and we've gone Dubai, Abu Dhabi, Qatar, Dubai, Australia, week off, Mexico, week off, Orlando, Puerto Rico, home. In anybody's body it's tough."
All this travelling also means that Dom has to spend a lot of time away from his family, which would be tough on anyone.
"My wife Gabby and family in Yorkshire are very understanding and I've got a daughter in London.
"At the end of the day they're the people I love most in my life so it is tough to then drag yourself travelling again.
"We have a good relationship and she tries to come to a few events now and again. Normally the most expensive ones though."
However, the lifestyle isn't all as bad as making a double from 100-yards out. For example, the opportunity to meet new people is one that Dom appreciates, especially when a legend from his favourite football team, Leeds United, comes in the pub.
"As I go to the toilet at Gleneagles, Eddie Gray comes in the boozer and I'm a massive Leeds fan. Anyways Bjorn and Jamie Spence go: 'there's a big Leeds fan in the toilet, you've got to go and pretend you're going to the toilet.' So I'm standing there and this Scottish guy comes in - 'orite son how you doing?'
"I'm like 'yeah pal, I'm fine' and I look and I'm like 'EDDIE!'
"I'm like a kid now. Eddie Gray...legend.
"We chatted away and I walked out of the toilet and the boys are laughing and he's got his arm around me. Little things like that. You get to meet people who are in that hierarchy of sporting celebrities.
"What I can say is I've made some great friends out of caddying. Me and Billy Foster are very close. David Kenny who used to caddie for Paul Lawrie, we have a business together.
"I've met people in my life I'd never dream of. Me and Kevin Pietersen are pretty close friends. I wouldn't have met Kevin if I wasn't a golf caddie."
Although Dom only got into caddying as a part time job in the summer of 1992, it is a career he is glad he continued to pursue.
"At Birkdale, when Justin Rose finished 4th - we (Dom and Raymond Russell) finished tied 4th with Justin Rose.
"That tournament, the Open Championship was for me like, this is better than winning a tournament.
"Now I've got the bug properly. This is where I want to be. I want to be at these tournaments."
To add, Dominic is part of the Tour Caddy Experience, as well as having his own company – Tour Caddy Consultancy.
"Myself and David Kenny, who used to caddie for Paul Lawrie, have a company called Tour Caddy Consultancy.
"It's basically for a golfer who is wanting to be a pro. It's for somebody who can play the game but they want advice on course management. You know, what would they do if they got on tour? How do players go about the game?
"Our company compared to Tour Caddy Experience - ours is to do with the guys who are wanting to get to the pro level. They want to be a pro."
To find out more about Tour Caddy Consultancy, click here.
Alternatively you can find out how Golfshake's own Andrew Pickan got on when he had a round with Tour Caddie Experience's Steve Brotherhood here.
---
What do you think? leave your comments below (Comments)
---
Tags: Tour Caddy Experience
---
PLAY MORE PLAY BETTER - LATEST TUITION TIPS
---
Leave your comments below
comments powered by

Disqus