How to Get Your Midweek Golf Fix
---
Getting your golf fix during the week can often be difficult for those who work long hours and at the end of the day, do not have the energy to go and hit balls. This is made worse during the winter when you factor in the cold evenings and the dark nights.
This leaves many turning up to competitions on the weekend having not hit a ball since they lipped out for par on the 18th to get .1 back on their handicap, last week.
But what if I told you there is a way you can get your midweek golf fix? Well, there is. Take a look at some handy tips to cure your midweek golf needs.
Prepare for the range
Most working people get an hour for their lunch break and providing your place of work is near a golf course or driving range, this is ample time to fit in a range session. But you must be prepared.
First of all, it may be a good idea to make a packed lunch the night before to save a little more time. This way, you can eat your dinner before, during or after your range session.
Another way to save time is by keeping a few clubs in the back of your car. Remember, you're only going to be there for less than an hour, so there isn't really time to get through every single club in the bag. This way you can just hop out of your car and straight to the range, as opposed to nipping home or getting your clubs out of your locker.
Also, bring a change of clothes. If it is the middle of summer (and if you're lucky) it may be really warm, and hitting ball after ball may cause you to work up a sweat. If you have a change of clothes, you can return to the office and no one will ever know you've just battled your way through 100 balls.
Arrange a golf business meeting
Arranging a golf business meeting is a handy way of incorporating work with your love of golf. If you can convince your boss that it is the "business" side of things that are key, and not the golf, then you're onto a winner here.
You may also find yourself on some of the top golf courses too. What better way to impress a potential client than inviting them for a round at St Andrews? Whoever you work for may well even pay for the day if you're lucky.
Take a sick day
Now I am in no way condoning pulling a sicky, but if you love golf that much and just need a day off to work on your swing and play 18 holes then this may be your best bet. Just try not to coincide this round with a business meeting that your boss may have at the same time and place. It could make for awkward conversation in the clubhouse afterwards.
A more honest approach would to use a holiday. You're entitled to them and, to be honest, no one would blame you for using them to play golf.
Ask for an early leave
As strange as this sound, simply asking for an early leave is in fact a great way to get yourself on the golf course. However, don't just turn up to work and be unproductive then expect to be allowed to leave early.
I would suggest having an over-productive week if possible. Make sure you have met all your deadlines and possibly planned or started next week's work. This way, your hard work may be rewarded and you will find yourself on the golf course, while many others are still in the office.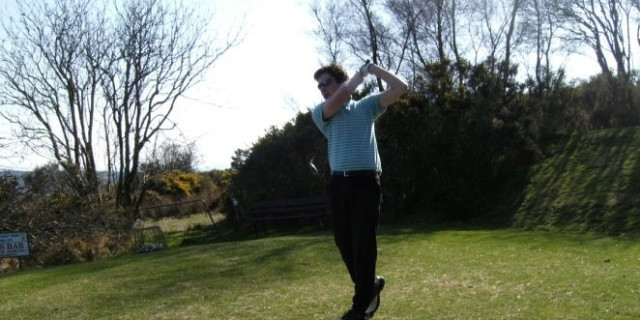 Watch golf on your dinner break
Now this may go one of two ways. It may motivate you to play golf on the evening after work in the summer, or it may just get you frustrated that you can't play golf after work in the winter. Either way watching golf during your dinner break, whether it be golf tips or highlights from last week's tour event, will cure your midweek golf bug.
These are just five ways to help you get your midweek golf fix, but the best way I find is to just head down to your club after work if you have no other commitments and hit balls. If you really love golf you will battle the harsh winter conditions on the range and in return, you may see improvements in your scoring during the summer. To add, golf clubs tend to be quiet during the week, so playing golf after work will feel like millionaires golf.
How do you get your midweek golf fix? Let us know in the comments.
---
What do you think? leave your comments below (Comments)
---
---
PLAY MORE PLAY BETTER - LATEST TUITION TIPS
---
Leave your comments below
comments powered by

Disqus