Tee Caddy Review
---
Review by Golfshake ambassador Andrew Picken December 2016.
---
The Tee Caddy is a multi-purpose tool that is described as being a game improvement tool and tee retrieval device.
The tool is patent pending tool and prevents the tee being lost at any time. A circular band fastens to the tee and it is extended into position using a retrievable piece of cord. This is anchored to the ground using the prongs of the pitch mark repairer. Once the shot is played and the tee dislodged it flicks back into the Tee Caddy ensuring no losses of your favourite tee.
The prongs of the pitch mark repairer are specially shaped to provide a sharp tip that allows easy cleaning of club grooves. It also features the usual ball marker in a variety of different funky designs.
It is also marketed as a club improvement tool given that it can be used to assist with alignment.
---
---
Looks and Feel
It is very well constructed and is easy to use on the course when using grass tee boxes. It is a little more problematic when using range mats but with a little patience can be made to work. The build quality is good and I expect the unit to last.
Does it justify the expense versus the short amount of time spent looking for a "lucky" tee when a drive has been bombed down the fairway? At a retail price of £9.99 I am not sure.
Having used it for a round I did not lose a tee and it does help to ensure the correct height by setting the rubber band to the required depth. Plus it does provide the additional functionality of being an innovative alignment aid.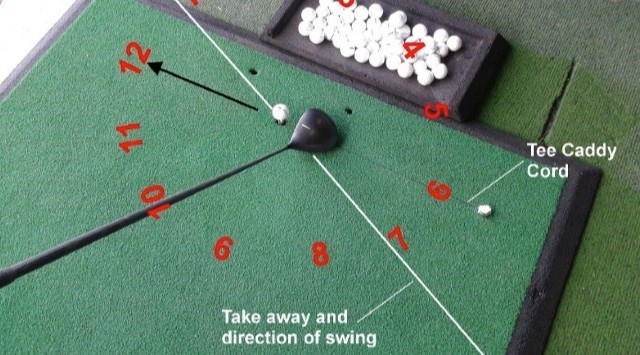 Pros
It does exactly what it advertises and is well made. The alignment aid is a neat addition when practising.
Cons
It cannot be used in competitive play and is a bit fiddly to use particularly playing in frozen ground conditions. Unfortunately for me this is a down side to the design given that it is illegal for competition play.
It is also arguably expensive, retailing at £9.99, in comparison to the savings to be made on the replenishment of tee's.
Bottom line
I always judge items I am reviewing by how quickly I want to add it to my collection of golfing gadgets. This one has not made the grade mainly as it feels bulky and heavy in my pocket.
Interestingly, all my usual group of golfing friends liked the look and build quality of the unit but struggled to justify the cost versus the potential savings.
This included Jerry who has used the same lucky pink tee for the last 4 rounds since he discovered his driver mojo again. He may find one of these in his Christmas stocking.
For more information and to buy online visit: www.teecaddygolf.com
---
What do you think? leave your comments below (Comments)
---
PLAY MORE PLAY BETTER - LATEST TUITION TIPS
---
Leave your comments below
comments powered by

Disqus