Cobra Golf Launches Three Smart Drivers
By: Golfshake Editor | Tue 01 Nov 2016 |
Comments
---
Cobra Golf has launched its longest and most intelligent drivers to date - KING F7 and KING F7+, which are continuing the iconic brand name's legacy. The F7 and F7+ are designed to provide golfers with a choice between the oversized performance or traditional club shaping, while offering playable distance and heightened feel.
These models – as well as the KING LTD Black – boast the COBRA CONNECT Powered by Arccos system which features an ultralight sensor that's embedded in the grip, allowing golfers to automatically track the distance and accuracy of every drive. COBRA CONNECT users simply pair their club with the free Arccos Driver smartphone app to receive their performance data, access rangefinder GPS distances for 40,000 courses and compete in the King of the Hole virtual long drive competition. Players will also be able to access exclusive COBRA content within the Arccos Driver app, including product tech videos and golf tips from COBRA coaches and PGA TOUR Pros.
"We are really excited to introduce our longest and smartest drivers with the new F7 and F7+ products," said Tom Olsavsky, VP of Research & Development, COBRA Golf. "By incorporating the best zonal weighting technologies, we created the perfect combination of low CG and high MOI to give golfers the best in distance, forgiveness and precision. That, combined with the use of COBRA CONNECT Powered by Arccos, make for some of the most exciting clubs we've ever created."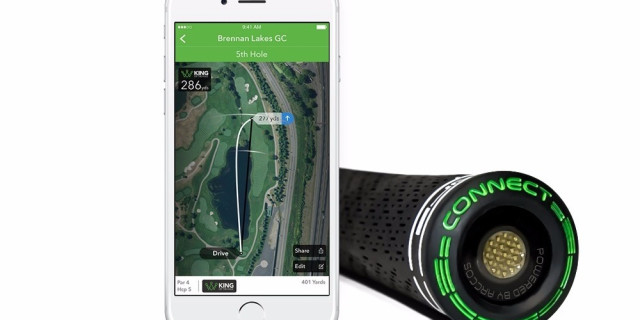 On the course, the COBRA CONNECT Powered by Arccos system communicates at shot impact with a golfer's smartphone, which must be carried in a user's front pocket. It then uses a proprietary shot detection algorithm and sensors on a user's smartphone to identify the location of their second shot, allowing driving distance and accuracy to be recorded in real time. At the end of a round, golfers can review their overall driving performance, track improvement and share pictures, longest drives or key stats directly with their friends or other COBRA CONNECT users.
The KING F7 driver (RRP £279) features a larger face and address profile that increases MOI and provides more distance, forgiveness and speed across the face. An adjustable weight system with three CG settings in the front, the back and heel positions allows for three differing ball flights – low, high and draw, to provide golfers with optimum distance and trajectory for a variety of conditions. The heavier 12g weight in the front CG position creates a lower, penetrating ball flight with less spin and more roll for maximum distance. When the heavier weight is placed in the back position, it delivers a higher, towering ball flight with added spin for more carry distance and increased forgiveness. When moved to the heel CG position, it works to reduce spin to deliver straighter drives that correct a slice.
"Golfers appetite for data is certainly growing as more and more attention on Tour is paid to player statistics from Shotlink®," said Olsavsky. "Creating Smart Clubs by adding the COBRA CONNECT Powered by Arccos technology allows us to satisfy that appetite and provide our consumers with direct access to the type of data that's used by Tour pros. We believe seeing these insights will help golfers of all skill levels improve their performance and have more fun."
The KING F7 driver also features a re-engineered Forged Ti-811 E9 Face that is lighter, thinner and hotter, creating faster ball speeds and a larger Sweet ZoneTM across the face. A multi-material TeXtreme Carbon Fiber Crown frees up discretionary weight, allowing COBRA engineers to create three distinct CG positions and three performance distances. MyFly8 with SmartPad technology affords golfers the choice of eight loft settings (9.0o, 9.5 o, 9.5D o, 10.5 o, 10.5D o, 11.5 o, 11.5D o and 12 o) to fine tune launch conditions and maximise distance while keeping the club head square at address.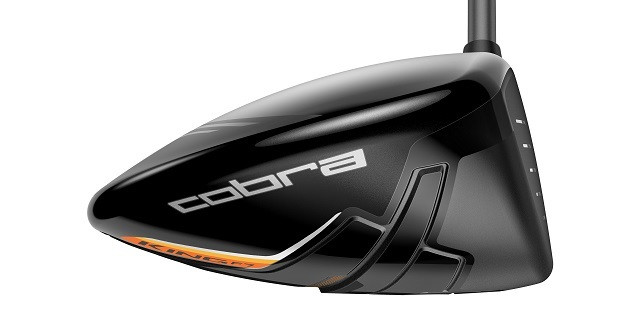 The KING F7 Driver will feature a Lamkin REL (CONNECT Black) grip, along with a graphite, Fujikura Pro 60 shaft in X-Stiff, Stiff, Regular and Lite flexes in RH/LH. Available in-store January 27, 2017, the driver will be available in three color combinations: black with orange highlights; blue with red & white highlights and a sophisticated silver with yellow highlights.
Equipped with a traditional sized head and lower loft range (8.0o, 8.5 o, 8.5D o, 9.0o, 9.5D o, 10.0 o, 10.5D o and 11 o), the F7+ Driver (RRP £299) utilises the same key technologies as the F7 driver - including three weight settings for CG adjustability, a Forged Ti-811 face, TeXtreme Carbon Fiber Crown and MyFly8 technology. COBRA CONNECT is embedded in a Lamkin REL (CONNECT Black) grip with a graphite, Fujikura Pro XLR8 61 shaft. The F7+ driver, also available January 27, 2017, will be available in the black/orange and blue/red/white colorways, but with a premium matte finish on the crown. The driver will be available in RH/LH in X-stiff, stiff and regular flex.
Rounding out the new 2017 COBRA drivers equipped with COBRA CONNECT, is the KING LTD Driver. Available for purchase January 27, in a matte black colorway, with a white paint TeXtreme interior, aptly named KING LTD Black (RRP £349).
In addition to embedding the COBRA CONNECT Powered by Arccos system in a Lamkin UTX 360 grip, the driver features the same innovative technology used in the first LTD driver. A revolutionary SpacePort design allows the R&D team to strategically position the CG in the head creating the brands first Zero CG driver and affords golfers the ability to peer into the club and see COBRA's key internal speed and stability technologies.
The LTD driver features an ultra-light TeXtreme Carbon composite crown, along with a thin, lightweight 811 titanium face with next generation E9 zoning that allows weight to be removed from the face structure. The hosel structure has been dropped, which also contributes to the lower CG of the club head. The body is constructed of lightweight 811 titanium with an optimised variable thickness sole incorporating a back weight port and 12 gram tungsten weight. The KING LTD driver is also available in eight loft settings (9°, 9.5°, 9.5°D, and 10.5°, 10.5° D, 11.5°, 11.5° D and 12°) and uses a graphite Aldila Rogue Black 60g shaft. A variety of custom shafts are also available.
Ladies F7 Driver (RRP £279) utilises all the innovative technologies present in the men's F7 drivers including COBRA CONNECT, three CG positions in the front, back and heel, Forged Ti-811 E9 Face, a TeXtreme Crown and MyFly8 with Smartpad (Loft range: 11°, 11.5°, 11.5°D, 12.5°, 12.5° D, 13.5°, 13.5° D and 14°). An oversized profile at address will increase MOI providing ladies with much needed distance, forgiveness and speed on off-center hits. The driver comes with a graphite Fujikura Pro 55 (RH/LH) and COBRA Lamkin REL grips, in two colorways silver/raspberry and black/Lexi blue.
For more information on the entire KING family of products, visit cobragolf.co.uk.
---
What do you think? leave your comments below (Comments)
---
Tags: drivers Cobra Golf cobra
---
comments powered by

Disqus